A little more Singapore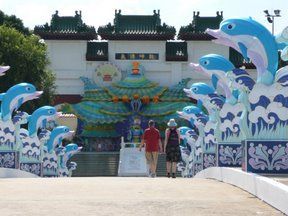 Had to finish off postings about Singapore with the Chineese Gardens now I've updloaded the photos.  We visited during the Autumn lantern festival, which unfortunately we didn't know about before going or we might of tried it at night. As well as the lanterns (big sculptures out of silk with power lights inside), there is quite a lot of water life with both Monitor lizards and tortoises everywhere, as well as the ubiquitous Koi carp! We also saw a great Bonsai garden, the only complaint was the weather, it was probably the hottest day we experienced in Singapore.
Barry (Tim's dad) and Karina crossing the bridge into the Chineese gardens.
A 150 year old Bonsai — who has the patience for it!
Large monitor lizard.
Jasper being eaten by a large silk lantern shark (with Grandpa's help).
Tortoises sunning on the rocks.