Adelaide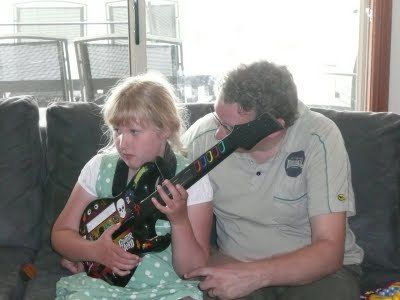 We headed to Adelaide on Saturday the 27th of December. As we still only have the mini-moke, we hired a Toyota Prius; it was interesting driving a car that had an on / off switch to start it up! The trip over was very smooth, we travelled in convoy with Mum and Dad who drive their hire car over as well. We made good time and it took around 10 hours from here to Nuriootpa.Once there we spent a day with my brother Ben and his family (his wife Taryn and his two kids Madeline and Paige). Our kids loved seeing their cousins and Maddie was very excited to have a big cousin who she could follow around all day.
Taryn is an avid WII fan and I'm here teaching Ella the finer points of Guitar HeroOn the Monday we went south of Adelaide to Echunga where we spent a couple of nights at "Jupiter Creek", the olive farm that Hans (Karina's Dad) has built up. It's very peaceful and scenic there and we enjoyed the surroundings. The kids are always excited about it and love talking to and feeding the goats, looking at the Alpaca's, going for rides on the back of the Ute and they had a great time on the new addition – a swing some 3 – 4 metres long.
Inside the bedroom on the Olive Farm, Jasper has done so much exercise that he outgrew his clothes!On the way back to Nuriootpa we went to help Mum and Dad with their storage (of things while they are overseas) and find some goodies that have been put away which the kids are big enough to use now, like all our family lego.
I love this action photo – it looks very Keystone copsWe then spent New Years Eve and Day with Ben again and headed home on the 2nd of Jan. All in all an enjoyable trip.