After the joiner finshed...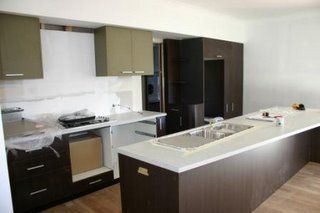 Well it turns out to be a three day job, but the joiner worked back until 9PM on Tuesday night to finish it. The plumber came yesterday and comes again today to finish off taps, dishwashers etc. and the electricians are here today too. By this weekend the kitchen will be operational!
New kitchen and the island bench all in.
The pantry.
Kids bathroom. Another mirror door still to go up.
This is the large external sliding door. Will have fly screen behind it and cover the main sliding doors to help prevent sun coming in during summer.