BTMP Visit to Melbourne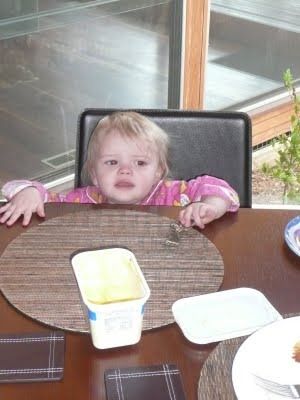 Way back at the beginning of March on the Labour Day long weekend, Ben, Taryn, Maddie and Paige (BTMP) came to visit us in Melbourne. It was a very enjoyable few days, catching up and spending time together. The kids enjoyed seeing their cousins again so soon after Christmas, although by the end of the few days, I think Ella was starting to get a bit sick of being followed around! Maddie was very thrilled to see Ella in particular; she even burst into tears one time in the city when we split up from the train and BTMP went off to the aquarium while we got off to go shopping.
Paige struggled to sit up at the Big Table, but she wasn't going to give up either!
Pancakes for breakfast!
We all spent time at the zoo together. Jasper really wanted this photo of him on an elephant.
At 7 Jasper is not too big for the Carousel, Ella decided to pocket the money, forgoe the ride and spend her it on something else instead.
On the Monday morning, we all went for a walk along the new bike path extension and took this photo on the new bridge that crosses Darebin creek.
Hitting the end of the path and coming back.
Paige pretty much walked the whole way, about a 30 minute walk. She held her Dad's hand the whole way too.