Camping in the Darebin Parklands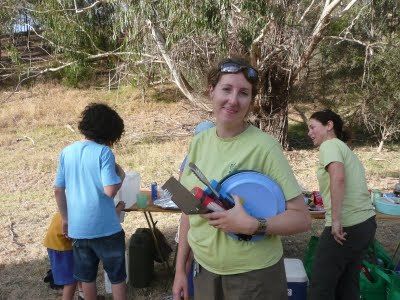 As many of you will know, Karina is the Vice-President of the Darebin Parklands Association (DPA) that works to improve the parklands that we overlook in our house. One of the things she is very passionate about has been having lots of activities to get kids involved and interested. For the last four years as part of their annual wrap-up activities kids of committee members and those that win a prize throughout various other activities get to camp for a night in the parklands.We all packed up our camping gear, loaded up the moke (twice) and took stuff around to the rangers hut where Peter the ranger ferried all the gear (and the kids) in the back of the ute down into the park. The irony of course is that we were probably within about 300 metres of our own front door!
Karina decked out in DPA shirt getting ready to feed the hungry hordes.
The camp-site.
Jasper loved playing in the tent.
Most of the kids with some tents in the background.
Anthony rocked up late and had to pack mule it down himself!
Jasper and Sasha (from his class last year and lived in our house while we were away.
Unfortunately we were camped in the "dog on leash" are of the park so Molly had to stay tied up.
Ute full of kids dis-appearing into the distance for a toilet run.
Pete the ranger, on the left was full of surprises — he was previously a guitar teacher and is an excellent musician. My self and David (on the bongo's – drummer) jammed along.The guitar playing was a lot of fun and we were up beyond mid-night just mucking around and singing songs.
Breakfast the next morning (Saturday)
Jasper playingIt really was a great night out and way more fun than I'd anticipated.