Christmas is coming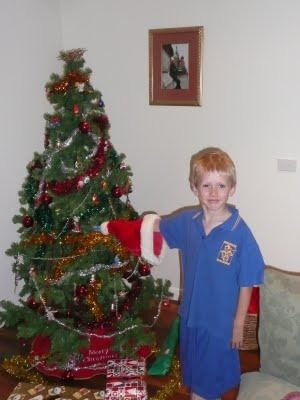 It's been a while since our last post and apart from a cracked rib I managed to give myself when crashing after attempting to show the kids how to jump over a BMX jump, there isn't much really to report.Christmas is starting to feel a lot closer so here's a few festive shots to get you in the mood.
Here is Jasper showing off the Christmas tree — poor old thing is on it's last legs and we've decided this is its last outing before it's off to the plastic Christmas tree graveyard in the sky.
Ella and I decided to get creative and build a gingerbread house after we saw one up the street today. As Ella says, it's "her" house because she told me exactly how to build it. A born supervisor.
Here we are with our creation.
Ella drew this picture on A4 paper and Karina and I were quite taken by it. I think in part because she really thought about what she wanted to achieve and it's a combination of three different techniques – paint for the outlines, watercolour pencils to colour it in and then finally a water wash afterwards.I decided to try get it enlarged onto a canvas and we are really happy with the final result. I scanned it at work with 600DPI scanner and then took it to the local photo shop for the canvas print. It looks great hanging on the wall in the kitchen.Ella does look a lot nicer in the other shot I took, but I thought this one was both funnier and more true to form.