Dinan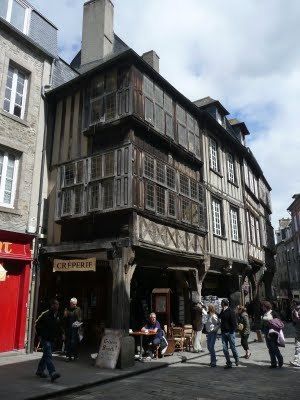 Dinan is a wonderful medieval town which is very quaint, touristy and picturesque. It's also only 20 minutes drive from where we were staying, so a great opportunity to visit.I feel that, like so many of the places we saw over the weekend, that no one photo could really do it justice, but I took many trying! It really was very beautiful.
Typical old buildings in the centre of DinanOf course, travelling with the kids, they don't always appreciate the finer aspects of what they are seeing, so this old monastery became essentially a large playground for various games, with stairs to climb and balconies to lean over.
Ready to let go!
Catch the scarf
Jasper and Sarah spent a lot of time playing together – they are good matesAfter wandering the streets for a while, we came across a large bell tower which you can climb up. Jasper and Karina stayed on the ground, but the rest of us climbed up for stunning views over Dinan.
View over Dinan up the Rance valley
This very large bell rang while Paul and I were still admiring the view at the top. I almost lept off the edge, it was totally unexpected!
Zooming straight down at Karina with the cameraAfter this, we gradually worked our way back to the cars. On the way we came across a wonderful little park with birds and deer and of course, a play ground. So we had to stop there for a while!
Lisa and Sarah
Looking up at the walls of Dinan from the playgroundIf you get time to visit Dinan one day, it's well worth the trip.