Dublin for Easter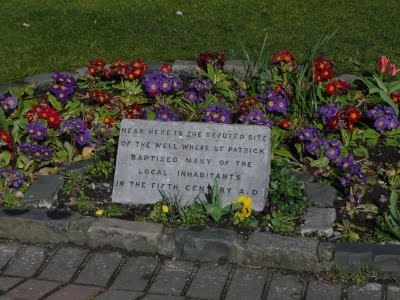 On Thursday we set off to Dublin for Easter.  We went to spend the time with Andrew, Sophie and their son Alexandre.  Andrew is an American who did an exchange in 1988 and lived with my family in Clare for almost a year and we recently got in touch again.  I found out that he was in Dublin so while we are in London, it was a great opportunity to catch up.We arrived in Dublin around 6pm on Thursday evening after a fairly tiring journey — although it's  quite close to fly to, by the time you add in trains, airports, buses to rental cars, driving in Dublin etc. etc., it was pretty exhausting!  We walked in Temple Bar for dinner, and then crashed out in the hotel to go to sleep.The next day we toured a bit of Dublin in the morning, it seems a lovely city, but unfortunately as it was Good Friday a lot of it seemed to be shut or fairly quiet.  We did enjoy seeing the grounds of St. Patricks Cathedral and found a Bull Alley.
St Patricks Well.
Ella near the peace garden.
Bull Alley Street.Unfortunately the weather was bitterly cold, with strong winds driving the temperature below zero, we eventually decided to hop in the nice warm car and drive to the B&B Sophie had arranged for us all near Hollywood in the Wicklow Mountains.
We loved the scenery we saw as we drove around that morning, it is different from what we'd imagined. It was of course very green, but it's also a lot harsher than we thought. Ireland struck us as a very wind swept, desolate place, but beautiful all the same.
Scenery on the way to Wicklow Gap.
These yellow flowers were growing on spiky bushes that covered the hills everywhere.
Wicklow Gap — scenes from Braveheart the movie were filmed here.