Easter Sunday in Ireland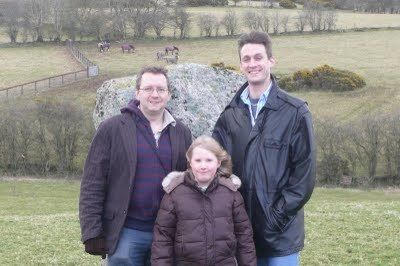 On Sunday, the kids were very excited because of course, Easter Bunny had come to visit.  Even in Ireland he still knows how to find the kids.As we'd been cruising back and forward to the B&B we kept noticing a sign post to an ancient stone circle, so on the last day we thought we'd check it out.
Tim, Ella and Andrew in front of a stone. The circle was tucked away in a sheep field a short walk away from the road and again with the wind, perhaps a bit too cold to appreciate it. The circle was 14 stones and approximately 3000 years old, built sometime around 1000BC. Jasper was more excited by the sheep, but I was pretty impressed.
After this, we drove to Powerscourt, for another perspective on Irish history, at the stately home of the English gentry. Powerscourt is almost palace like, but somewhat amusingly, most of the interior has now been made into a shopping centre! The gardens are still well maintained however and you can pay to visit them.
We then headed back to Andrew and Sophie's house, where Andrew made a delicious green chicken curry for dinner – he has become an accomplished cook since I first met him almost 20 years ago.
While there, they put the fire on — here is another typically Irish thing, burning peat.
Finally we had to say goodbye and head off to the airport. It was lovely to meet Sophie and Alexandre and in my case, catch up with Andrew. Although it was nearly 20 years ago, we both remember a lot of things from our time spent together and it was fun reminiscing and comparing notes. It's interesting that we've both gone on to have very similar professional careers and have ended up in almost the same field.Although our visit to Ireland was short, it was a lot of fun and I highly recommend it. A great way to spend Easter.Footnote: Today is Monday as I'm writing this and we had 2 hours of steady snow this morning, must have followed us from Ireland, although it's not cold enough for the snow to stay on the ground, it was too wet. This afternoon it has cleared up to a typical gray day again.