End of week 11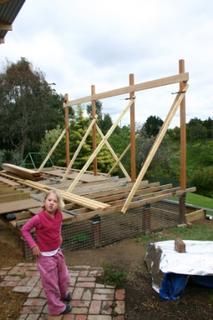 At the end of this week, we've found ourselves in two seperate parts of the house with the wall between the temporary kitchen and lounge room not only framed up, but plastered as well. This means we now have to got the "long way" around. It makes the house feel much bigger again all of a sudden.
There was progress on the cladding outside, which has halted again so that they can get the pergola up — the cladding will fit around the pergola where it connects to the house. Essentially everything continues to progress well and we are still enjoying watching our new house come together.
The start of the pergola on the deck.
Looking at the wall where the kitchen is to go. The gap in the wall is where the bulkhead was reduced in size after it was first plastered to make it look more in proportion and also line up with the opening to the new room.
The niche — square edges are no in place on most of the plasterboard ready for the plasterer to start next week.
The new skylight in the bathroom. The sides of the lightwell now plastered.