Fircroft chick visits fire fighters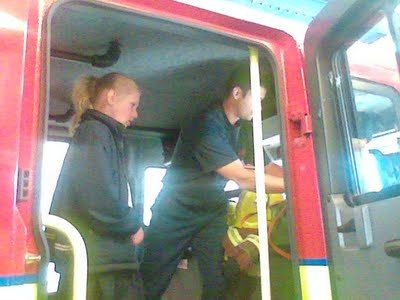 Ella won a prize through school recently for designing a poster for smoke alarms. The winners get to spend the morning in the local fire station, so Ella headed off today for her prize. She was the only student there today as we're leaving London soon and they had to squeeze her visit in before she left.Ella was very excited last night and was up this morning ready to go at 6:07am. She kept repeating, "I can't believe I won and that I don't have to go to school this morning".Her visit started with the morning register, helping to judge who was dressed smartly and who was looking scruffy. I was surprised at how military-like it was with special stances and steps for the morning parade. She then helped with the 'routines' which are everyday jobs done at the start of each shift.
Inspecting the fire truck, referred to as the 'machine'She then moved into the office area and did some fire safety activity sheets, and had a general discussion with the Station Officer about smoke alarms, etc.
Working hard in the officeShe then had a look at a new initiative in London, firemen on bikes! This is more to do with fire prevention, and involves 2 guys cycling the area looking for fire hazards. If they spot piles of debris, or other flammable material, they photogrph it and report it to the council.
Getting ready for patrolElla was then asked to help wax and polish the machine:
Then it was time to muck about with water! After the routines are done, the firemen do drills. Today's drill was rescuing a fellow on the 3rd storey and putting out a pretend fire on the 2nd floor. Ella rode in the truck (siren on) to the rear of the fire station and helped put out the pretend fire.
It was then time to try on some uniform to experience how heavy it is.
The trousers are left on top of the boots so that they can be put on quickly.A quick tour of the fireman's poles inside and a look at the kitchen and recreation areas followed. It was a wonderful experience for her, and she had a very good time.