Flying over the ice cap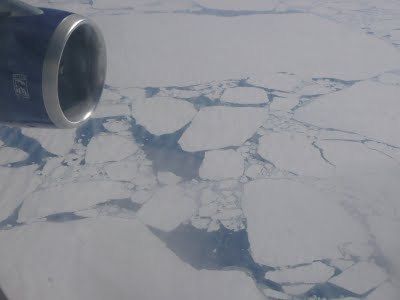 I was in San Jose, California last week for work.  Great trip, good company and lots of work done, plus we finished a day early.  From London, you fly up and over Greenland to get to San Francisco, then we hired a car to drive the 40 minutes south.
I took this shot as we flew over the ice. We are at cruise height (usually around 10km) so you get a sense of how large these ice sheets below really are.One great thing about travelling to the US these days is the buying power of your money, it's fantastic. Nintendo DS games which cost about GBP 30, are only US $30, or half price! I suspect they are half price compared to Australia as well.