Foil sarking goes on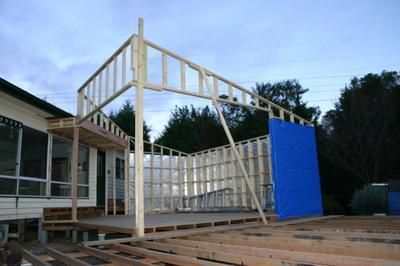 Visually significant progress today with the foil sarking added to the walls. They look like walls now!
The landing for the new laundry door has also commenced (you can't see it, it's the other side of the building) and the new extension roof has been joined now to the existing building. The other hidden thing is that the set out markers have now all been removed.
There will be no update tomorrow as James and Jason are back off to a previous job to finish some work there.
I've also made a couple of minor changes to the blog. Archiving is now weekly instead of monthly and I've reduced the number of entries on main page to 5. This should help keep load times down for everyone.
The photo today is larger than the previous entries, I wanted to see how the higher quality image worked out. Also it shows the roof detail more clearly.