Hastings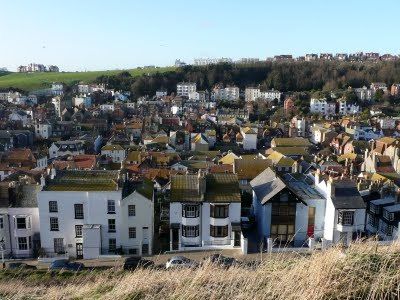 You may remember we've tried to reach Hastings and Rye once before, well this time we made it!  It was great having Eileen and Geoff to show us around as we saw and appreciated much more during our brief stay in Hastings than if we'd seen it ourselves.Hastings is interesting for a number of different reasons.  It's a seaside town, famous because William the Conqueror landed here (although he didn't, he actually landed down the coast beyond Bexhill in Pevensey) and of course for the Battle of Hastings (actually fought North of Hastings in a small village called Battle some two weeks after he landed).Mostly it's a working fishing village and very scenic.  It's built up a valley and the town is bounded by steep hills which give it a unique layout, lots of steep walkways.  It's also famous for smugglers who could make the short trip to France and bring in goods easily.
While we enjoyed the town and walking around seeing the little shops and the laneways (called skittles by the locals) that run up and down the hill, I really enjoyed the fishing port. Hastings has the largest beach launched fishing fleet in Europe and the boats are literally beached onto the shore and dragged up with tractors every time they land, and then pushed out into the surf every time they launch.One feature on the foreshore are the old Net Sheds.
These were used to dry the old string nets which would rot if not cared for like this. Nowadays, all the nets are plastic so they are not used anymore, at least not for drying nets.
This shows one of the fishing boats and the bulldozer that pushes it down into the surf.
The bull dozers get very rusty because they are so exposed to the salt all the time.
The fishing boats usually have a crew of around 5 – 6 and stay out for a couple of days. Again this one shows how windy it was with the flags streaming in the wind.As we were wondering around, I enjoyed chatting with Geoff who is a very keen photographer and I took a lot of tips from him which I tried out with very successful results. Mostly this was that taking photos in the typical English conditions — grey and overcast with the sun shining brightly from low in the sky, you need to wind back the exposure a bit to bring out the subject matter and the shadows.
This photo is one of my favourites, it shows the Anglers out on the beach, in about 8 degrees and the wind blowing in fishing.We had a wonderful time in Hastings with the Balls and we were tired and ready for sleep by the end of the day.