Interlude in Singapore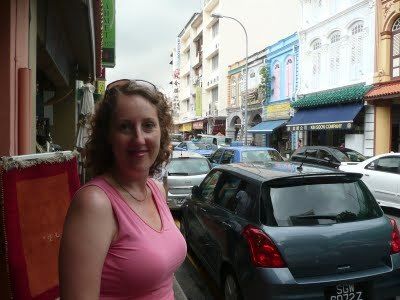 We've been having a very relaxing few days doing more tourist things in Singapore. On Saturday Karina and I left the kids with their Grandma and Grandpa and went to have a look at both the Arab District and Little India for a browse.
Karina standing on Arab street. Both of these districts have older style architecture than the rest of Singapore which is generally much more modern.
Older style buildings.
Walking down Serangoon street in Little India the shops were all similar, either selling cheap clothes, gaudy gold or in this case, bangles and more bangles!On Sunday we headed into Chinatown, this time as a group with the kids. It's also an older part of Singapore and again, full of tourist trap shops!
Ella had a great time picking out a fan.
Walking through the streets got very warm so we stopped for drinks, here Barry is drinking fresh coconut and Julie has a fresh lime juice. I had the lime juice, it was great.
We love seeing all the different cultures that combine to make Singapore, it is a really diverse area. This is a hindu temple on the edge of Chinatown.
Mum had eaten at this fresh noodle place before and said that it was worth seeing. It was amazing to watch how he took a lump of dough and simply by stretching and pulling at it, separated it into lots of individual noodle strands. The kids were fascinated and got invited up to help and have a photo. The food was also delicious.
Finally on the Sunday evening we went to the Night Zoo. This was really sensational. Despite the dark, you just see far more of the animals than a normal zoo because for many of them, this is when they are naturally most active. The flash (only time I used it before I realised I wasn't meant to) did make this Anoa Buffalo look more than a little demonic however.We didn't take any photos, just memories. There was a very entertaining show with the animals, then we walked a loop around over about an hour and a half. We arrived at around 7pm (when it opens) and left about 10pm. The highlight was seeing the leopards cruising in their exhibits, but there were many other interesting things to see and it is really worth a visit if you ever get to Singapore.Now with only a day and a half left, our thoughts are turning even more to Melbourne and we are looking forward to getting home.