Isle of Skye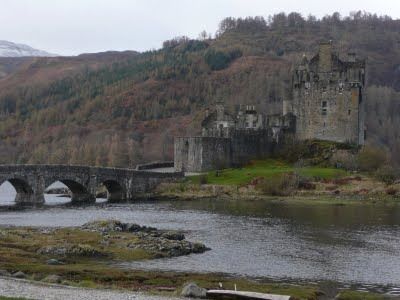 Thursday 10th April 2008We set off around 9:30am and drove the 12km up the road to Eilean Donan castle, the most photographed castle in Scotland. We added a couple of pictures ourselves.
Here's our shot of Eilean Donan castle.It's on a tiny isle about 40 metres off-shore at the confluence of three lochs. It's all very picturesque. Still privately owned by the McCrae's, it's full of family photos and memorabilia.After this we drove to the Isle of Skye. Skye is significant in my family as it's from here that my Mum's family line, the Nicolsons, are descended. There are a few Nicolsons here, and we were told there are still lots on the isle of Raasay, a small island between Skye and the mainland.While I didn't track down any long lost relatives, I did gain an understanding of who they were and why they left. They were most likley crofters (peasant farmers) and not particularly famous. The Nicolsons are a 'sept' of the Macleods, which I'm still trying to understand, but has something to do with the last of the line, a female, marrying into the MacLeods. Sometime around the 1900's, the last chief of the Nicolsons (or MacNicols) sold their remaining lands to the MacDonalds around the turn of the century (1900). This was all a flow-on from the potato famine of 1847-57 – famous in Ireland but equally in Scotland. At the end of the century crofters were forced off the land to make way for wealthy (English) landholders who saw Scotlands as tracts of land for sheep and deer hunting. When famine hit, no one had any food and some traditional landholders (the MacLeods and probably therfore the MacNicols who are much smaller) went broke, or very near, supporting the local communities while many of the men and women emigrated to a new life in America or Australia. It was around the 1880s when the full effects of the famine and the earlier deconstruction of the crofting system that the Nicolsons emigrated to Victoria, settled near Warnambool and became farmers once more. They did so with others from Skye as well, and MacDonalds are intertwined with the Nicolsons in Victoria. Orbost, another Victorians town has it's name originating on Skye too.On Skye we headed to Talisker and saw a whisky distillery, then on to Dunvegan Castle, the Macleods family seat. It was a great day and we are looking forward to Loch Ness tomorrow.
Relaxing after a day of driving, Ella doing her homework.