Jaspers photo safari to Kensington Gardens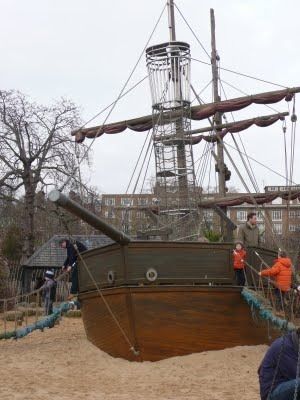 Ella has continued to feel unwell and so while Karina spent time at home (in the warm) with her, Jasper and I caught the train in to Kensington Gardens.  Karina had heard of an adventure playground there which we went to see.It's called the Princess Diana Memorial Play Ground and it's modelled on Peter Pan, so there is a pirate ship, tree houses, treasure chests, crocodiles and even a little Indian village.  While it was pleasant enough, Jasper soon bored of it, so we went wandering through the gardens instead.
Jasper loves using the camera and so he got to take lots of photos of things.
He took several photos of these swans. There was quite a collection of them, around 20 – 30 all on the banks of the round pond in the centre of Kensington Gardens.
This is Kensington Palace where Charles and Di lived (not sure if Charles lives there still). Jasper took this photo as well.
Queen Victoria was born in Kensington Palace and this statue is in the gardens just behind the palace. Jasper also took this photo. He always takes statues like this and then does a close up of any signs — very systematical about it all.
And here's Jasper (photo by me this time!). He has finally learnt to wear his warm clothes — it's taken a really long time for him to understand that he needs to keep rugged up and that he can't just run around in a T-Shirt and a light-weight jumper outside. Now he puts his red jacket on voluntarily which is a really big step.