Kew Gardens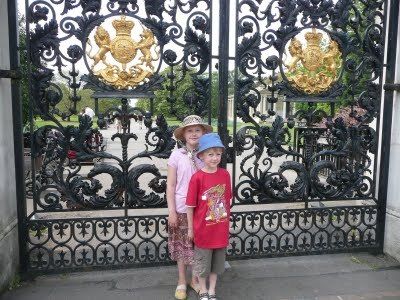 It's been now over a week of wonderful weather here in London, averaging around 20 – 25 degrees every single day. Ironically, so many of the shops don't cope in even this very mild heat, with one of our favourite cafes so warm inside that we can't go there now when the weather is good!On Saturday we decided to make the most of it and head to Kew Gardens and enjoy the sunshine. I'm told Kew Gardens is great at any time of year, but it was certainly sensational at the moment with everything out in bloom, particularly the Rhododendrons, which were just amazing.
Ella and Jasper by the main gate.
The Palm house
It's not a rude sculpture, it's a coconut!
Jasper playing in a sculpture made of old garden edgings.We wondered through the gardens, saw the Palm House and the Princess of Wales conservatory, both which were very interesting, the buildings are stunning, as well as the greenery. The Princess of Wales is particularly fascinating as it walks you through a series of climactic zones, from arid right to tropical. The progression is fascinating. It was also great because the Cactii were in bloom.
A barrell cactus
Another bloomin' cactus.Inside the Princess of Wales conservatory is also the Arum? Titania which is the worlds largest flower and smells like Rotting Flesh when in full bloom. I couldn't quite work out if it was flowering or not at the moment, but it is certainly very big. The scale is hard to judge in the photo but it's taller than me.
Arum? TitaniaThe wisteria were also flowering and we spent a peaceful 5 minutes sitting in this little pagoda resting our feet.
Ella looking lilacy!
A photo of me for a change.Well that's about it, but Kew Gardens was lovely. A great place to take kids as there are lots of interesting garden paths, displays etc, that make it worth visiting. I'd recommend two days to do it properly, but you can see the main highlights in about four hours.
Ella loves modelling for photos.