Last Day At Fircroft School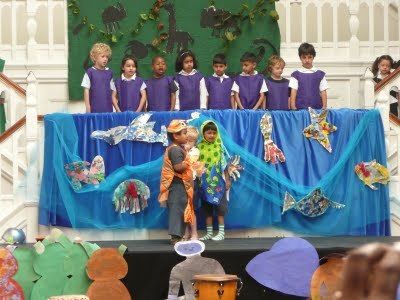 Well after 10 months in London, here we are. It's Saturday morning and we leave at 10PM this evening. Yesterday was the kids last day at school and it turned out to be far more emotional than we expected, particularly for Ella.Both kids received lovely cards from their classes, with lots of great farewell messages and well wishes from their friends, as well as lots of small presents and things to remember everyone by.My favourite message for Ella is this one "To Ella, I hope you never leave, but you have too!" from Jada, while for Jasper it's this one "To Jasper, I will miss you and the school won't be better without you." from Andre.
Jasper had his final performance in an assembly, this time in the big school hall as a "narrator".
The big hall is a really impressive asset to the school and has this fantastic staircase at one end which is regularly used for plays and drama activities.
In the evening we met all our friends at Pizza Express for a farewell dinner with the kids. We had around 10 families there and took up a big table through the middle of the restaurant. It was very noisy, but Jasper had a wonderful time.
Thomas, Andre and Jasper.It was very emotional and Ella caught us all by surprise by breaking down in tears when her best friends Donal and Graziela left to go home. She's been determined to go home and sick of Fircroft over the last few weeks, now as the reality of what going home means, she doesn't want to go. As she said, "I just realised going home means I won't see my Fircroft friends again." She sat in the toilet and bawled, then came home and bawled, then went to bed and bawled until finally falling asleep sitting on the toilet at about 10pm! She's still sad this morning of course, but seems a bit cheerier.It is exciting to finally be here on the last day, we've realised we will need to replace our broken suitcase to pack in the last items and I think the day will pass slowly. As much as we are looking forward to going home however, each of us is sad to be leaving the friends we have made here and we will miss them.