Legoland again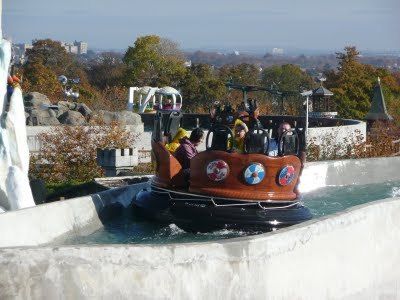 Last time we visited Legoland, we succumbed to buying an annual pass.  Today was the last day of the season as they shut over winter, so we decided to head out there again.  It was a much simpler journey this time as the train line was open between Staines and Windsor — last time, we had to take a bus for part of the journey.Despite having been there already, we still managed to spend an entire day, not repeat anything (except one playground) and have some rides left over for a visit when it re-opens in March.
Tim and Ella on the viking river ride. We are in the yellow — I put this here because you can just make out Windsor Castle in the top left corner.
Jasper is on the "Digger" ride, kids get to play with a real hydraulic JCB digger. He was concentrating really hard and trying to get it all co-ordinated.
I love this photo of Karina and Ella being silly on the Dino Safari ride.
The dino safari ride again, this is one of the few "action" shots of I ride I've managed to take that actually looks good.
Karina and Jasper ready to ride.
Another reasonably successful action shot.
Jasper spinning around with Karina watching him.