London Eye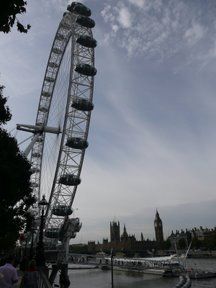 We went to the London Eye today.  Despite being touristy and all that, it was stunning.  It takes a half hour to go around and the view really was sensational.
Underneath the eye — it stands 135 metres tall.
The passenger capsules. Each one holds around 25 people.
Ella and Jasper inside the passenger capsule on the Eye.
Karina — she was not keen on it, but came anyway. She sat in the middle the whole time. You can see Ella in the background, she's reading a book — her new passion. Ella enjoyed the Eye, but got a bit bored so sat down for a quiet read for about 15 minutes while everyone else watched the view.
PwC / Charing Cross from the London Eye.
Big Ben and Westminster Cathedral from the London Eye.
Jasper loved the London Eye, he spent the whole time glued to the edge looking straight down.Click on the photos to link into Picasa, there are several more photos there. You'll notice some look a bit cloudy, this is the glass of the capsules which had a curvature and affected some of the shots.