Magic Kingdom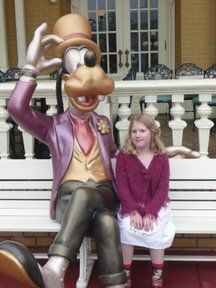 It's the classic, fairy tale image of Disney. The big castle, the fake street scenes, the Disney characters for photo opportunities (they now have keepers like security guards to stop them being mobbed), balloons, rides and lots and lots of people.
Sitting with Goofy
The castleIt took two visits to the Magic Kingdom – the first day only Ella and Tim went as Jasper threw up at breakfast (in the resort restaurant, all over the table, nice start to the holiday) so they did all the scary rides together. The next day we all went and spent more time seeing what was there. There are different zones in the park called 'lands' where they follow a theme, such as Tomorrow Land with space-related rides (Tim and Ella did the Space Rollercoaster which was inside a dome and done in the dark with lighting effects done like space). We found Tom Sawyer island, accessible by raft, and containing lush vegetation and small paths for kids to run about on. There were a few caves (artificial of course) and a tree house, but the barrel bridge was the highlight for Jasper.
Ella just LOVES rollercoasters, and rarely had just one turn.
Starting the ride
On the down fallJasper and I preferred the more tame rides, but the queues were a real pain. They have a FastPass system where you can get a time slot for a ride, then return to it to avoid the lining up. We gave up on buying lunch as the crowds were too thick, and ended up eating Doritos and other snacks!
A nice, slow, easy ride on elephants
Worn out