More photos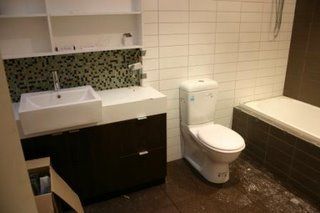 Further progress over the last few days, not a lot photogenic however. Plumber has come and more or less finished the plumbing — the sink in the bathroom is not quite square and needs to go back to the manufacturer, but otherwise all is good in the bathroom, with only the grouting and the showerscreen to go to finish the job.
The electricians have also been, finishing most of the work. Only ceiling fans and a couple of power points to go. We added a few last minute variations as we realised that the kitchen needed a second light switch in the lounge to work properly, otherwise all is great there.
Skirtings have also now arrived after the wrong delivery received last week (Lambs tounge skirtings instead of the War services we have in the rest of the house) and now are being put in.
Chris has finished up as of last Friday and returning to his "real" job as a forensic phsycologist after his year off — tragic loss to the building industry I say. This leaves James and Jason working hard to finish everything else. I've decided I too could be a builder — when I was on-site last Wednesday, it seemed James' job was not that dissimilar from mine at times — talking with people on the phone all day about various issues and how to resolve them! Between missing track, wrong powerpoints, faulty basins, missing parts in the stove, wrong skirtings delivered, absent plumbers and tilers etc. etc. there have been enough minor issues in the last two weeks to make up for the blessed run we've had to date!
The major focus now is on finishing off the inside of the house so we can start inhabiting it, and then focussing on the outside. James and Jason worked hard to clean out the inside today so we could entertain the GumNut parents group tonight — it was fantastic. The house is going to be great for entertaining now once it's all complete and furnished. We were so pleased with how it all went, everything just flows and works much better now, and the island bench is a real focus for conversation.
The bathroom with the basin and the toilet now in place. We are still waiting on the tilers to finish grouting the tiles.
Kitchen with the oven, cooktop, range hood and glass splash back all now in place.