More progress outside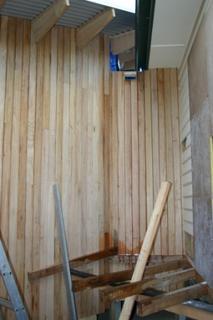 Now that the main deck is essentially complete, other progress has been made too. The cladding has continued around now to the laundry and also above the pergola. The laundry deck is now complete.
Inside, the cornices went up and the delivery of the flooring happened. According to James the floor will start going down in the next week or so in order to be ready for the joinery which is now only 1-2 weeks away.
The windows are due early next week so the house is progressing quickly. The final work to be done is sanding and oiling the floorboards, and this is scheduled to be completed by the 16th of December, so we have a finish dates of sorts now!
Cladding is completed around to the laundry door (which will be fitted behind the yellow tongue on the wall).
Bath hob more complete, with cement sheet on the floor ready for tiles.
The guttering is now up and the down pipe in (temporary) — it won't look like this ultimately!
Chris finalising the laundry deck.
Battens starting to go up on the pergola.