Natural History Museum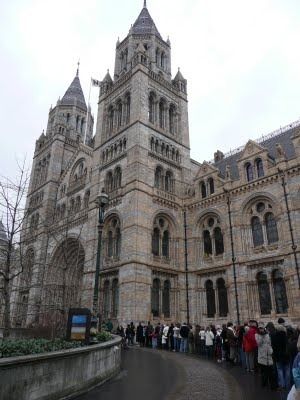 On Thursday, we decided to get out of the house and head to the Natural History Museum.  I've heard good things about this, but wasn't sure what to expect or how the kids would enjoy it.  I can now report that it was huge fun for the whole family and immensely interesting.
This is the queue at the front of the museum that greeted us when we arrived. We worried that it would be crowded and unpleasant inside but in fact it was fine. Mostly this was because every bag etc. coming in had to be searched, once inside it was ok.
The building is an incredible piece of architecture. It is amazingly ornate and every piece of it is decorated with carved figurines of lizards, birds, dinosaurs and other creatures. I remember thinking at one stage inside that you could just visit the building without any of the displays and have a good time.
The first room is the hall of wonders and you're greeted by this reconstructed Diplodocus.
There are small alcoves of each side of the hall with various displays and the kids really enjoyed looking at each of them, especially Ella.
You get a better sense of the size of the hall from this reverse angle.
We wondered randomly for a while and found the mineral hall which was much more exciting than you'd think — Jasper was happy because he found something with his name on it! At the end of this hall is "The Vault" which was a real treasure trove of exotic mineral samples and precious stones, including the Cullinan diamond and many other priceless lumps of gold, large Emeralds and so forth.
This is the type of decoration carved into every pillar and archway throughout the building.
Finally, we discovered why a) there were so many familes entering and b) why the rest of the place was reasonably empty — everyone was heading into the dinosaur wing. It was a short queue to enter, but once in, it is a sensational dinosaur exhibit which the kids (and adults) really enjoyed.
Although not very clear, this gives you some sense of the exhibit.
The climax of the exhibit was this large animiatronic T-Rex which looked around, roared and generally frightened the little kids and fascinated the big ones.
The whole place was huge – this hall of mammals included a life size replica of a Blue Whale and an actual skeleton suspended from the roof. There was far more than we could see in one day alone and after these adventures we headed home but there is no doubt we will go back again. If you're in London, this is a real must, especially if you have dinosaur crazy kids and even if you don't.