New feature: See who else has shared the same link…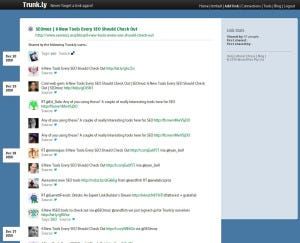 One thing you've probably noticed and has perhaps frustrated you is that when you're reviewing your links, you could only see 5 of the people who shared the same link as you. Trunk.ly would tell you that there was others that had also shared it, but you could only see a random five.
This was for performance reasons — getting all those people for links would put a lot of strain on the servers and also slow down your browsing experience. Now we've launched a new links page where you can review others who also share the same link.
On your home timeline you'll now see that the Total Number of Shares beside a link is clickable.
This takes you to a link summary page that shows you all the users who shared the same link as well as the note that they shared with it. It's one of the several new features we'll be launching this week to help you discover and find new people with interesting links to follow.
Enjoy! And let us know what you think. Personally I've been really fascinated to see who first shared a link and how it has evolved over time in the notes, even with our relatively small user base.
Cheers,
Tim
PS — Currently the format used is our internal link hash ID, we'll almost certainly extend it soon to let you enter URLs etc.