Paris - Day Two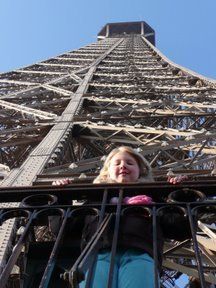 On day two, I took Ella to the Eifel Tower so we could go to the top.  We were there early enough that we went straight up without queuing.  It was really cold — around 5 – 6C, but we had a great time together, it was a nice Father – Daughter moment.
Ella on level 2 with the tower towering above her.
Ella at the top of the tower.
Me on top of the tower, photo taken by Ella. After we got back, it was onto the Metro, and out to Chatou, to visit the O'Dwyers on their home turf.  We found more playgrounds, wondered the markets, and spent a very enjoyable afternoon in their "gatehouse" apartment (it's the old gatehouse to a much larger mansion), eating baguettes, olives and cheese while the kids played.
On the carousel at Chatou.We then returned to Di and Greg's so that the kids could all play together for a while and had a really delicious fish meal with a mango salsa that Di made for us and drank wine and ate cheese until late at night (ok, so I watched, but I stayed up late).Another great day.