Week 100 - Peace in the Ionian
Kastos, Kalamos & Meganisi, it is possible to find some peace in the Ionian.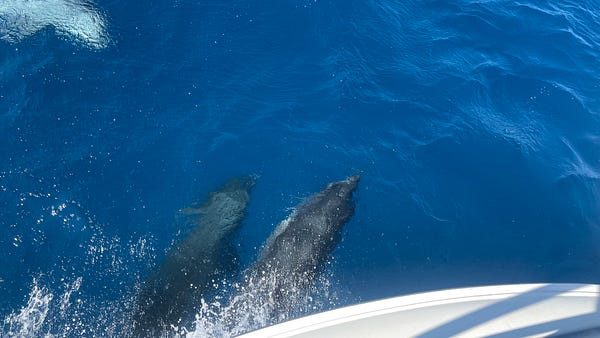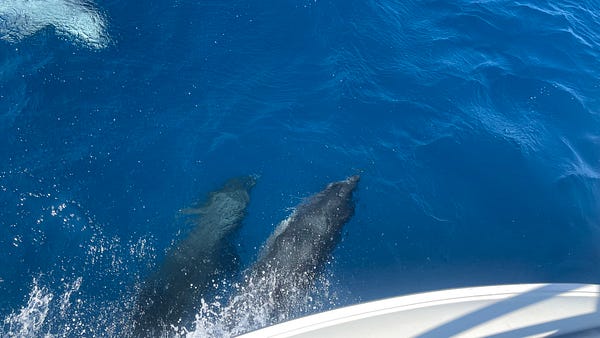 Kastos, Kalamos & Meganisi, it is possible to find some peace in the Ionian.
It seems disasters are a popular topic. I had more comments and interactions after last week's blog post than I've had in a long time! Sadly (for you the reader), but fortunately (for us), there's almost literally nothing to report this week.
To put some perspective on it, the Southern Ionian Islands (from Zakynthos, to Kefalonia and up to Lefkada)is actually quite a small area. Boats can make distances seem large, but in reality, it's all crammed inside an area stretching roughly 140km North to West and around 60km east to west. The really popular parts are in the top most corner, roughly 60km high by 30km wide. It's an area a little bit bigger than the Bay Area in San Francisco, with the popular part concentrated on the Peninsula down to San Jose. Or Greater London including Reading, with the popular parts all well inside the M25.
Of course a lot of this is "no go" — boats don't sail on land, then within these relatively small areas, there are "hot spots" that everyone has to go and see. We are not evenly distributed at all — everyone wants to go to Meganisi and one of the two protected bays at the top. There's only one port and one bay you can shelter on Kalamos, Astakos Island is stunning, but there's only one bay on it. It's like everyone in those areas HAS to go to see Big Ben or to see the Golden Gate Bridge.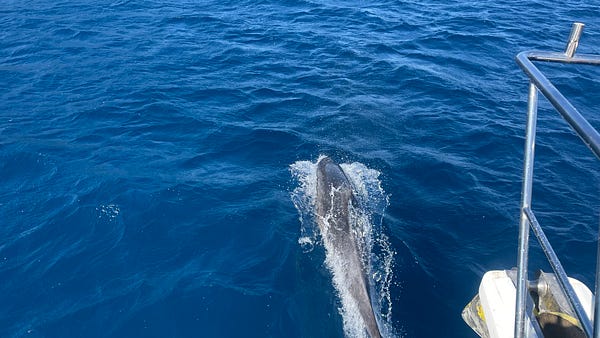 Or you can go visit Belmont, south of San Francisco, or the Prickend Duck Pond in south east London! Which is exactly what we did. There is no reason as a tourist to visit the gulf of Petalas. It's at the mouth of an irrigation canal running off the Acheolos River. It's bordered on one side by what must be the worlds MOST boring private island — no trees, no beach, just mostly rock. On the other, it's mud flats and strange fishing shacks. What it does have going for it however is two wonderful things! Zero charter boats and lots of wonderful space where you can anchor in shallow water and put out lots of chain. It makes for a great place to really relax. No worries about the wind, no worries about the other boats (there's so few of them and the only other people there are experienced boaters anyway).
What it doesn't make is for good travel stories. Sorry about that.
We then headed north, sticking to the mainland which is again bereft of tourists and charter boats. No self-respecting charter says "oh let's go to the Ionian Islands and visit the mainland". Which is a little bit of a shame really, Atokos was surprisingly quaint for what you would generously call a Greek "utility" town. Nice waterfront, some decent buildings and the highlight for us, a good supermarket. It's not all ancient ruins…
After the break, and stocked up again on milk for our morning coffees, we decided we'd head back into the fray. At this stage we figured that most of the boats would be swarming around the southern edges of that tourist zone, while we had worked our way up the side and could visit the more northern parts somewhat peacefully.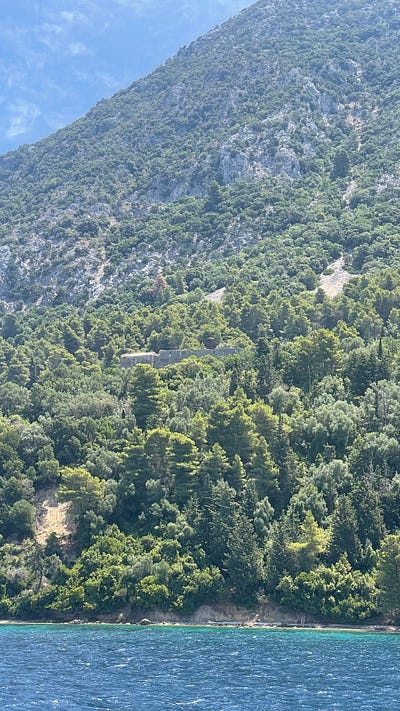 Unfortunately the wind was at it's unpredictable best. We cruised past the islands of Kastos and Kalamos then ended up back on the mainland again, this time at Mistikas in a big sheltered bay. Apart from the obvious lack of tourism type things to do, the other issue with the mainland is that we've been hearing a lot of stories about people having their boats and dinghies broken into and at Mistikas we definitely felt a little on edge. We caught someone "scoping out" Tilly after we'd just left, enough that we decided to move her to a place closer to lots of others. It's a shame as this just isn't a feeling we've really had in Greece before — sure Athens has it's share of pick-pockets, but outside of that, we never need to lock anything and have had no problems. This side of Greece on the eastern mainland definitely feels less secure.
Finally we made it back to the island of Kalamos and spent two nights in a big bay there. On the second night (Thursday), we had 36 boats in there with us, but it was big enough that there was plenty of room for everyone and we had no issues. We did a bit of boat cleaning and plenty of swimming. One novel thing this week is we've discovered that Rosie is very comfortable swimming to shore — if we take the ball, pop her life jacket on and pop her into the water, she happily swims to shore and sits there waiting for us to catch up and throw the ball.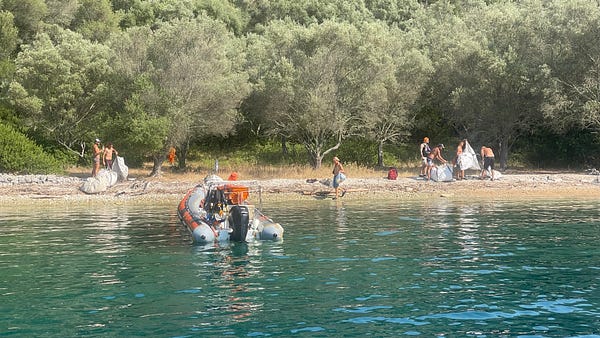 The bay at Kalamos has the ruins of an old village on it, another of the "victims" of the Ionian earthquake in 1953. In addition to the buildings destroyed, the water supply from the north of the island was cut off and they decided it was better just to abandon the village instead. I've realised that a lot of Australian Greeks have come from these areas, their grandparents often emigrated en masse, the whole village deciding to make a go of it in Australia after the devastations of the Second World War and then the earthquake that destroyed their homes.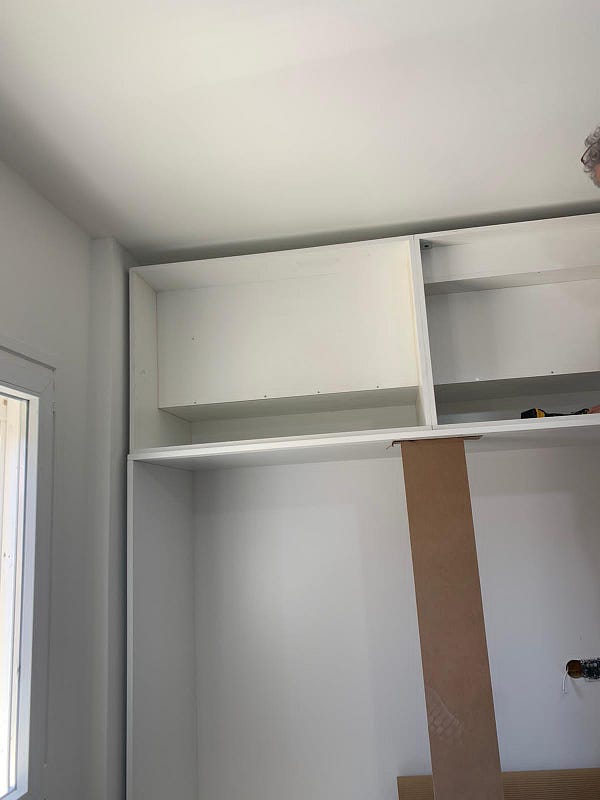 The last two nights we've been on Meganisi. We've been hopping from bay to bay during the day, exploring and swimming, then finding a sheltered bay at night as the charters are now all back up swapping over in Lefkada.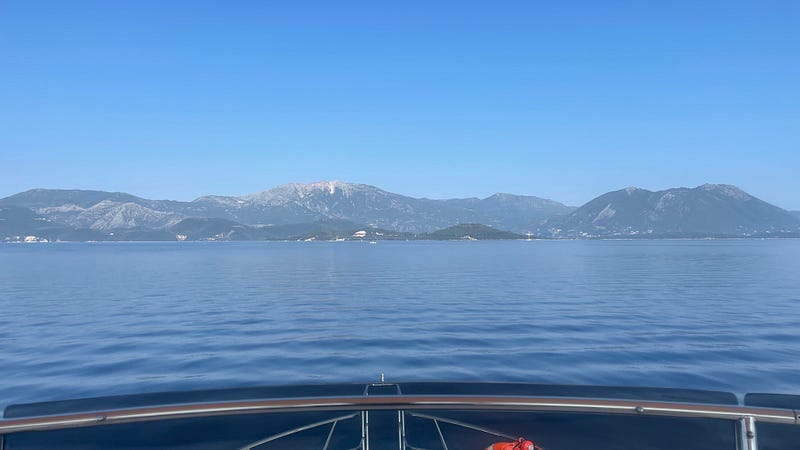 Tonight and tomorrow, we'll find a nice bay for swimming and relaxing before heading to Lefkada Marina Tuesday morning where the week will change dramatically! It will be rushing around, prepping the boat to leave her for a few weeks, meeting with suppliers, organising some much needed maintenance, leaving Rosie with a dog sitter, and then off to Munich and Bavaria for a holiday.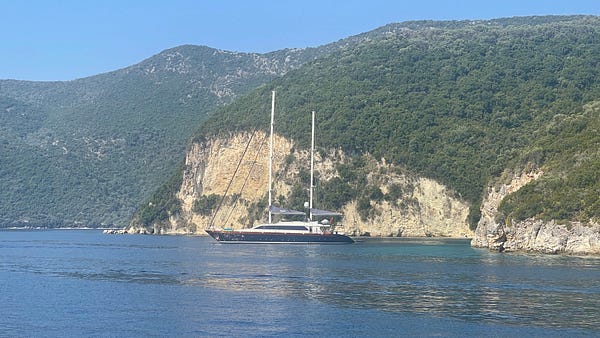 Super yachts
A friend Ned was asking for a little bit more information on some of the Super yachts we've seen after we mentioned them last week. There are a lot around, some areas (this is one of them) attract more than others.
The definition of where a superyacht (or even gigayacht) crosses the line from just plain old yacht to superyacht is nebulous at best, but it's generally accepted that a superyacht is more than 25 meters (80 ft) long. It's going to have a dedicated crew. You quickly realise however that not every boat over 25 meters qualifies as "super yacht" in my book (and yes, I have a literal book I note down some of the biggest we've seen!), some of those are really just very big expensive yachts. As they say, I guess a super yacht is a bit like porn, you know it when you see it.
Here's some of the more extravagant or interesting super yachts we've seen on our journey — if you're interested, then make sure you click the links on the names as I've linked to charter sites with interior photos so you can properly gawk (we do all the time).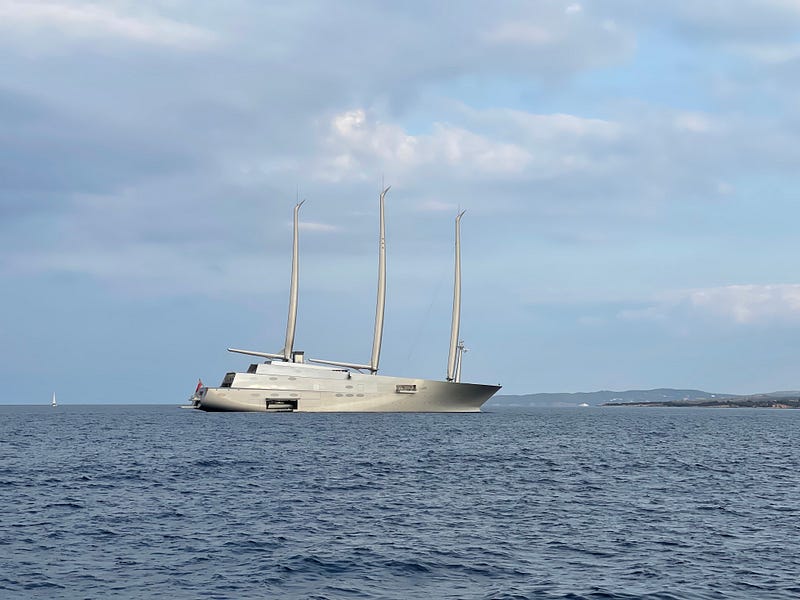 Sailing Yacht A — at one stage in the Top 5 biggest in the world is probably the biggest we've seen at 142 meters (465 feet). It's not for charter and is impounded in Italy at the moment as it's owned by a Russian oligarch.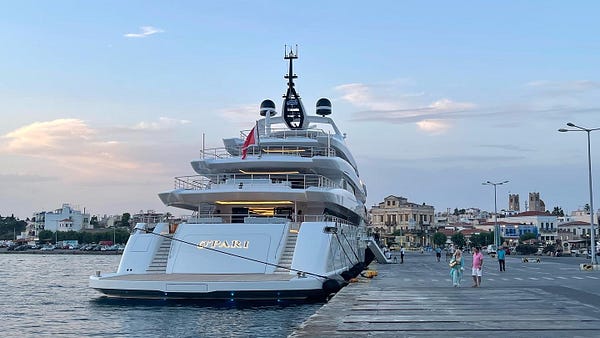 Golden Yachts are a Greek builder of super yachts, they tend to name the boats "O' something". We've seen O'Pari, O'Ptasia and the super yacht we docked next to last week after escaping the charter fleet was O'Mathilde. O'Pari is the largest — 95 meters long and costs €1,000,000 a week to charter. O'Mathilde is 56 meters long and costs a more reasonable €340,000 a week high season to charter.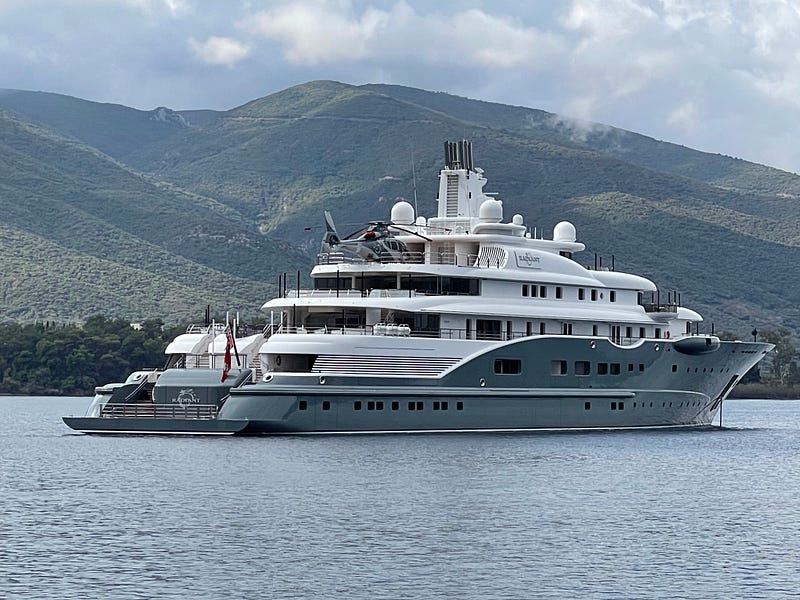 Another large yacht we've seen is Radiant, 110 meters long and owned by a Saudi Sheikh. She's also not for charter, has a helicopter on the back.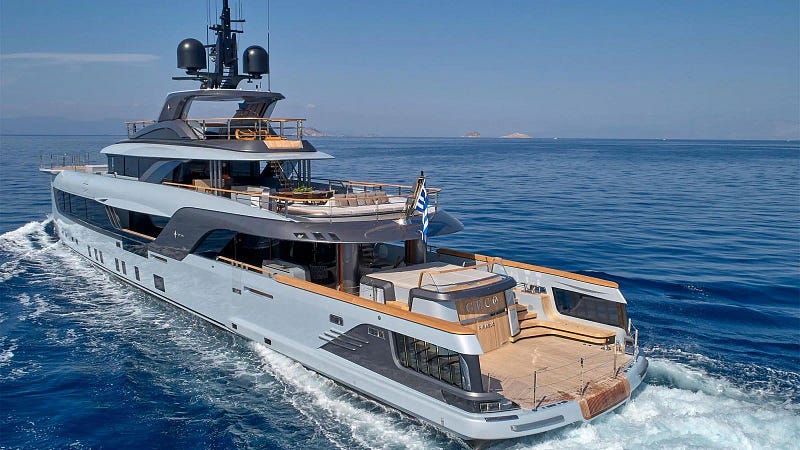 The super yacht and crew that helped us un-trap our propellor last week was Geco. 55 meters long, €335,000 a week and billed as "family friendly". They were certainly friendly to us. No complaints!
As an aside, when you browse the yachts you might notice that most of them only allow 12 guests, regardless of size — it's a quirk of the classifications and regulations for pleasure yachts vs commercial which restricts the number of guests on board. Apparently you can work around these, but the expense is not worth it. There's not the same limitation on crew however, so you regularly see these huge boats with a crew of 14–20 and 12 guests. From what we've learnt chatting with people (and watching the TV show Below Deck), 14 crew might be something like 1 captain, 1 first mate, 4 deckhands, 4 inside crew (stewards), 2 engineers, 1 chef and assistant chef.
Want to see where we are, or check where we've been? Check us out on NoForeignLand https://www.noforeignland.com/boat/matilda
Until next time,
Tim & Karina