Week 101 - Lefkada to Munich
Lefkada to Munich! Trading dry hills of Greece for the rolling green of Bavaria.
Lefkada to Munich! Trading dry hills of Greece for the rolling green of Bavaria.
I think the thing that's surprised me most this week is just how interconnected both history and culture is here in Europe. I've commented on that before in Greece too and it's interesting to see parallels even in Germany. Perhaps it's because in Australia we really are at the arse end of the world, a transplanted culture that doesn't share much in common with our neighbours. Whereas here, there's interchange and commerce, wars, changing borders and a gradual spread of culture. While Greece and Germany are obviously very different from each other, there are some interesting cross-overs.
Our overwhelming impression after coming from the dry mediterranean climate of Greece is just how green everything is. Of course that comes with it's own challenges because it actually rains during summer here! A novelty when we can't remember the last time we saw water falling from the sky (back in March or April maybe). As we drive around I've been constantly commenting on how it feels like we're driving through that Windows XP screen with the rolling green hills (although strangely that one is Sonoma in California!)
Even getting here was a novelty. It's exciting that you can hop on a plane here and in only 2 hours be somewhere that's so different. As Australians we love that about Europe — crossing into another country is so simple and easy to do it's exciting. We're planning to drive to Austria this week which is partially because we want to see Salzburg, but also it's because "we can" and that's kind of cool.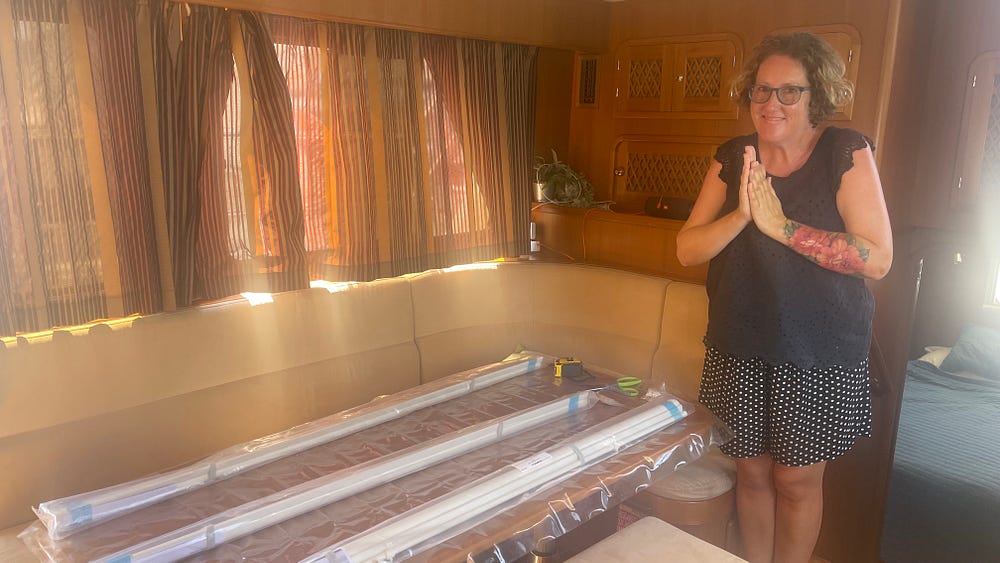 I predicted that last week that we'd be rushing around and that's very much the case. We've done around 150hrs so far this season and 860nm, it's a good time for a mid-season break and to catch up on some maintenance for Matilda. The macerator pump had stopped working properly which meant we could no longer reliably empty the toilets (mostly just caused things to be stinky) and of course the port engine has a water leak which in itself isn't causing a major issue, but there is a build up of salt in the engine room which WILL cause problems if we don't get it addressed soon.
It was a novelty arriving at Lefkas Marina and being around lots of boats again after trying to stay as far away from everyone as we could. The first day we walked so much that it was a major shock to our systems. From basically 400–500 steps a day on the boat the week before to 19k steps in Lefkas, our legs and backs had a bit of a complain!
We met with Keven and Kerry who have a berth for their boat there and finally got to enjoy that drink and a dinner together, we met with the yacht service company to plan the maintenance while we are away, Rosie visited the vet for a booster shot and Karina had a blood test. Lots of maintenance organised for both the boats and us. After seeing the marina we've also decided we'll stay here for winter, so that was sorted out too.
The day of the flight we were feeling nervous as there was a big strike in Germany impacting Lufthansa and both Munich and Frankfurt. Over 100,000 passengers were impacted and we expected our flight would be cancelled but every time we checked it was still on. We arrived at the airport expecting to be told to come back tomorrow, but it ran on time OK. When we arrived at Munich though we were literally the only flight on the arrivals board!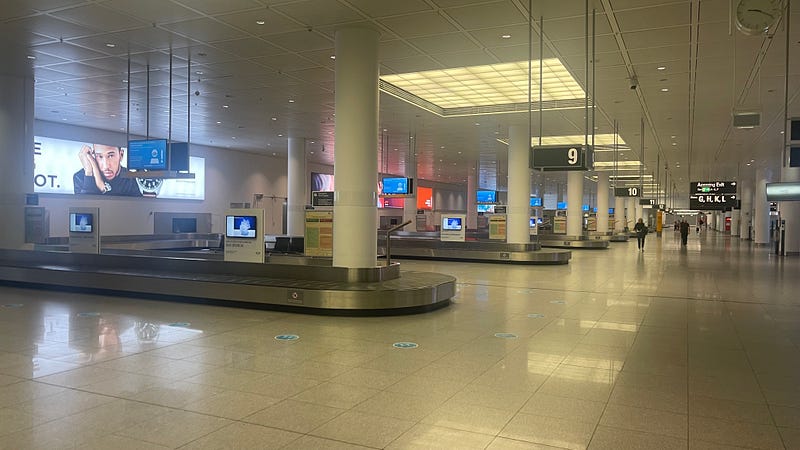 Given that we were arriving late in the evening we made the decision to just stay at a hotel near the airport so we could relax and then hire a car the next morning. The woman who checked us in was very efficient and full of questions, "Do you need a taxi?", "When do you want breakfast?", "What time do you want to wake up?".
We said we didn't really care and did we have to make all these decision now and she commented on how we were "very relaxed". I guess that's boat life and also of course we didn't have a flight the next morning so that helps too.
Thursday morning we drove into Munich and met a couple of fellow travellers from a Facebook travel group. They recommended the Hirschgarten Biergarten as good place to meet up that they'd wanted to try, so we headed there in the car and spent an hour or so wandering around the park and watching the locals. So many pregnant women and babies everywhere!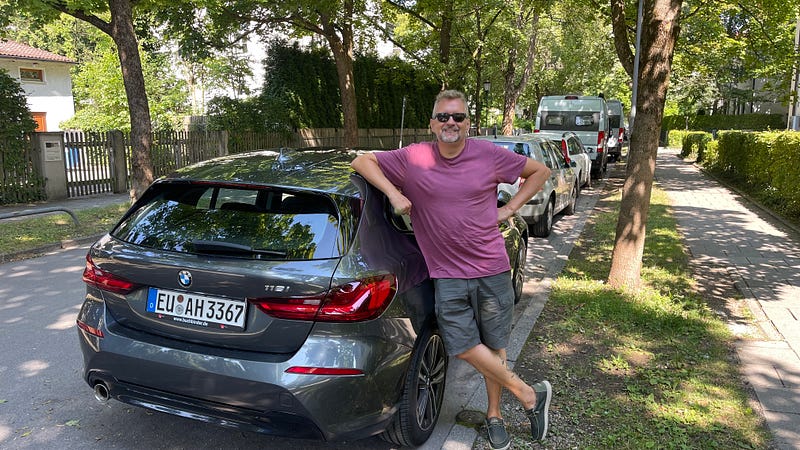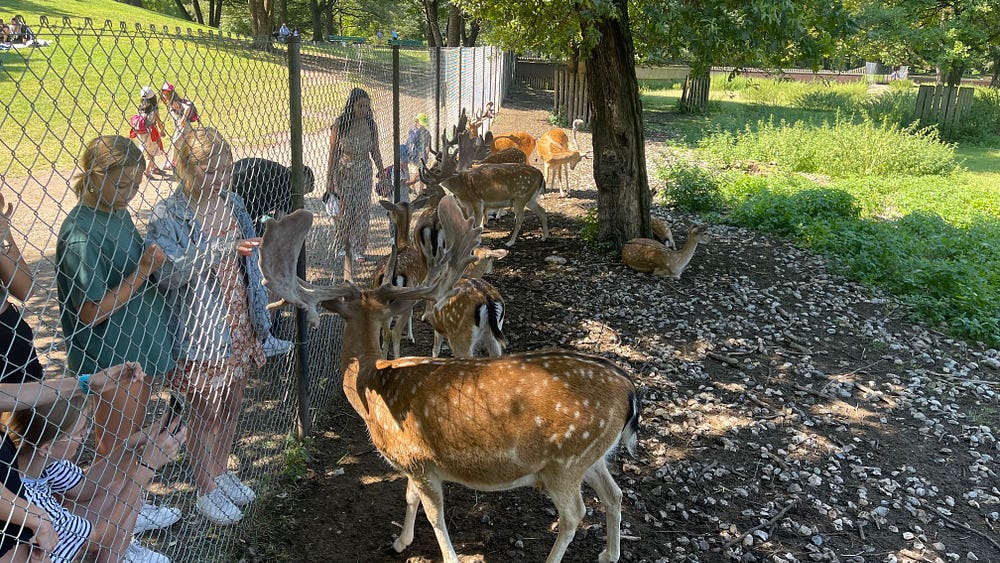 The biergarten where we had lunch was huge, it had space for several thousand people to sit. When you order a beer here in Bavaria you have a choice of either 0.5l or 1l, nothing smaller. Given we were driving I stuck to the 0.5l. The food in the biergartens is typically roasts of some sort. As the people we met up with said, a few days here and you'll be craving a vegetable of some description.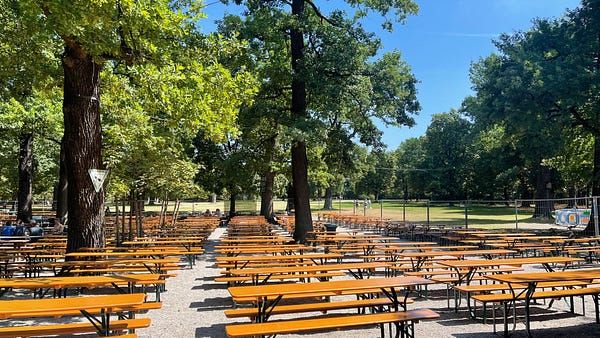 From there we walked over to the Nymphenburg Palace and strolled around the gardens. This is the summer palace of the Bavarian Royal Family (the Wittelsbach Family) and it was here that Ludwig II was born as well (we'll hear more on him in a moment). For the most part it's a spectacular building with beautiful gardens and is still in use by the Wittelsbach family, although they are no longer Kings and Queens.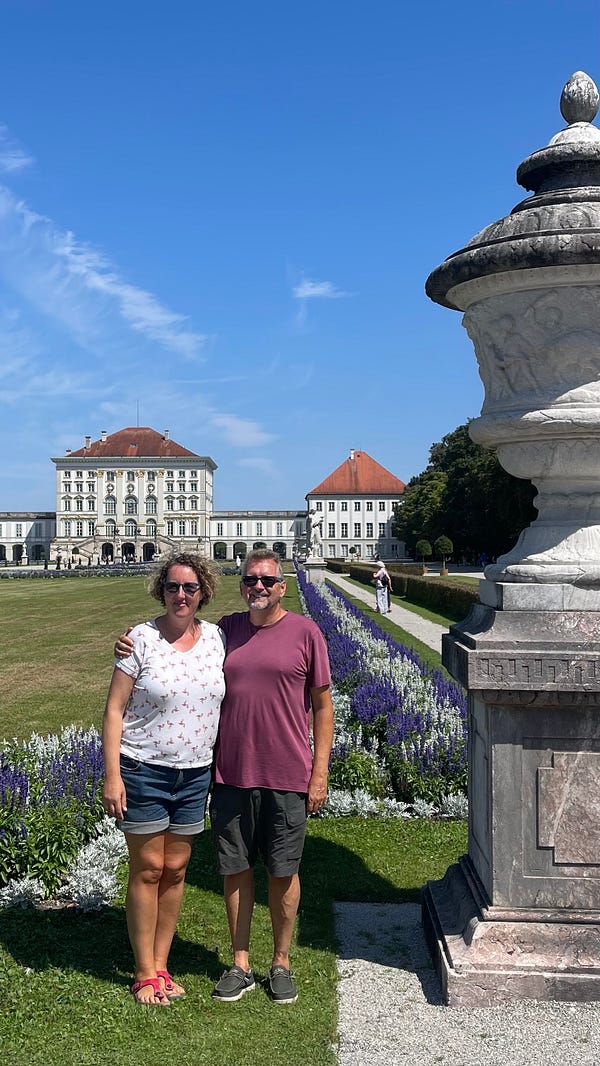 Thursday evening we arrived in the village of Utting Am Ammersee where we are staying with Isa in Markus' family home (Markus is staying back in Samos with his boat Tara). We met Isa's daughter Ella and had a lovely walk around the village down to the lake where we watched the locals jumping from the diving tower and had another dinner in a biergarten (biergartens are no joke here in Bavaria — they are everywhere and absolutely the place the locals go, it's not just a tourist thing at all).
Friday we took it easy during the day and explored the local area a little. We drove over to Kloster Andechs, an old Benedictine Monks settlement since the 1450's that's been brewing beer since then and of course, an attached biergarten where we had lunch (if you're counting, you are correct, the first three meals we've had in Germany were biergartens…). It's one of the few remaining breweries left in Germany that's still operated independently by a monastic order.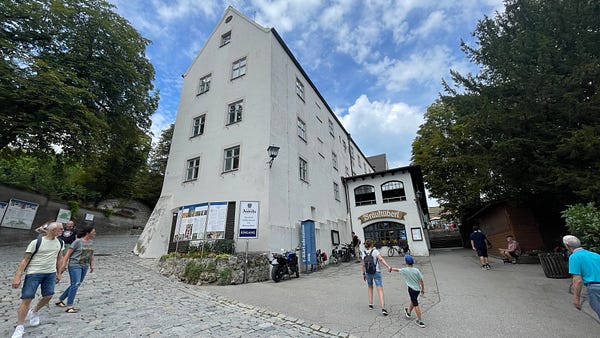 Then Friday night it was off to the Rittertournier — the knights tournament. Markus and Isa had described this to us one evening and after hearing about it, we decided we had to come and check it out! Strangely it's not the main drawcard for Bavaria, but it's definitely entertaining and a lot of fun. It's basically a renaissance fair on a grand scale that's been setup with a permanent home that makes it a kind of medieval Disneyland. There are lots of displays and demonstrations of medieval craftsmanship, stores selling leather armour, decorations and princess crowns and then entertainers both wandering around and at permanent stages. It's a lot of fun and definitely worth a visit.
The highlight is the Knights Tournament, a grand arena show which has all sorts of stunt riders, fake battles, sword fights and jousting. It's quite entertaining and the performers are very skilled and do a lot of dramatic falling from horses. The whole show is wrapped into a story of an evil prince and involves a lot of crowd participation of cheering the heroes and booing the bad guys.
Saturday we drove south to the edge of the alps and visited Neuschwanstein castle and Hohenschwangau Castle. Very close to each other, they are both spectacular buildings set in very dramatic scenery.
Let's pause a moment to look at the Bavarian royal family, it's relevant I promise. There was King Ludwig I who had a LOT of children. Of relevance however he had Maximilian I (who became king after Ludwig), he had Otto — who was shipped off to Greece to become King Otto I of Greece, and another son Luipold who eventually became Prince Regent.
I said there's all these interesting ties in Europe and this is one of them. I hadn't really thought that much about where King Otto of Greece had come from (I knew he was a German import), but here we are in his ancestral family home! The Greeks will give you all sorts of reasons for the blue and white colours of the Greek Flag, but is it just coincidence that it looks a LOT like the Bavarian flag where Otto came from and has the same colours?
Anyway, Ludwig I believes in the absolute power of monarchy and after riots and constitutional change he abdicates, refusing to rule as a constitutional monarch. Maximilian I becomes king.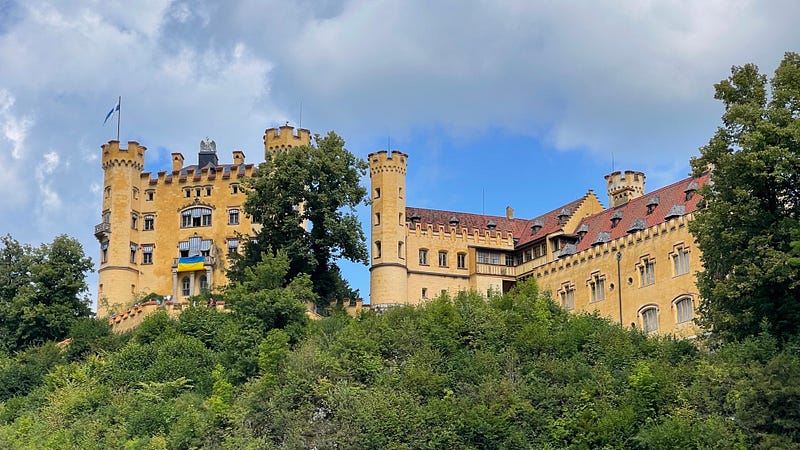 Max loves the middle ages and buys a ruined castle on which he builds Hohenschwangau Castle, a baroque castle that's more romantic than practical (think Palace disguised as a castle rather than anything military). He marries his wife Marie who loves the mountains (and became the first women to scale several of the alps) and they increasingly spend time here. They have two children, Ludwig II and Otto.
After his fathers death, Ludwig II becomes king at the age of 18. Now, it's never explicitly said during the tour of the castle, but most scholars believe Ludwig is homosexual and also had some mental illness, perhaps exasperated by his inability to reconcile his sexuality with his Catholic faith. He adores the german composer Wagner and is infatuated with him, although it's not clear that there was ever a physical relationship. Some scholars seem to believe that Wagner was laying it on a bit thick as Ludwig II was throwing a lot of money his way as his patron.
"He, the king, loves me, and with the deep feeling and glow of a first love; he perceives and knows everything about me, and understands me as my own soul." Richard Wagner to Mme Eilza Wille 1864.
Still, Wagner wrote to friends about his love for the King, not just in direct letters to the King and there's speculation he may have been bisexual. Regardless, the King had a special chamber built for male guests in the castle (Tour Guide: "This is very unusual, it must have been a great honour, but we're not sure why he let them stay so close to him"). Wagner stayed there on several occasions.
It's with this background that Ludwig II who spends his childhood roaming the mountains around the castle Hohenschwangau finds the ruins of another castle on a hill nearby and decides to build Neuschwanstein (New Swan Stone Castle). It's intended to be both a "true medieval castle" — in the image of what Ludwig believed a medieval castle should really be, which is not a square, grey functional military building that originally occupied the space, but a romanticised version of history. Sweeping white towers and essentially a fairytale. It's also meant to idolise Wagner and his operas and stories. The original designer of the castle was actually a stage-designer!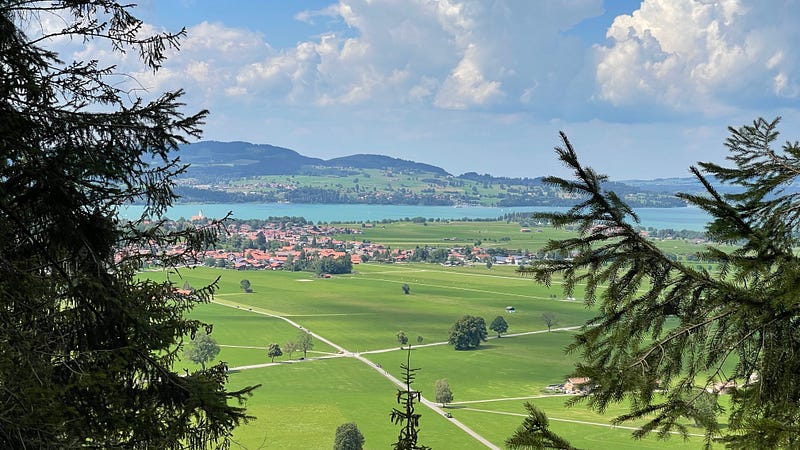 Ludwig II descend deeper into his obsession with architecture and reconstructing the lost medieval period, obsessing over Wagner and falls deeper into madness, spending more and more money on his fantasies to the point that in his early 40's the Bavarian Parliament plot to have him ruled insane and removed from power. The consensus seems to be that while Ludwig II wasn't firing on all cylinders, the process followed to declare him insane was a bit suspect. In the end Neuschwanstein was never completed and Ludwig II only lived there for 150 days or so. Two days later he's dead in mysterious circumstances (the most commonly accepted theory is that while walking along a lake with the psychiatrist that had him committed, Ludwig II strangled him, then dies from a heart attack himself due to over exertion as at this point in his life he's very unhealthy and a drunken, drug addicted recluse, but no one knows what really happened.) His uncle, Luipold takes over as prince-regent and rules in place.
It's a story worthy of opera in its own right, full of tragedy and drama and such an interesting backdrop to explore the castles with. What's fascinating is that line between genius and insanity — they tried to rein his dream in so many times, yet today, it's one of the premier tourist destination in Bavaria and despite it's historical inaccuracy (no castle really looked like that), it's now an outstanding example of romantic castle design. It also inspired Walt Disney who modelled Sleeping Beauty's castle on it.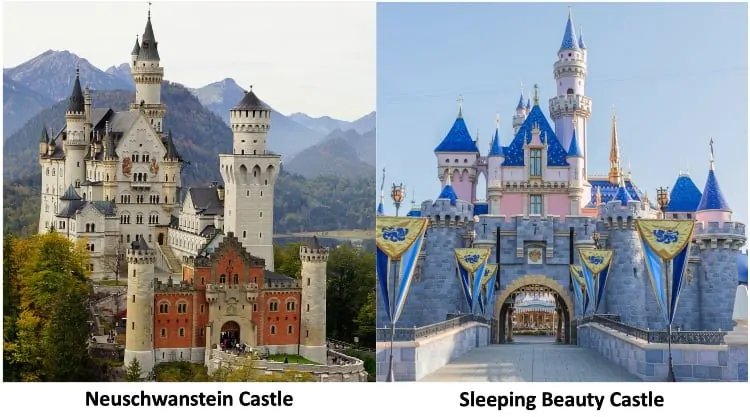 If you're interested in some more background check out https://www.psychologytoday.com/us/blog/checkpoints/201909/how-forbidden-love-benefited-opera and in particular some of the letters from Ludwig to Wagner http://rictornorton.co.uk/ludwig.htm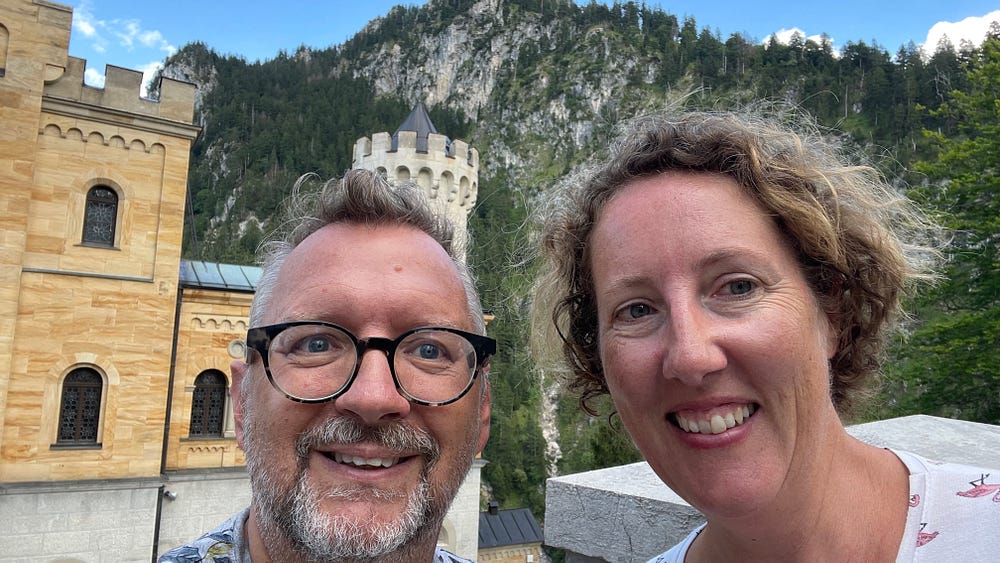 Enough history, today we're having a quieter day, driving into Munich before heading out to explore more of Bavaria in the next week.
Want to see where we are, or check where we've been? Check us out on NoForeignLand https://www.noforeignland.com/boat/matilda
Until next time,
Tim and Karina