Week 102 - Bavaria and Salzburg
Exploring Bavaria, spending time with Isa and off to Salzburg
Exploring Bavaria, spending time with Isa and off to Salzburg
NB: I apologise in advance for the somewhat ridiculous length of this post, but we did do a lot. Normally I sit down and bash this out on Sunday morning, but this week I had to start early and do it in a couple of shifts just so I wouldn't forget everything!
We continue to love exploring Bavaria. It's a region of Germany that's rich in scenery, history and culture. Spending ten days here seemed like it might be too much, but now feels like it's not enough. Every day is an adventure in language and exploring new horizons.
For example, in our first few days we were amazed by the pervasiveness of Geöffnet. With our Silicon Valley backgrounds the thought of a wide spread public access internet brought joy to our techy hearts. A common refrain on every store "Wir habben geöfnet". A welcoming people indeed and despite the region's rich history and focus on tradition, also very forward thinking in ensuring internet access for all. Turns out "geöffnet" means "open" and "Wir habben" translates something like "We have opened". Or "We are open". Never mind, the 4G access is good too, with access available even at the top of the Alpspitz.
We've also learnt some amazing Bavarian expressions, for example a women who has a lot of "wood in front of her hut" is considered big breasted (or conversely, one who doesn't have a lot of wood in front of her hut has smaller breasts).
We're enjoying the number of people out and about wearing lederhosen as well. Apparently it used to be considered a bit "kitsch", but there's been a big resurgence in it and lots of people now wear it on the weekends or evenings walking around (or attending the biergarten). There's apparently a real swing away from US culture, accelerated with the rise of Trumpism and whereas years ago, the US was seen as "cool" and desirable, today that's not the case although of course US culture is still ever present. It's definitely no longer an aspirational destination for a lot of people.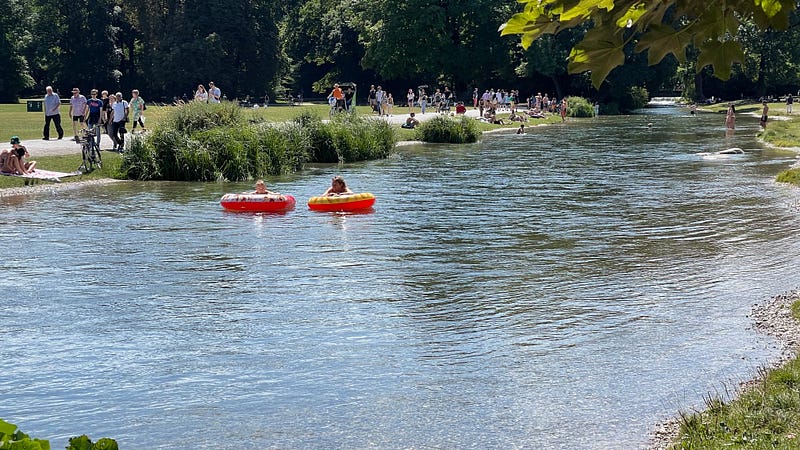 Last Sunday afternoon we drove into Munich to explore the Englischer Gardens. What amazed us most about this was the river that ran through the centre — the water was so clean that 100's of people were sun bathing and swimming in it. They were also surfing on a standing wave and riding a fast paced section on tubes, drifting along for a kilometre or two through the park. The second thing that surprised us was the number of nude people sun bathing in the long grass. Note to self, don't wander off through the grass!
On the way back to Utting, we decided to stop at the BMW Welt / BMW Museum. The Welt part was basically a fancy car showroom of all the BMW marquee brands, including the Rolls Royce (seriously heavy doors!), and then the museum was a history of the development of all things BMW. It was entertaining enough and worth a look if you have time, but by the end of it we did feel a bit like "yup, shiny car, 'nother shiny car, oh motor bits…" I guess if you're into it you'd love it — judging by the number of people taking photos in from of the M3 sign, the famous office building (in the shape of 4 cylinders) and drooling over the displays, there's plenty of fans out there.
Isa recommended that we should visit the Alps. There are a couple of places nearby that are worth seeing, one is Zugspitz which is the highest peak in Germany and the other is Alpspitz, the second highest. On her advice we chose Alpspitz because the views are supposedly better and apparently on Zugspitz the highlight is the local glacier, but during summer it's covered over in plastic to try prevent the worst of global warming.
We loved the gondala ride to the top and enjoyed the fresh mountain air. It's such a novelty for us in summer to feel cooler temperatures. From Alpspitz, we explored the nearby town of Garmisch then headed over to Partnachklamm Gorge for an amazing walk along a path which has been cut into the walls alongside a fast running river gorge. It really was one of the most awe inspiring things we've experienced!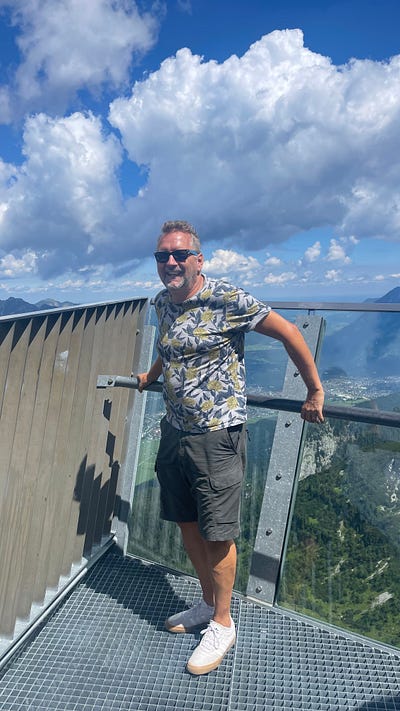 The gorge is accessed behind the ski jump for the 1936 winter olympics. It's spectacular because of the colour and volume of the water as well as the amazing access that the path gives you to somewhere that would otherwise be very difficult to visit.
From there we headed to the small town of Mittenwald, right on the border with Austria and enjoyed exploring the town and in particular the painted style of architecture. After dinner, we headed back home to Utting.
Tuesday was a day to get a few chores done in the morning as well as relaxing a little, visiting Markus' orchard and a local horse farm, then on Tuesday afternoon Isa's friend Thomas invited us to join him on the lake on his speedboat. We were very happy to join in and had a lot of fun shooting across the lake at about 3 times our normal boat travel speed. We took a look at a small village and then went for a swim at his favourite spot. Swimming in freshwater was both novel and enjoyable for us. I don't think I've swum in freshwater (other than a swimming pool) more than a couple of times in my life. It's very different from saltwater, both less buoyant but also not so… salty :D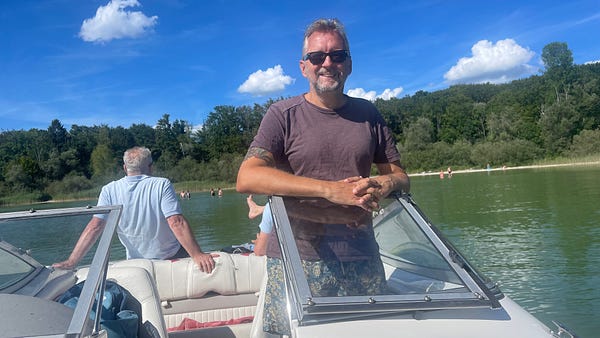 Refreshed we set off the next day on our longest journey yet. We'd touched on the Romantic Road when we visited Neuschwanstein Castle last week, this time we were heading 2.5 hours north west of Utting along the autobahn to Rothenburg Ob de Tauber, then back along the Romantic Road to Utting via several other medieval villages.
Rothenburg OT is considered on of the best preserved medieval towns in Germany. It's always interesting how quirks of history drive the fates of places. The Protestant town was defeated by the Catholics in the Thirty Years war in 1631. After leaving, the town was stripped bare and destitute and then suffered a bubonic plague in 1634. Without any money, power or enough people, the town stopped growing and thus was preserved in a kind of stasis for 200 years.
In the 19 century, it started to gain recognition from painters as being particularly authentic and then in the 1930's, it was held up by the Nazi Party as the epitome of the German "home town", representing everything that was quintessentially German. This brought economic success and helped to preserve and further develop the town, although it had its dark side as well — the town was one of the first to evict Jewish people living within its city walls.
Later in the war as the allies moved into Germany there's an interesting story about how it remains so well preserved. The US secretary of war, John McCloy knew of the historical importance of the town and ordered that no artillery be used in retaking it. The troops on the ground approached the Germans who were stationed there and promised that if they surrendered, they wouldn't bomb the city. The Germans surrendered and after the war ended, McCloy was made an honorary citizen by the grateful townsfolk for sparing the historic town from destruction.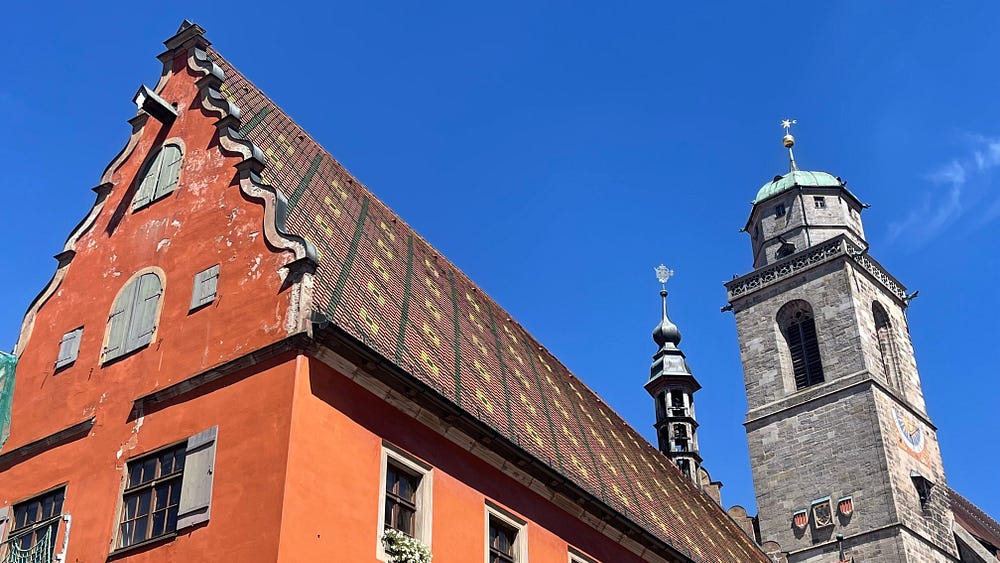 One difference we've noticed between German medieval towns and those in the UK for example is that the Germans ones tend to be a lot grander in scale — I suspect they were a lot wealthier in general.
While we were in Rothenburg OT we visited the Medieval Crime Museum, a fascinating look at the history of torture and punishment throughout the ages. It contains a large collection of genuine torture devices, executioners swords, and shame masks, but also old law books, including illustrations of how torture should be properly administered and gives a great deal of background on the development of law. Suffice to say it was both fascinating and a little stomach churning at the same time.
As a child I remember being very excited by some of these things, now I find the thought of leg screws a bit much. If it's any consolation, some of the history of torture is exaggerated (which is not to say it didn't happen, it very much did!), devices like the "Iron Maiden" for example are now known to be fakes created in the 19C by entrepreneurial PT Barnum types to draw the crowds. The one "genuine" Iron Maiden which was found in Nuremberg for example is a hodge podge of what's most likely a genuine iron "shame cage" (where a woman would be locked inside to shame them for a period of time) but the spikes are actually French Bayonets, manufactured 2 centuries after the cage itself and added later for effect. Shame was a big part of punishment in the middle ages, we were both interested in the "Shame" masks — grotesque iron masks that the punished person would wear which symbolised their crime. For example, big ears and extended tongues for a gossip.
From Rothenburg OT, we drove the Romantic Road to Dinkelsbühl and then Nördlingen. As luck would have it, we hit the only three towns left in Germany that still have their complete medieval walls intact. I'll confess that in all honesty they each start to blur together, although Nördlingen was particularly memorable for a stork nesting on top of a building.
We then drove to Landsberg am Lech, the last point we saw on the Romantic Road before we headed the 20 minutes back to Utting for the evening. We really enjoyed this town, in part because of the body of water in the middle, the buildings and the wonderful food that we had. Like much of Germany however, even though we weren't really here for the WWII history, it's there below the surface — sometimes confronted and acknowledged and other times, it's been brushed aside.
Landsberg has been described as having a "brown" history here in Germany, which means a town that hasn't really confronted their past. As I dug into Wikipedia we learnt all sorts of things about it that were felt very disconnected from the beautiful village we were encountering. Later, chatting with Isa, we learnt more.
Landsberg Prison was where Hitler was imprisoned when he wrote Mein Kampf. The Nazi Cult revered Hitler and visited his former prison cell as a type of pilgrimage. After the war, Landsberg Prison was where a lot of the prisoners from the Nuremburg trials were held and then executed by the allies. Today the prison still operates, but is a much more progressive facility offering lots of education and rehabilitation opportunities for prisoners.
There was also a concentration camp here as well which has largely been forgotten, with a visiting Israeli scholar in 2019 talking of the difficulties of accessing it and the memorial to the 25,000 who died. After the war, it became the site of one of the largest Displaced Persons camps after World War II. None of this is mentioned or noted in any visible way in the town today. By contrast in Salzburg for example, small bronze plaques in the footpath mark where Jewish people were captured and sent to concentration camps as well as a memorial on a bridge commemorating the forced labourers who built it.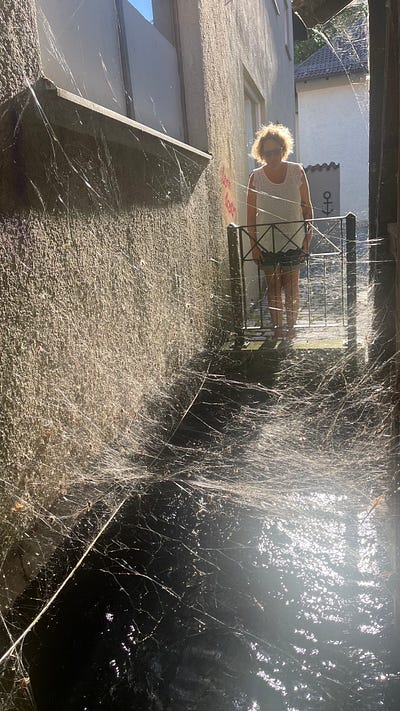 Despite this history from 80 years ago, it is a delightful village to visit now and we did enjoy wandering the streets and had a delicious Indian Curry alongside the lock water. We were also fascinated by the carpark which had ridiculous doors to bar the entry way, literally a half meter thick — we chatted with a local man who saw us observing them and he said the carpark used to serve as a shelter from nuclear or biological weapons attacks during the cold war.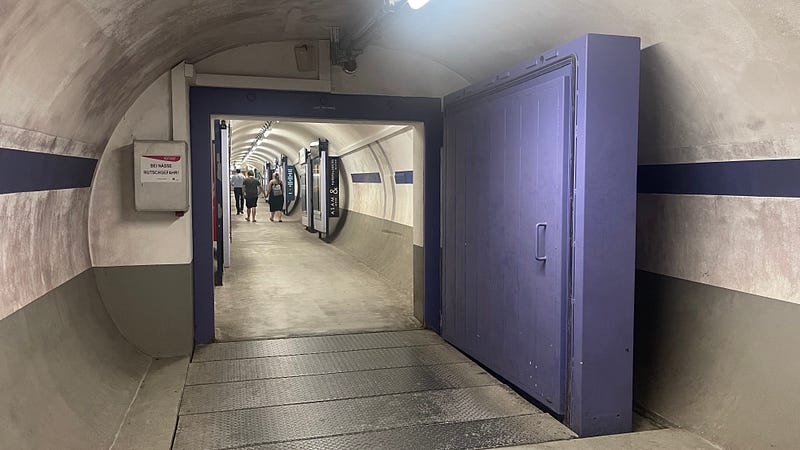 Thursday it was back on the road, this time to head to Salzburg in Austria. Now, why Salzburg you may ask. There's no really good answer to this except that when we were browsing the map we noticed it was only 2.5 hours away by car.
"You mean we can actually drive to another country! We've got to do that". So we did.
On the way we also stopped at Herrenchiemsee Palace, the last of the palaces built by Ludwig II and started after Neuschwanstein. If Neuschwanstein was an homage to Richard Wagner, then Herrenchiemsee was intended to glorify the Sun King, Louis XIV of France, who built Versailles and (importantly to Ludwig II) was considered the last "true" king to rule unimpeded by parliaments and to rule by divine right. Herrenchiemsee was also unfinished as Ludwig II died before it could be completed, it had cost more than Neuschwanstein and his other castle put together, bankrupting his monarchy. Nowadays however it is a gorgeous palace located on an island in the middle of the Chiemsee lake.
The walk from the boat landing dock takes you through some fields and then to a grand series of fountains and trees, of course one of the fountains is a replica of one at Versaille.
The palace inside is over the top and ornate. You definitely get a sense of a king out-of-control when you see things like the dining room. It was a feat of engineering — the table emerged from the floor on an elevator so that it could be set in the room below and magically appear (which was also based on a myth or story of some sort too). Of course, it was completely impractical as it took over 30 minutes to raise the table, so all the food was cold by the time it arrived. I have visions of a poor engineer trying to explain this fact to the king, but basically being told to build it anyway. No doubt they got in trouble later for it being too slow.
From there we drove on to Salzburg. Crossing into another country is literally a non event here in Europe. There are more signs and announcements between state borders in Australia than between Austria and Germany. In fact on Friday when we left Austria, we took a different route off the autobahn and at one stage we had to stop and look up where we were as we literally didn't even know which country we were in anymore.
Salzburg really was definitely a highlight of the week, certainly as far as historic towns go. The old town is a vibrant place full of little alleyways and lots of shops while the surrounding river and castle make for a dramatic backdrop. Mozart was also born here, but we didn't delve much into that side of the history.
The fortress Hohensalzburg dominates the hill above the city and is the largest intact medieval fortress in Europe. Besides being a damned big castle with a VERY long and hot walk to the top, it also contains the oldest intact medieval state rooms. The interior state rooms for the Prince-Archbishops still exist today in their original state (plus some restorative repainting along the way) from 1503 which is kind of staggering.
The fortress also has spectacular views over the city and is definitely one of the highlights to see when you're in Salzburg.
The other highlight is a little obscure. My second favourite thing was the Zwerglegarten or "Dwarf Garden". We happened across it by accident trying to find our way back to the car — it's a small garden off of the side of the much more formal Mirrabell Palace and Gardens which was built by one of the "oh so pious" Archibishops for his Mistress and children back in 1604.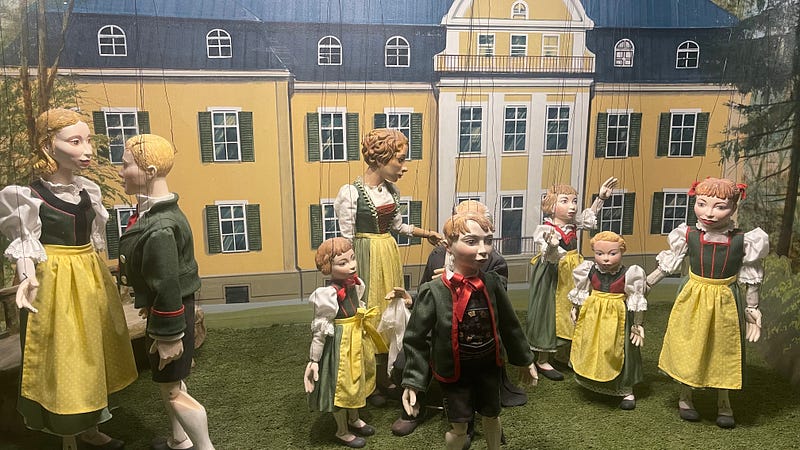 Anyway, for whatever reason, it's decorated with statues of dwarves. Amusingly Ludwig I (yes, Ludwig II's grandfather who at one point owned Salzburg as part of Bavaria) wasn't a fan, so had them sold off. But 100 years later, the town council still owned 9 of them and then decided to put them back and repurchased all but a few of the originals where they now are displayed in their original locations. It's not the most politically correct of displays, but it is wonderfully quirky and the oldest Dwarf Garden in Europe. Who knew there was more than one — I shall now make it a mission to visit the others!
Dwarf gardens, wonderful food, amazing castles and scenic streets aside, it was eventually time to head back to Utting which we did taking a detour into the Alps and along the German Alpine Way for some more wonderful scenery.
Having now done quite a bit of driving in Germany, we've noticed a lot of interesting differences from other places we've driven.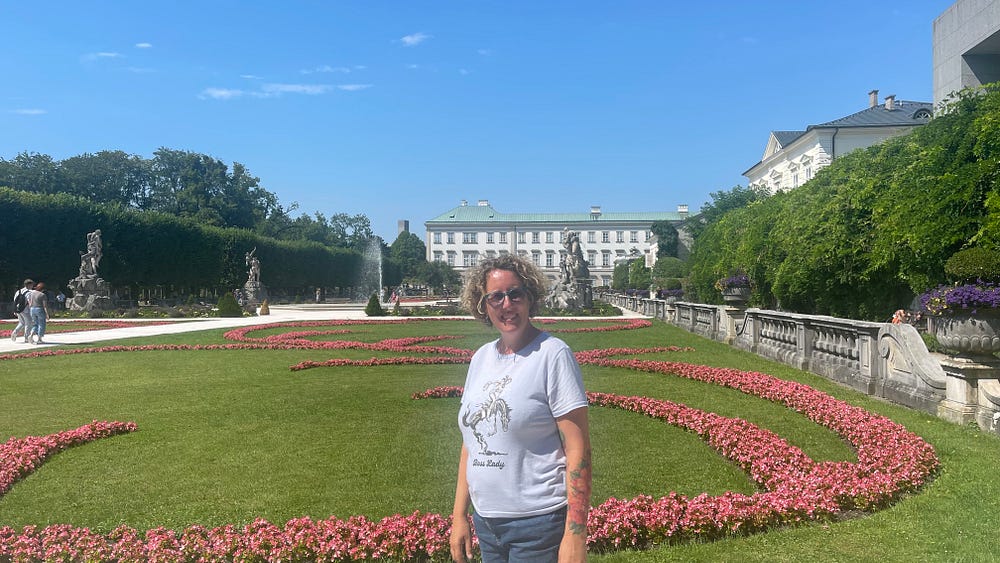 There's no reduction in speed limit sign coming into towns — it's the town name that signals the speed drops to 50, but there's not a 50 speed sign.
Many towns have an automated speed detector sign that makes sad faces at you if you're going too fast.
There's a "no speed limit" sign on the Autobahn, the same sign is used on the country roads, but on the country roads it signals the end of the last posted speed limit and that the limit is 100.
If the traffic slows to a halt on a two lane autobahn (the vast majority of the ones we experienced), everyone moves to the outside of their lane leaving a nice clear lane down the centre for an ambulance, even if there is no ambulance coming!
When you slow down quickly on the autobahn (especially to a halt), you put on your hazard lights to let people know it's a blockage. When the car behind you turns their hazard lights on, you turn yours off again — you see a ripple of hazard lights bouncing from car to car warning everyone that there's some issue ahead.
Every village has church signs coloured Green, Yellow or Purple with the service times posted underneath. Yellow is for the Catholic Church, Purple for the Protestant Church and Green is neither Catholic or Protestant (probably evangelical).
Some speed limits are set by time — under the speed sign it shows the speed is from 6–22 (6AM — 10PM) and another will say 22–6 for the overnight speed. Where we've seen this the overnight speed has been less, not sure why though, maybe for noise reduction?
Finally after a slower morning on Saturday, we headed into Munich again for the day, but this time to head to the centre. We'd intended to go to the gardens and try the river, but the temperature dropped dramatically overnight with big thunderstorms, so we scratched that plan and walked around the old city instead.
We had a good time exploring all the historic sights, listening to the glockenspiel on the town hall and seeing all the big brand name shops and fancy cars.
Munich was also the birth place of the Nazi Party, so perhaps it's no coincidence that Landsberg am Lech has little commemorative infrastructure as Munich today also doesn't talk much on this, instead seeming more focussed on being a modern, progressive city and less on looking backwards . There are of course some obvious exceptions in the major concentration camp sites like Dachau (which we didn't visit this time as we were there in 1996). But in general, the tendency here has been to move on and you'll see no commentary on WWII amongst the crowds visiting the museums and squares. We did find Viscardigasse street interesting, it was used by "shirkers" (non supporters) to avoid passing the Nazi War Office and being forced to salute and is now commemorated with a golden path created by an artist symbolising those who would rather take the long way than have to support Hitler.
Finally it was a farewell dinner with Isa back at Markus' apartment, a final walk around the village and then today we're off towards Berlin. We're driving north to Nuremburg, visiting the old town and then driving on to stay overnight in Leipzig which will be quite a change from here — it seemed like a good idea to explore a bit of former East Germany on our way north. We'll be in Berlin from Monday until Thursday and then we're off to Edinburgh to see Ella.
Want to see where we are, or check where we've been? Check us out on NoForeignLand https://www.noforeignland.com/boat/matilda
Until next time,
Tim and Karina