Week 106 - Departing Greece
We finally depart Greece and head to Albania after a wonderful few days in Corfu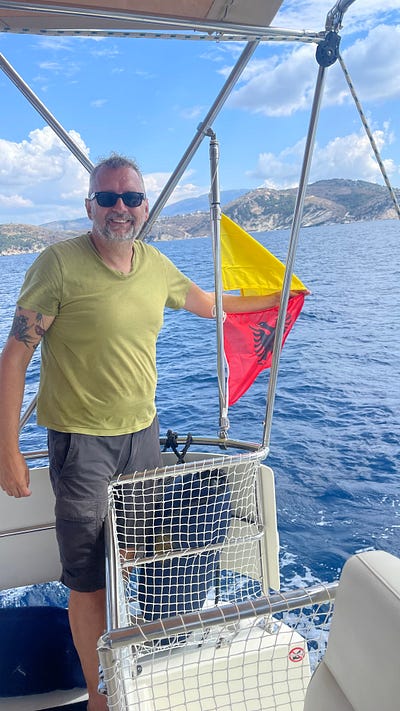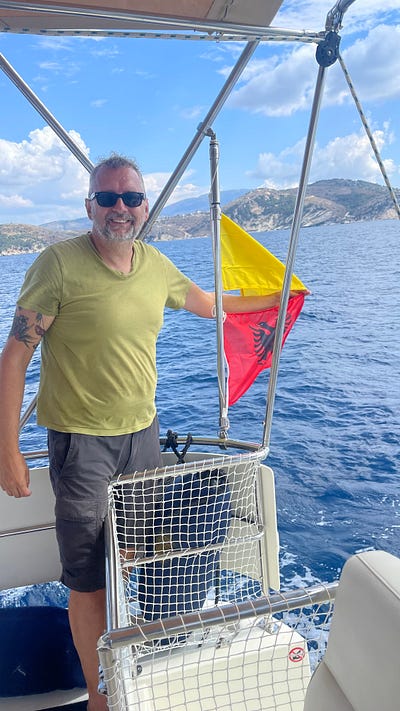 We finally depart Greece and head to Albania after a wonderful few days in Corfu
While the weather continued to be problematic at times, overall we've had some wonderful experiences this week that have more than compensated for the few rough nights of sleeping. We've also both fully recovered from COVID now and no longer test positive which is also a relief. Things are back to the new normal. Live aboard life seems to be like that, the occasional downs that make the ups really worthwhile.
The first of these was arriving into Kerkyra (Corfu City) on Corfu. Fellow sailors Keven and Kerry had strongly recommended Mandraki Marina as being a special experience and it didn't disappoint! It's perched beneath the Old Fortress in Kerkyra which makes for a very dramatic location. The marina is inside the tourist site, so to get in from land, you walk past the 50 meter queues of tourists off the cruise ships waiting to pay, wave a photo on your phone of the visitors card and say "Sailing Boat". We felt like VIPs — everyone else just staring wondering why we get privileges while they are stuck in the hot sun.
Kerkyra was a delight too — we were craving some human contact and the old town is a bustling rabbit warren of ancient streets within the old fortified city walls. It's UNESCO World Heritage listed and it's easy to see why. Small venetian wells pop up in hidden corners, there's old marble doorways and 7,000 people living where there is no car access. Yet like much of Greece, it's also a real hodge podge of quality. Some is restored, some is falling down. While the footprint of the buildings is generally preserved, there's a mix of quality from things that are 100's of years old, to other more practical square concrete monstrosities built after world war two.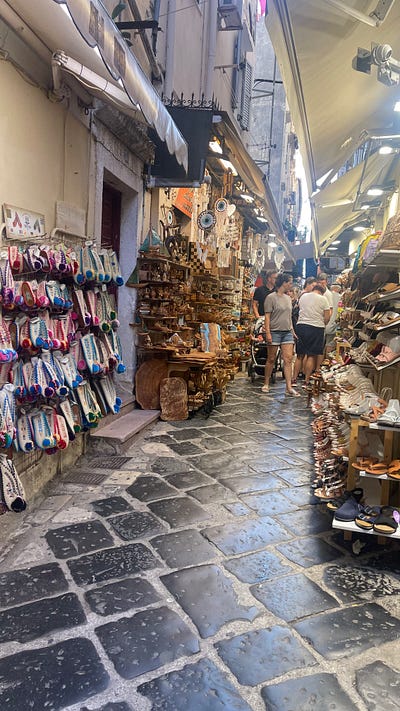 Still, as the regional centre of an island with 120,000 people on it, it has a lot of facilities which we took advantage of. We needed a chandlery, our phone contracts were up for renewal (two years now in Greece!), Rosie needed a hair cut, gas bottles needed refilling. Basically getting everything ship shape before we depart to Albania.
The history of Corfu is an interesting one, it's proximity to Venice of course brings a strong Italian history with it — it's also the closest point to Italy in Greece where sailing boats cross from the boot of Italy to Corfu. It also has a strong British Heritage. Prince Phillip was born here (although he was technically a Greek / Danish prince and not actually British at that point) and the island has been much beloved by British people over the years.
The naturalist Gerald Durrell (and his brother, a writer Edward Durrell) lived here for a period of time and there's Durrell Gardens and Durrell Stores spread throughout the city. The name seemed vaguely familiar and then I remembered an obsession that I'd had with naturalist books by Gerald Durrell — I recall reading "Catch Me a Colobus" and enjoying it.
We also wandered past an "Edward Lear lived here" sign — who besides being a famous painter, also wrote absurdist poetry including "The Owl and the Pussycat".
The Owl and the Pussy-cat went to sea
In a beautiful pea-green boat,
They took some honey, and plenty of money,
Wrapped up in a five-pound note.
The Owl looked up to the stars above,
And sang to a small guitar,
"O lovely Pussy! O Pussy, my love,
What a beautiful Pussy you are,
You are,
You are!
What a beautiful Pussy you are!"
— Edward Lear
The other interesting thing about the Old Fortress is that beyond the historical aspect, a lot of the buildings are in use for other purposes now. For example, the old British Officers barracks now houses the Ionian School of Music. This sits on the wall above the marina so when we were sitting out on the fly bridge, we'd hear piano pieces and students signing arias in the morning. Right up until around 4PM when the beach bar on the main part of the island starts up with the 80's hits, then it's a combination of the classics vs the classical.
We had such a good time there that we questioned why we would go back to Lefkada for winter, which is a lot quieter. We'd also discovered as we were making Christmas plans that Preveza airport shuts down over winter. When we spoke to the harbour master at Mandraki, they have a very attractive winter rate and space available so we've decided to winter in Corfu instead. Mandraki Marina is definitely not as sheltered as Lefkas, but it's very well protected from the southerlies (by a great big castle!) which are the bigger concern in winter and we're going to have a spot on the inside and near the showers. We'll also have access to an airport, Marks & Spencers and most of the type of shops you can find in Athens or any other major city.
After three days in the marina we had all the chores completed and went for a short cruise around the big bay on Corfu to check out another marina nearby, then anchored on Visos Niddos, a small island just north of Kerkyra ready for heading to Albania!
Travelling from one country to another by private boat is a unique experience. I understand every country is different, with some a lot stricter than others, but our first experience was pretty typical of Greek bureaucracy we've come to know and tolerate.
You might think that you have to take your boat to a special location. Nope. Just anchor up anywhere, get to shore and then schlep across town to the port authority. The port authority is part of the coast guard and responsible for controlling the borders. You walk into the port and then wait for them to process the paperwork. This basically consists of documenting the boats registration, verifying the owner, the radio licenses and creating (or updating) a crew / passenger list of who's who on the boat that's going to be departing (or arriving). Being Greece, the most important thing is ensuring that you've paid your cruising tax up to date. Once all that's completed, you're instructed to head to the ferry terminal to get your passports stamped out by passport control (especially important as we're leaving the Schengen Zone and heading out of the EU).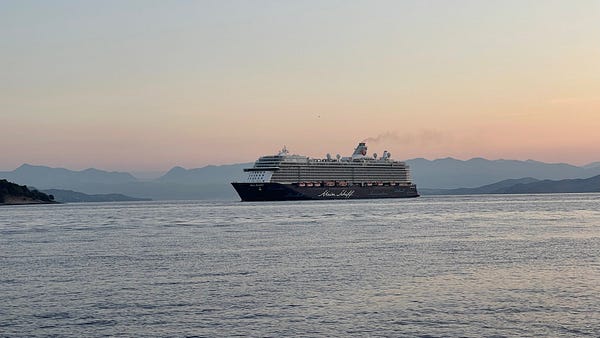 Off we go to the ferry terminal where all the regular passengers are entering through a process that feels very similar to an airport. They go through a security scan, they queue and they get their passports stamped and wait in a controlled area before boarding the ferry.
Not us. We walk to the security scan and she tells us to head around the back. We walk up to the guard at the gate on the rear of the building who is controlling access to the secured area and say we need passport control. No worries, he opens the gate and lets us through — we're now in the "controlled" area without any checks of anything. We walk back into the building (against the flow of the controlled passengers coming out) and then find the passport control office.
The woman in the office acknowledges our presence, tells us to wait a few minutes, and TWO HOURS LATER finally gets around to stamping our passports. It seems private yachts are a low priority when they are dealing with the ferry crowds. Oh well. It was amazing sitting and watching all the people go through the passport control and realising just how many people actually get pulled aside with issues (commonly single parents with kids making sure they have permission to leave the country from the other parent, or in one case a young German lad who didn't have a passport!).
The amusing part to me is that after all this, we're now "stamped out" and are no longer officially in Greece. We walk back to the security guard who then lets us out of the controlled area and now we're wandering around Greece, officially outside the country while inside the country. A quick visit to the port authority again (to photocopy the stamp on the paper) and we head to Matilda and set off to Albania!
As we cross the border from Greece to Albania at sea, we take down our Greek courtesy flag and put up our "Q" flag (a yellow flag that traditionally showed you were in quarantine, but nowadays shows you haven't cleared customs yet) and our Albanian courtesy flag. Matilda feels like a different boat with the different flag fluttering over the stairs. The Albanian flag is a really striking red with a two-headed black eagle.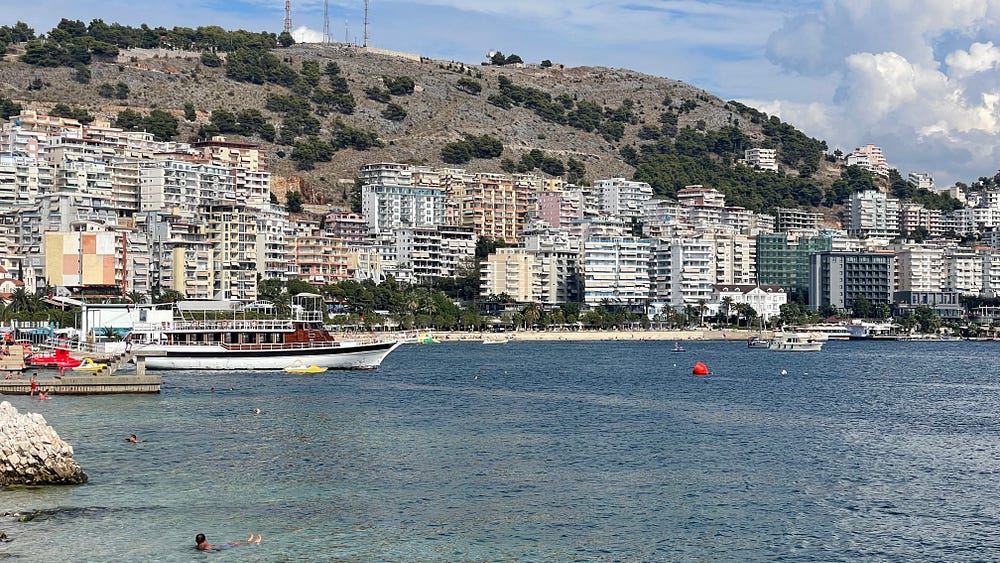 In Albania, you have to enter through one of several specific locations. We entered in Sarandë which is closest to Corfu. Unlike Greece, in Albania by law you have to have an agent to run the process and we'd already sent our paperwork to them a few days earlier. Arriving in Sarandë, we call in on the radio to the harbour master, our agent hops on to the VHF we swap channels, have a short conversation with her, anchor out and then meet her at the ferry terminal.
Jelja, our agent, guides us through the building (and walks us past the queues of ferry passengers waiting to be processed), sits us down in the air conditioning and then disappears with our passports for 15 minutes. That's it, we're checked in to Albania! She then takes us to her office to process the ships paperwork gives us a map and some tips on things to see and tells us we're free to go explore. Sometime in the next day or two we can collect (at our convenience) the boats documentation and crew log.
We asked how we get back to our dinghy (which is tied up inside the secured area behind the passport control) and she says, "oh just tell them 'private yacht' and they'll let you through". Which is exactly what happens — every private yacht ties their tender at the dock in the controlled area where it's secure, wanders up into passport control and simply nods at the guards and walks by the queues of ferry passengers into Albania. When you return to the boat, occasionally the security guard at the front of the terminal asks where we are going, but "private yacht" is generally all we need to say (we were once asked the name of our boat).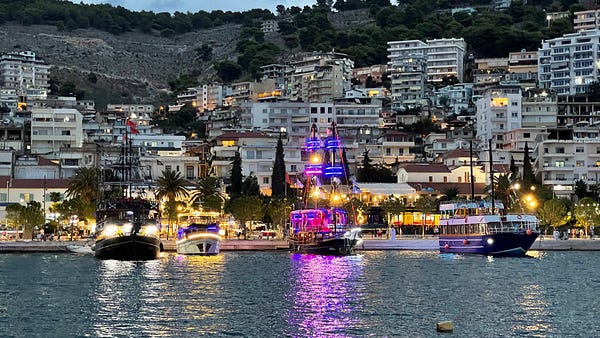 The first impressions of Albania have been great. It's exciting to be somewhere new! I was worried that it wouldn't feel like somewhere different, but despite it's proximity (only about 10k from Corfu), it's clear that this is a different country.
While we are still very much scratching the surface, it's immediately obvious that the 40+ years of communist rule and isolationism have a big impact on the country. As just one example, Albania was the first officially atheist state in the world, a strong contrast to Greece where Orthodox Christianity is part of the state itself. Religion is undoubtably important to many Albanians, but the presence of the Orthodox church here is not as strong as in Greece. You'll see mosques and hear to the call to prayer alongside church bells and disco music.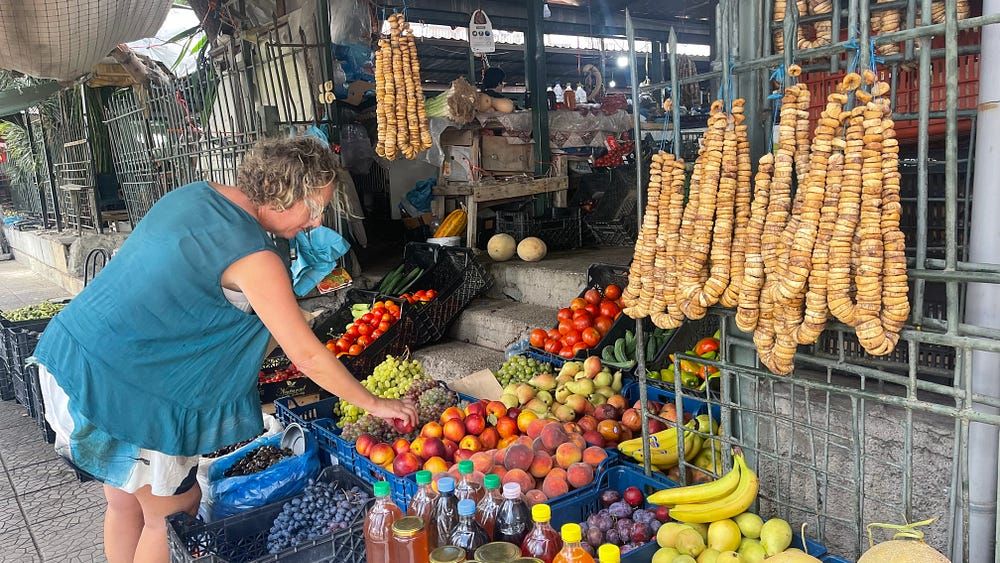 Sarandë is very much a resort town, after all this is the Albanian Riviera! It's loud, brash, and full of party music. There are bunkers still present inside the town, a remainder of the communist era, endless apartment buildings — a mix of communist era and more modern apartments. While the location has a rich history, Sarandë itself doesn't have much, which is refreshing in its own way. Again contrasted to Greece, with its endless marble footpaths (the world's shittiest material to build a footpath out of), we've got a modern boulevard with non slip pavers. Bliss.
That's not to say there isn't historical things to explore either, Butrint is a UNESCO World Heritage site nearby we'll be visiting in the coming weeks along with several other inland locations.
The other fun thing is that we've met some fellow travel nomads here, Mark, Holly and Jennifer. I have mixed opinions on Facebook (mostly negative), but one thing I've really come to appreciate is the travel groups dedicated to people living a similar lifestyle — basically retired into permanent travel. One of those groups "Go With Less" has been a great way to meet others in a similar situation travelling the world and it was nice to arrive and have an immediately friendly face to just get together and hang out with.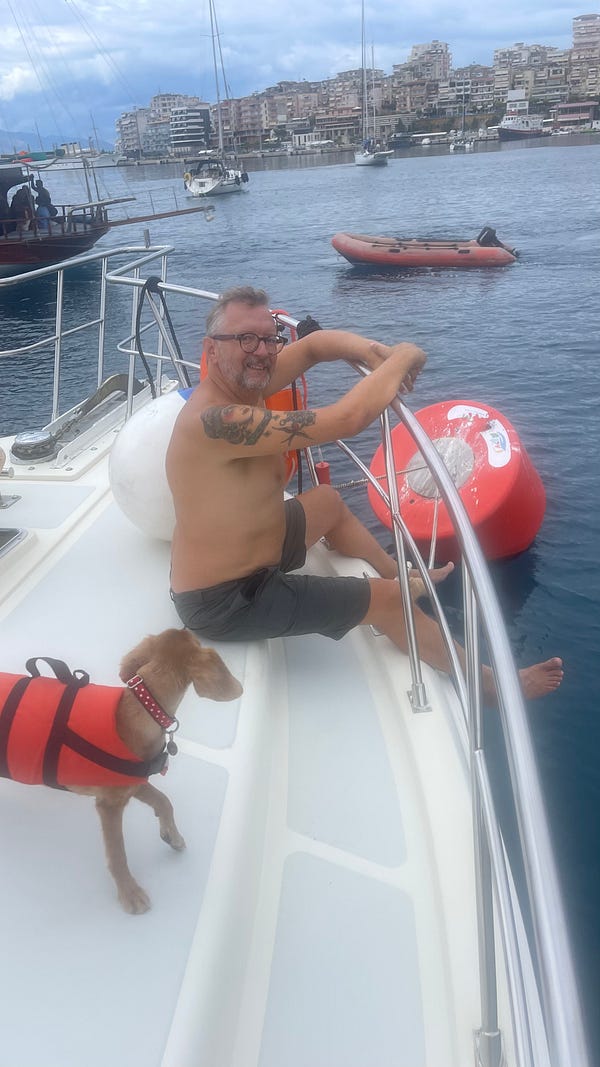 We're not 100% sure what the week ahead holds, we're enjoying the party vibe of Sarandë at the moment — surprising really, but it's just refreshing to experience something new. We'll head to a nearby tourist destination with Matilda tomorrow and take Mark & Holly with us for a day trip, then during the week Mark and I will go diving on some wrecks in the bay here. Other than that, we'll play it by ear! Our friend Erik is currently in Vlore, further north, so we might see him (it will definitely happen this month), and Hannah is meeting us here on Monday next week. For now, it's fun being in a new country and we're loving the fact that Albania is very cheap compared to Greece. We'll slow down, take our time and enjoy!
Want to see where we are, or check where we've been? Check us out on NoForeignLand https://www.noforeignland.com/boat/matilda
Until next time,
Tim & Karina