Week 107 - Standing still in Sarandë
A week of relaxing in Sarandë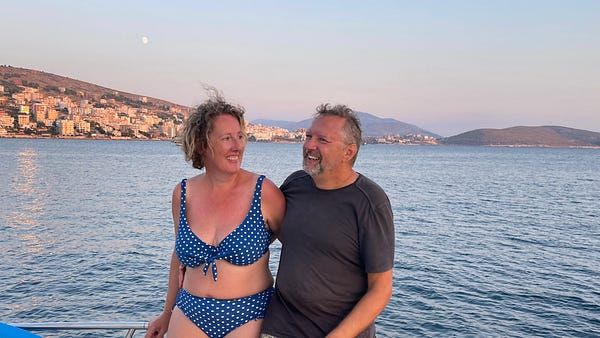 A week of relaxing in Sarandë
With the exception of Aegina at the start of the year while we waited to get underway, we've now officially "stopped" in one place for the longest this season while we're still on the boat.
Sarandë is that kind of spot. You love it, or you hate it. We've chosen to love it. After all, what's not to love about cheap bars and the equivalent of 80c beers. Or helpful and friendly people. A town full of holiday makers that are enjoying themselves and having fun where Instagram hasn't *quite* made it yet.
I was reflecting on this last point as I walked down the boulevard with Rosie Friday evening. Sarandë just has a relaxed vibe. Sure, there's plenty of people taking holiday snaps of themselves, but there's not that intense "Insta Hubby" snapping 30 identical photos of his "Insta Wife / Girlfriend". No one immediately stares at the photos they've taken and analyses them to shoot again. It's all quite chill.
We've also tucked away in the corner of the bay a bit more now, so the music is just that little but quieter, the party pirate ships that little bit less obnoxious. We've been relaxing and enjoying ourselves.
You can walk down the boulevard at night and while there's plenty of places to eat and lots of people wandering the streets, there's no touts outside restaurants harassing you. The only place you really get bothered is taxi drivers as you exit the ferry terminal where we park Tilly the tender.
All of which may lead you to conclude we've had a particularly lazy week. And you'd be right. We've been soaking up the sun, swimming, enjoying meeting the neighbours (hi Chuck and Kim!), slowly knocking over a few boat chores. OK, to be honest on the boat chores we've added more to the list than we knocked off, but it's fine, it's that sort of week.
We've met up with Mark, Holly, Jennifer, Chuck and Kim several times for drinks and dinner. On Tuesday, Mark & Holly came with us to Ksamil, a small beach resort south of Sarandë where we anchored for a brief stop until the weather forced us back to Sarandë again. Which was fine, did I mention we love Sarandë! We enjoyed hanging out on the fly bridge chatting, swimming and having a few drinks.
One amusing story was as we headed south to Ksamil, I heard a boat on the radio "Sarandë Pilot, Sarandë Pilot this is Emerald Azure, Emerald Azure." No answer. 2 minutes later the same thing — I realised they were calling on channel 16 (Coast Guard) and not channel 11 (the Port), so I thought I'd help them out.
"Emerald Azure, Emerald Azure, this is Matilda, Matilda. Just FYI — Port are on Channel 11, over."
"Matilda, this is Emerald Azure, Thank you. Yes we've tried 11, but no answer, so thought we might reach them here on 16."
"Don't worry about it, they don't always answer — just anchor out and take your tender in if they're not answering, that's what everyone else does."
"Ok, thanks Matilda, we'll try 11 again, Emerald Azure out."
When we got back to Sarandë we saw that Emerald Azure, which in my mind was a couple on a small sailing boat, was in fact a 300 person cruise ship which made it all the more embarrassing I'd just told them to "take your tender in." They were very nice to us on the radio anyway.
On Wednesday, I hauled myself ashore at the ungodly hour of 8.30AM to go diving with Mark. There's a lot of interesting wrecks here in the bay and although visibility wasn't the best, I am really enjoying getting back into diving again and looking forward to doing some more.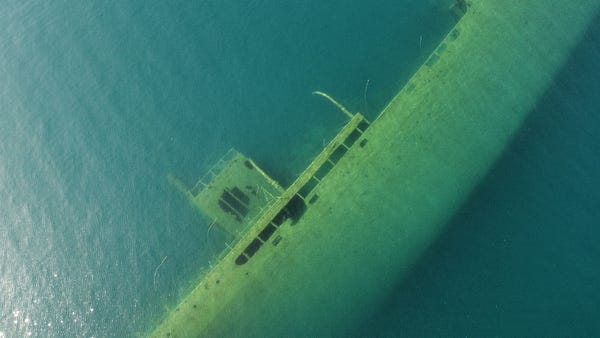 After the dive, Emma and her partner Cole came to hang out on Matilda for the afternoon which was fun. We love chatting with new people and everyone seems to appreciate the simple pleasure of being able to step off the back of the boat to go swimming then just rinse of on the deck, sit down and not worry about the sand and gravel.
I think there's been at least 3 days this week where we haven't even managed to leave the boat and get to shore. So not much to share there, although we hung the last of the blinds, replaced some foam protecting the tender and a few other low priority jobs.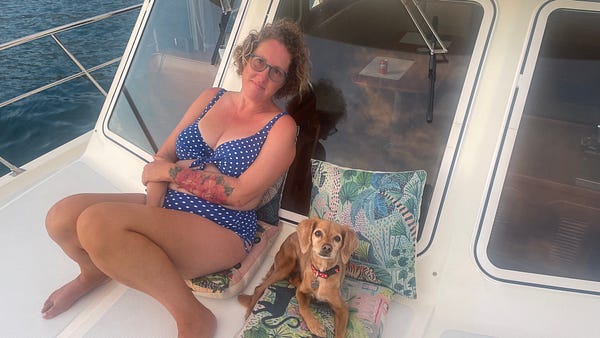 Chuck and Kim have sailed all the way from the US on their Amel Super Maramu and we've really enjoyed getting to know them and share travel stories. They make it sound easy, but 17 days to the Azures and then another 8 to Portugal is no simple trip like we normally do.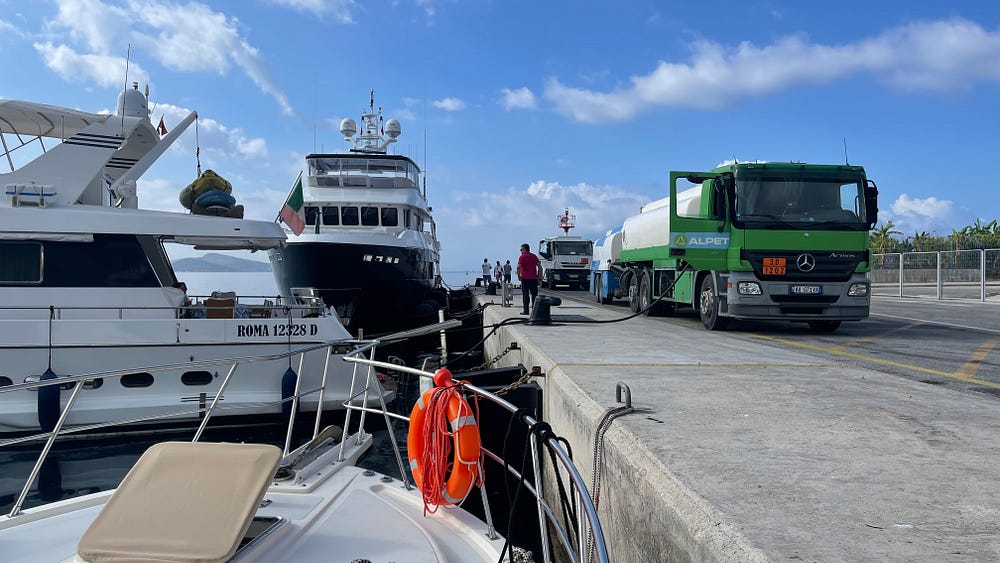 The major achievement was filling up with diesel — 1,000 litres which will see us out to the end of the season. It was funny docking up alongside the super yachts, we really are quite small in comparison! It was a fairly involved process as we've negotiated duty free fuel, so there was a little more paperwork than normal, but worth the 20% saving when you're buying that much!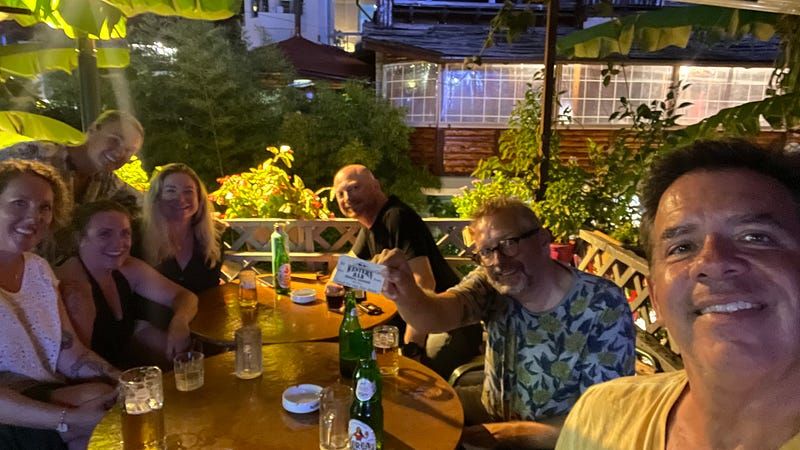 Erik is currently in Vlorë and arrived in Sarandë this weekend and he and his girlfriend Gaya joined us all for dinner last night. We'll have breakfast with them this morning (pancakes), and Hannah arrives here Monday. The next week will definitely be a little more tourist orientated as we travel around to view many of the nearby sights.
Final thought — I'm wondering about renaming the blog as we're no longer (or never really) have exclusively been in Greece… any thoughts?
Want to see where we are, or check where we've been? Check us out on NoForeignLand https://www.noforeignland.com/boat/matilda
Until next time,
Tim & Karina