Week 11 - Swimming at Glyfada
Adventures in Greece as we pursue the dream of buying a boat and cruising the Mediterranean.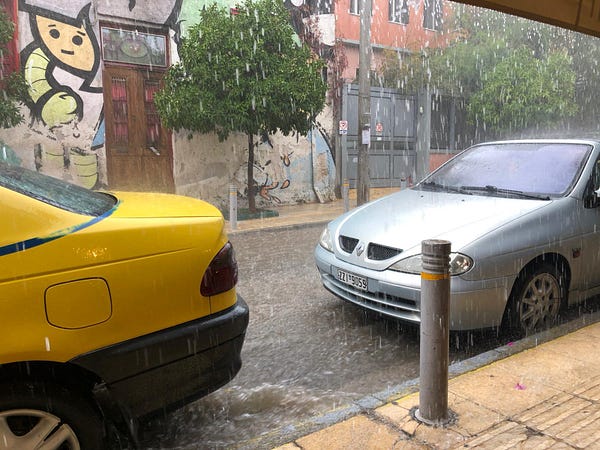 Adventures in Greece as we pursue the dream of buying a boat and cruising the Mediterranean.
The weather here is starting to turn, it's definitely getting cooler. We had to reach out to the apartment managers to provide extra blankets as the sheet and light cotton cover were not enough anymore. So when the weather was forecast for 28C on Sunday, we decided we needed to get one more swim in for the year.
This time we went to Glyfada — not the nicest of beaches (jammed between the road and a couple of marinas) but the water was still warm and we knew that we wanted to be near the shops as we weren't expecting to spend too much time actually swimming! Rosie surprised herself by eventually jumping in and swimming to Karina. It's somewhat of a relief to finally know that she can swim if needed and hopefully bodes well for the boat. We're definitely expecting her to spend a lot of timing whining on the deck while we swim!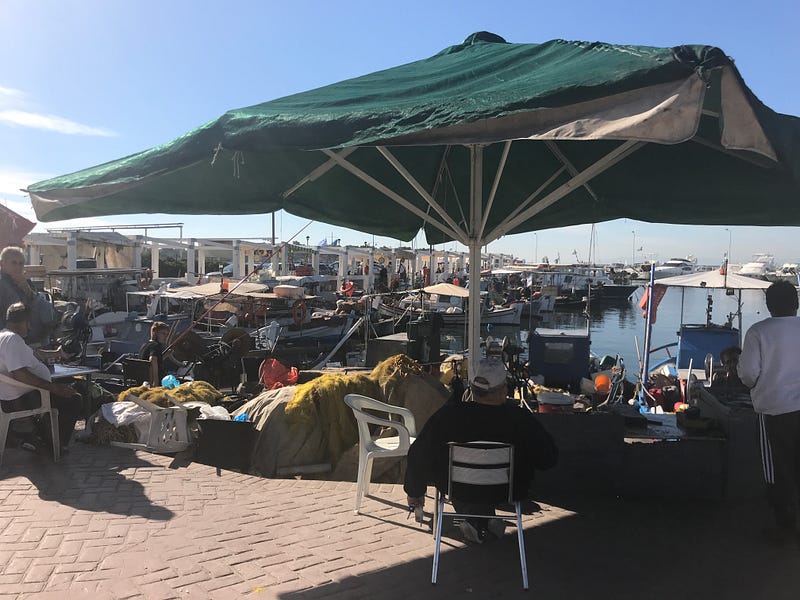 We wandered through the streets of Glyfada afterwards which has a very different vibe from Psyri. It's a much wealthier and more family oriented suburb. There were so many kids about that it was eye opening and made us realise just how few children we see on a day to day basis at the moment — most of the kids we do see are refugees and trying to sell and hustle on the street.
We've continued to be surprised at just how much American themed clothing there is here. On Tuesday we were at the "Athens Metro Mall" to hunt down some shaver parts and every store was basically an American chain brand. It's not that there's anything "wrong" with American clothing at all, far from it, but it just doesn't make sense! Who wants to wear a UTAH University top here? Do they even know where UTAH is?
At the beginning of the week, Athens moved to the next level of restrictions due to COVID. Still no Melbourne type moves, but it's the restrictions are beginning to become more noticeable. There's now a curfew from 12.30PM to 5AM (which doesn't impact us, but does stop people hanging out and drinking in the parks after bars close at midnight) and the biggest change, mask wearing is now mandatory all the time. I'm not convinced this will make a big difference — generally people are distancing when wandering around and making them wear a mask strolling through a park won't stop much, everybody was already wearing a mask entering stores etc. The challenge is that they don't seem to want to shut down the bars and tavernas which are still regularly packed with non-mask wearing patrons. Still, this week was noticeably quieter — perhaps the combination of a National Holiday, new curfew and cooler weather will reduce people's activity. Not sure — to be fair, we're still getting out and about although we did order in a meal for the first time this week.
Wednesday was Oxi day, a National Holiday in Greece and the day of remembrance as well for World War II fallen. It's the National Day of No, and celebrates the Greek's saying NO to the Axis forces who wanted to take over Crete, essentially dictating Greece's entry into the war. World War II (and I) looms large on the conscious of many countries, but it's really fascinating seeing the different aspects of what is recalled. In the US for example, WWII basically starts with D Day but the major focus is primarily concerned with the War in the Pacific, while here it obviously impacts Greece from a much earlier time and the focus is on their liberation again.
Karina and I wandered over to Petralona, another suburb bordering the Acropolis to meet Camille for lunch. It's a quieter suburb than Psyri, with a lot more of a local vibe and more trees. It borders Filopappou Hill which is rapidly becoming one of my favourite places to walk around here, with lots of ruins, olive trees and paths to discover, you barely feel like you're in the city even though it's right in the centre. While were enjoying lunch at a local taverna, the rain which had been threatening all day came bucketing down! There's not a lot of wet days here (roughly 5–7 during the "wet season") but when it does rain, it really pours! The rain was so severe that the local food delivery service (Wolt) got so overwhelmed that they could no longer process orders and had to shut down for the safety of drivers.
Finally today has been strolling around the city enjoying the burst of fine weather again prepping for a visit to the local Improv theatre with several friends this evening. It's been fun discovering new foods and substitutes. We had quite the quest to find some brie cheese although we're not sure it's good yet and then today needed to buy some sour cream, but instead had to compromise with a greek yoghurt. The funny thing was trying to find the right sour yoghurt — there were pictures on the containers, you could buy sheep, goat and cows milk yoghurt readily in the stores. We're not adventurous enough to branch out from the cows milk one yet.
Tomorrow we are off to Meteora which is a UNESCO world heritage listed site that's supposed to be stunning. While the boat buying is consuming our time still (we're still negotiating back and forth with the owner on the boat we made an offer on last week), we also realise that it's important to get inland a bit and see new things too! We'll save the pictures of Meteora and the tales for next week.
Until next time!
Tim & Karina