Week 12 - Meteora
Adventures in Greece as we pursue the dream of buying a boat and cruising the Mediterranean.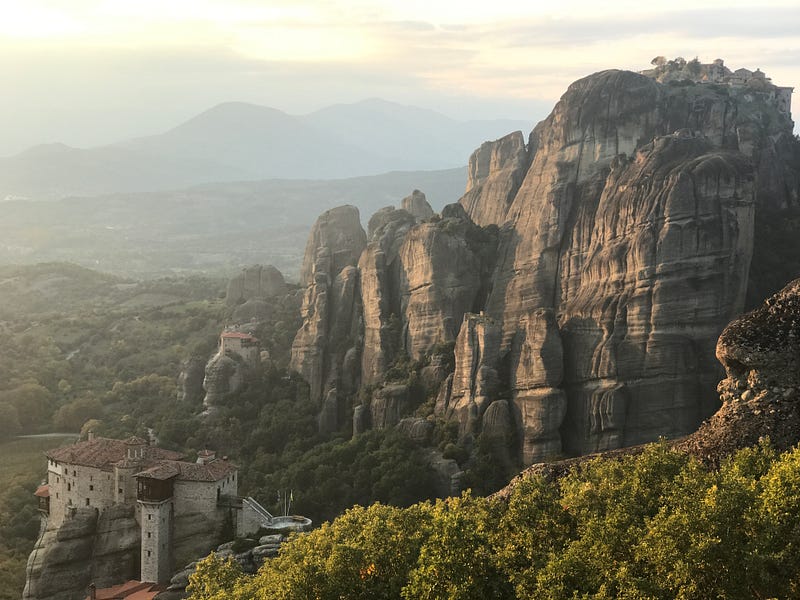 Adventures in Greece as we pursue the dream of buying a boat and cruising the Mediterranean.
The running joke in 2020 seems to be that the last week has been a heck of a month and this week has been no exception for us! The fact we were just starting to explore Meteora only 7 days ago seems like a distant memory with everything that's been going on.
Last Friday we dropped the dog off at the dog sitter, picked up a car and then drove to Meteora which is somewhere we've been intending to visit for a while. It took a while to explain exactly WHERE we were headed to the dog sitter as it turns out our accent is quite atrocious. Initially we were pronouncing Meteora in a more Australian fashion (a bit like Meaty-Or-Ah), but in Greek is much more like "MehTehOra" without any elongation at all.
The drive was very uneventful, the roads are all very good although there are a lot of tolls to pay for it all. Unfortunately the direct route isn't really that scenic, with lots of factories on the way, but we did find things to amuse ourselves, including the way that the speed limit signs work — typically in the US or Australia, there's one limit for a single section of road AND there's relatively few changes. In Greece there can be three limits (one for each lane) and they seem quite happy to drop from 130 to 110 to 90 and back to 130 in the space of a couple of hundred metres instead of sticking with a limit for a longer period of time. Some sections of road include two speed limits side by side with a picture of a rain storm next to one (i.e. 120 when dry, 90 when raining). Despite all the speed signs posted everywhere, or perhaps because of this, they are happily ignored by every other driver on the road.

As you would expect from a UNESCO World Heritage listed site, Meteora is spectacular and definitely a must see if you come to Greece. It was established as a refuge for monks in the late 11 century / early 12 century, and then, in the face of increasing Turkish aggression during the 14 century, the large Monasteries on top of the rock pinnacles were established, beginning with the "Mega Meteora" or Monastery of Grand Meteora in 1356.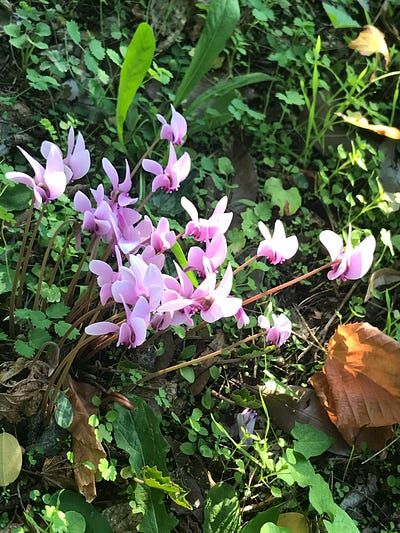 While COVID clearly has had an impact on the tourist numbers, I still think this time of year is a great time to go. We were able to enjoy all the monasteries and navigate without the maddening crowds that you apparently experience in the height of summer. In fact we were surprised how quickly we could get around compared to what we were advised online until we realised that in a "typical" year, the roads around the monasteries are a complete grid lock.
We were sending photos back to the kids when Jasper complained that everything in Greece was "so picturesque… take some photos of the bad bits too, I want to get the full experience" so we took delight in a few photos of some of the less savoury parts too!
My one "complaint" (and it's fairly minor), is that while the monasteries do have a rich and ancient history, like many things in Greece, what you see now is really a restoration and at times it's hard to appreciate just how much of what you see is original. Yes, the paintings in the churches were originally done in the 14th Century but they've been restored / repainted to the point they look like they were painted yesterday. It's not uncommon to see a complete room with one ancient looking beam and everything else new. It doesn't take away from the scenery at all, it's stunning, but the monasteries themselves on the inside do have a little bit of a "Disney" quality to them where you're not quite sure what's real and what's illusion. All the monasteries were looted extensively throughout their history including being looted AND bombed during WWII. Most of what we see today is restoration work from the late 80's, early 90's and of course it's still extensively ongoing as its increasingly such a major tourist destination.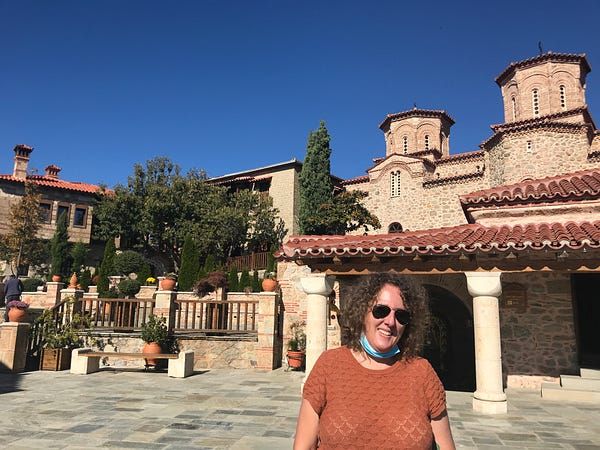 In addition to the monasteries, we also took the opportunity with the car to drive and explore the local area and some of the smaller villages. We were excited (typical city slickers!) to see cows and goats. There were several occasions where we were off "the beaten path" and all we could hear was the clanking of cow / goat bells as various herds roamed around.
While we were touring around, the underlying background theme is of course COVID. As with the rest of Europe, the COVID cases are beginning to spiral out of control here in Greece. A few weeks ago we were sitting at 200–300 cases a day, but day by day that's been jumping up and yesterday was at 2,900 cases.
All this has been driving the government to take increasing measures to restrict people's movement and freedoms to help control the virus. We already had an overnight curfew and there were rumours as we left Athens that a stronger lockdown was imminent. This was playing on our mind because we really didn't want to get "stuck" in Meteora if we could avoid it, so we (like everyone else) were following the news very carefully.
On Saturday they announced that from Tuesday morning all food establishments would shut down and be takeout only, mask wearing would be mandatory and they were going to further tighten the curfew. Fortunately this wouldn't impact us too much, but even after this announcement and the changes coming into place the cases continued to spiral. It had an immediate dampening effect on the few places that were left open however as everyone started "running down" their stock for Tuesday. It was very typical to go to eat and find only two or three options left on the menu.
While stunning, Meteora was both smaller and more accessible than we'd planned for, so we cancelled our last night stay there and decided to head to Delphi on the way home instead and overnight there. We were glad we did as Delphi is another stunning location in Greece that's well worth seeing.
Delphi is of course the site of the ancient oracle. I think the most amusing thing about this to me is one of the "best current theories" as to why the Oracle was here which is that there are fissures underneath the temple which leak hydrocarbons, which in turn cause hallucinations — effectively ancient Greeks were coming to ask advice and hear proclamations from a priestess tripping balls. This isn't "proven" in anyway, but it's the most amusing story and therefore the one I'm going to stick with!
As a site, Delphi feels very "complete", it really tells a story in a way that some of the other ruins we've seen in Greece don't. For example, the Acropolis and Parthenon, while stunning, feels more like a building plopped on to the top of a hill, but you miss a lot of the context as to "why" and how it would actually have operated as a temple.
With Delphi, there's a clear progression and sense of "build up" as you rise the hill through the market, then the various "treasuries" where each of the city states stored their devotions to the temple and finally to the temple location itself then the theatre district. Down the hill and the other side of the road are more locations all tying together as a complete site that gives you a real sense of how it might have worked.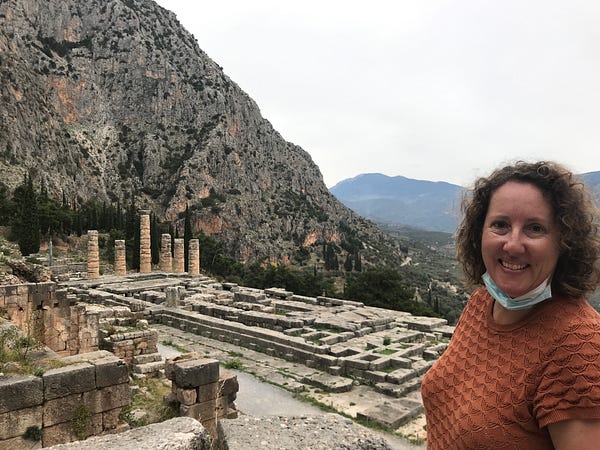 The manumission inscriptions that cover many of the stones in Delphi are also quite fascinating. When a slave was freed (either because their master freed them or they had collected enough money to free themselves), the act of manumission (freedom) had to be guaranteed by sale to a God, typically Apollo. The inscriptions recorded this fictitious sale to the deity in stone so that the sale action could not be reversed.
The site also includes a complete stadium where sporting events for the second biggest games (after the Olympics) were held to honour the gods. Competitors competed for the glory, beyond a laurel wreath there were no prizes attached to victory.
We arrived back into Athens on Tuesday evening, with the new control measures in place. The immediate thing we noticed was that it was very quiet. With all the tavernas limited to take-away food only, Psyrri had suddenly become a ghost town. It's incredibly tough for the locals that we're getting to know who have struggled all year with reduced tourist numbers to now find that they are serving even fewer people.
Wednesday here was dominated by the US election. Doom scrolling was suddenly back in fashion as we (and everyone else) obsessed over the "will he / won't he" nature of the election. Suffice to say Karina and I are pleased with where it's ended this week with a highly likely Biden victory, but we feel for our friends back in the US who live in an increasingly divided nation that doesn't look like it's improving anytime soon.
While this is dominating attention, we still managed to catch up for lunch with Camille. This time I decided to cook a Tom Kha Gai (Thai Chicken Soup) which required visiting six separate stores to get all the ingredients. I had to text a Chinese lady I know here to get the dirt on where the local Asian super markets are to get half the ingredients.
With the US elections going on, then Wednesday afternoon the rumours and leaks started that the government in Greece was considering a more severe lockdown as the COVID case number continued to accelerate and a press conference was announced for Thursday afternoon. This of course caused another big flurry of communications and "will they / won't they" amongst our friends.
We crammed in a few more meals with friends knowing they might be the last for a while! On Thursday we met up with a British / Israeli friend Michael for dinner then on Friday, we saw Erik (Lithuanian) for lunch and Friday evening we had dinner with Ginny (English).
Thursday lunch time the lockdown was announced. From Saturday morning (today as I write this) all retail is closed, except for food stores and you can only leave the house for a handful of reasons after texting a number explaining why you're leaving home. The valid reasons are basically:
To go to the pharmacy or doctor
To shop for food
To go to the bank
Move to help people in need
Funeral or other government approved gathering
Exercise (including walking the dog)
So here it is on Saturday and we're in lockdown, but thus far it seems not that dissimilar to the shelter-in-place experience we had in the Bay Area, with the extra step of the texting. In the Bay Area we essentially only left for one of those reasons anyway, but you didn't need to text to do it. We took the dog out today and tried the text method, which is essentially just returns a "confirmed" statement that you are heading out to do this allowed thing.
The streets were emptier than normal, but there were still plenty of people wandering around and no signs of any police or checks at all. Almost any place that can legitimately sell food has continued to stay open. Even street stalls selling nothing more than a snickers seem to qualify themselves as a "market" and have remained open. After walking the dog, we were still able to pick up coffee at our favourite coffee place although it was VERY quiet, so how long they stay open is a different question (can't believe it's economical to be open to sell 10 cups a day and pay 3 staff full time).
We'll see how it continues to play out, but ignoring the fact there's no longer anything to "do", we're still going to be able to go out and buy food, buy a coffee, get the occasional take out and even "bump into at a safe distance" friends if we coordinate our exercise. Of course everything else is closed (Museums, etc.) and we can't progress on the boat, but if it really does only end up being three weeks, it's hopefully not too bad. The rumours amongst the Greeks are that it will be longer than three weeks however, but we'll just have to wait and see.
Did I say this week felt like a month? While all these other things are happening, three other significant things have been moving forward too:
We've continued to negotiate on the boat that we're interested in and this has been getting closer to a deal, but of course now the lockdown is happening it's likely to slow that for a bit. We may still reach a formal agreement shortly, but the essential things that need to happen (like a survey and sea trial) will likely have to be delayed until the end of lockdown.
I still don't have an appointment for my residents visa, BUT I do have an appointment on Thursday to extend my visa here in Greece which will let me remain here legally until such time as I can get the Residents Visa appointment. For a bit we thought it would be cancelled due to the lockdown which would have left me here without a visa, but it seems that the appointment will still continue, however I can't figure out what lockdown code number is valid to move to get to it! Our friend Ginny has to move Air BnB today, an activity that is allowed, but of course requires her to leave the apartment and she's in a similar boat — options 1 through 6 don't cover "move AirBnB".
I'm no longer complaining about my phone BUT Ella was able to get me the one I wanted on order in the UK and she should receive it next week — so now we just need to figure out how to get it from Edinburgh to Athens securely.
So here we are, joining the rest of the world in lockdown after what's been a fairly free and liberal 12 weeks. I suspect next weeks' updates will contain a lot less pictures and be a lot shorter.
Until next time!
Tim & Karina