Week 30 - Lockdown wears on
Adventures in Greece as we pursue the dream of buying a boat and cruising the Mediterranean.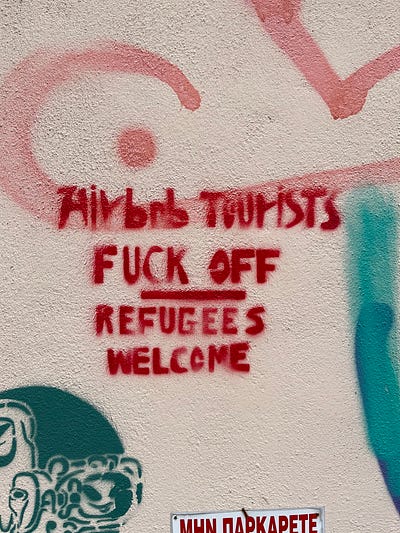 Adventures in Greece as we pursue the dream of buying a boat and cruising the Mediterranean.
Athens really is a city of contrasts. On the one hand it can be very upwardly mobile — trendy cafes and bars, a gritty chic sophistication that tries to appeal to tourists. On the other, it's grimy, full of graffiti and teeming with a strong sense of social unrest and injustice.
It feels at the moment like a boiling pot that's barely keeping the lid on. There are protests every day, sometimes over things I can appreciate (lockdowns, economic woes, student rights, police violence), others about things I don't understand at all (support for someone who "seems-to-me" a legitimately jailed terrorist).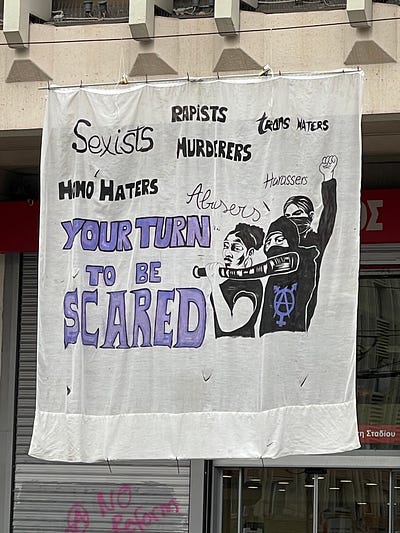 In the last week police were captured on camera beating up people protesting the lockdown and everything seems to have taken on a more serious note. Protests previously felt more like a carnival, but now they have the tone of two sides prepared for war. We've heard from locals that this is "the way", the build up towards what might become actual riots. Ultimately we'll keep our heads down and out of trouble, but I do feel like things on the street will become more serious before they settle back down again.
The lockdown is really starting to wear on everyone. Even those who support it realise it's just untenable — we've been locked down now and restricted in some form or another for almost five months and basic restrictions going back even further and yet cases are still rising (around 2,500–3,000 a day at the moment), with a sense that it's not changing the trajectory. On a positive note, the impact of the vaccination program is starting to be seen with reducing hospitalisations amongst the very elderly (the initial target group for the vaccine).
The government is basically saying things will start opening up now from the end of March regardless of where cases are at, they have to resume retail as they don't have the money to support businesses any longer. Greece is still recovering from it's own economic crisis, so it's a bet between "roll out the vaccine fast enough" and re-open further and roll-the-dice on people under 60 being less impacted. Interesting times.
For the record, I'm in favour of opening up a bit — it's clear the lockdowns aren't really working, the government doesn't have the desire (because of the tinderbox they are sitting on socially) to come down hard, so re-opening shopping at least will help the economy, ease the tensions and get people back into earning again, and can be done reasonably safely.
Last Sunday we went to enjoy a vegetarian roast with Jake, it was really impressive what he turned out in the tiny kitchen at the Habibi Center (where he is staying). The roast was actually a nut loaf and along with the veggies and gravy, delicious!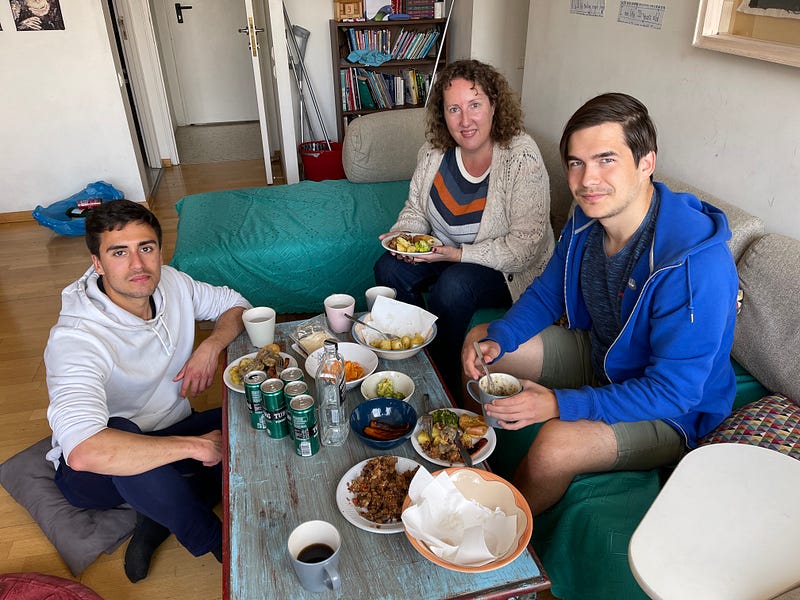 Perhaps related to the unrest in the city, spring is definitely here. The days are noticeably warmer, trees are blossoming, olives are appearing and you can hear the cats screaming at night more than normal. Everything, including the street protests are coming back to life again.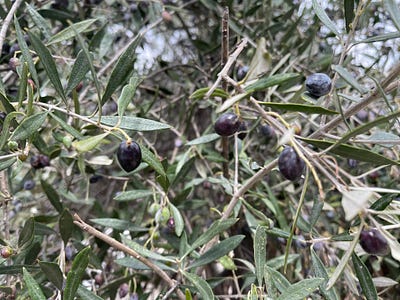 Even after what's now been 6 months or more tramping the same streets everyday, there are still sights left to surprise. We take joy in the small things that at a normal time would barely rate a mention, but right now, discovering a new view of the acropolis with an orange tree in front rates a photo and coffee to appreciate it properly. Or it could be a new street market we discovered just because we happened to walk down the street on the right day.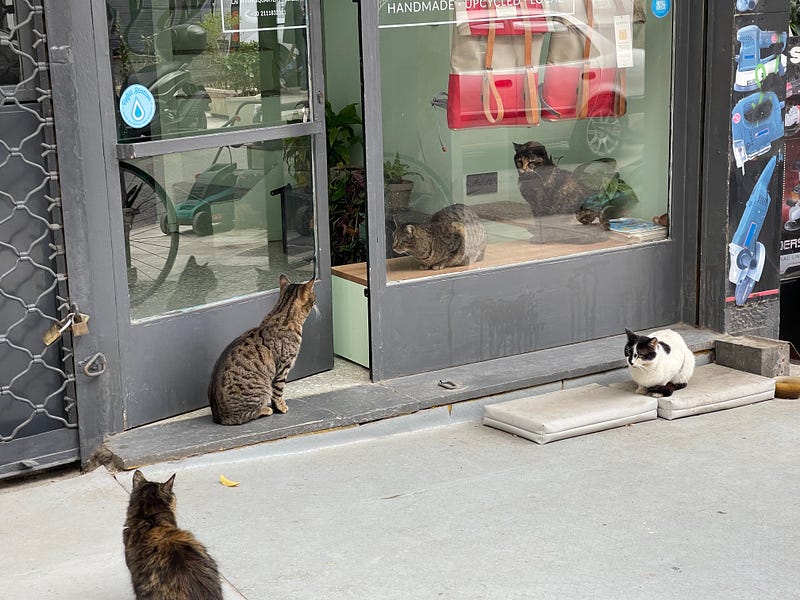 At night the streets are a little more interesting. One thing that we were laughing about one evening was the endless Wolt drivers everywhere. Literally every vehicle you could see on the road was a Wolt driver delivering food to someone. I think Wolt (the equivalent of Doordash, Ubereats or Deliveroo), has boomed during lockdown as they are the only way restaurants can get food out to people.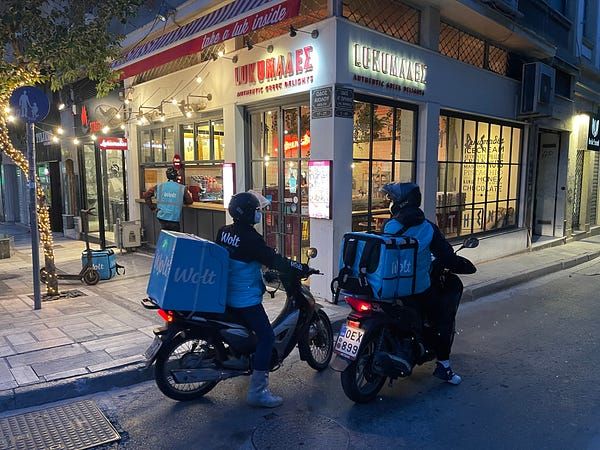 Street life in Athens never fails to disappoint though, there's always something new to see. Earlier in the week when we were walking with Erik it was a lady taking her pet duck for a walk on her shoulder. We didn't quite get the full story behind it, but we saw her a few months back too so I think this is quite normal for her. It was a well behaved duck! This morning we saw a flash mob in Monistiraki.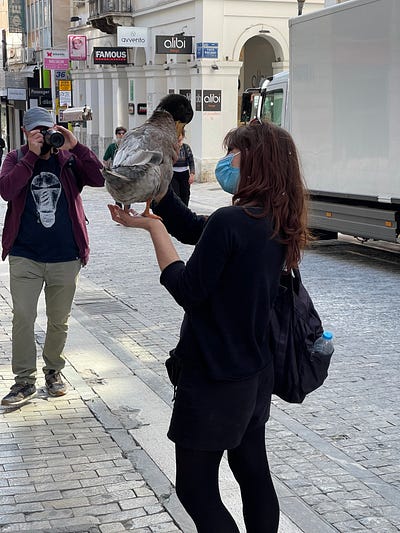 A tradition at the Habib Center, at least during lockdown when more traditional visits to a bar might be in order, is a brunch farewell for teachers. This time it's Jake who is heading back to England this week. We headed to Alex and Camille's where Alex cooked an amazing brunch that we enjoyed together. I found a hoola hoop and failed miserably at it!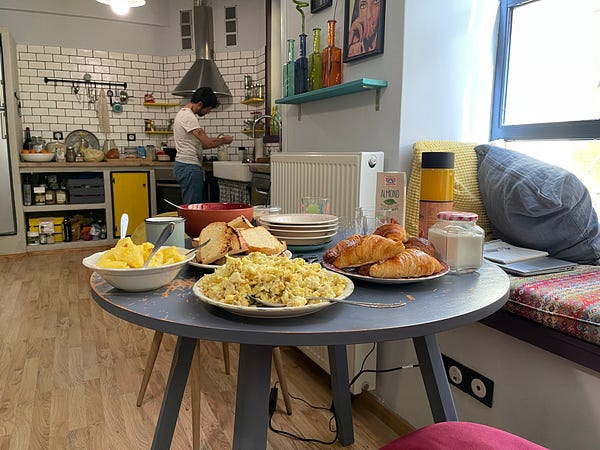 Boat wise, we have one in mind that we're busy drafting a contract on at the moment, but still not quite signed the deal yet. Hopefully this week — of course (it's a boat!) that doesn't mean we'll own it just yet, but it will mean a deposit changes hands and we'll be having it inspected and a sea trial done in early April.
Well that's pretty much it, Karina's birthday is coming up this week on Thursday 18th so we've got that to look forward to. Otherwise it's more of the same, trying to stay out of trouble, obsessing over news of the lockdown and waiting on progress on the boat.
Until next time!
Tim & Karina