Week 31 - Farewell Jake and clean Monday
Adventures in Greece as we pursue the dream of buying a boat and cruising the Mediterranean.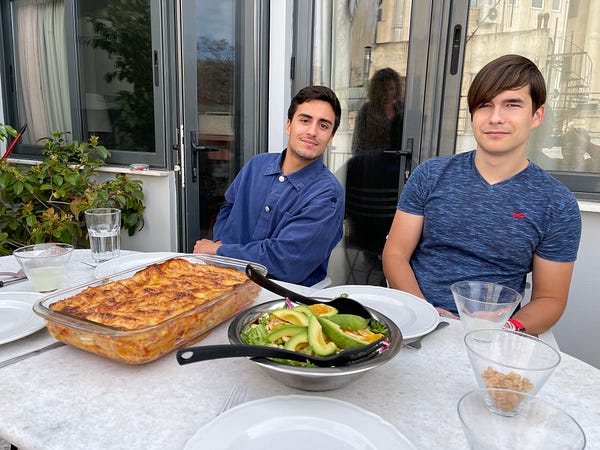 Adventures in Greece as we pursue the dream of buying a boat and cruising the Mediterranean.
I often start these thinking "not much happened", yet when I reflect back through the photos and review what we did last week, I realise we've done more than I thought. No doubt this is due to the never-ending lockdown which tends to make everything look and feel the same. Still, it does feel like week 31 has been a little quieter than normal.
Last Sunday was Jake's final day here in Athens before he headed back to England, having completed his volunteer stint with Habibi Center. Both he and Erik came around to our place for an early afternoon dinner where we enjoyed a vegetarian lasagna and an apple crumble for dessert, both of which were very good. We ate far too much!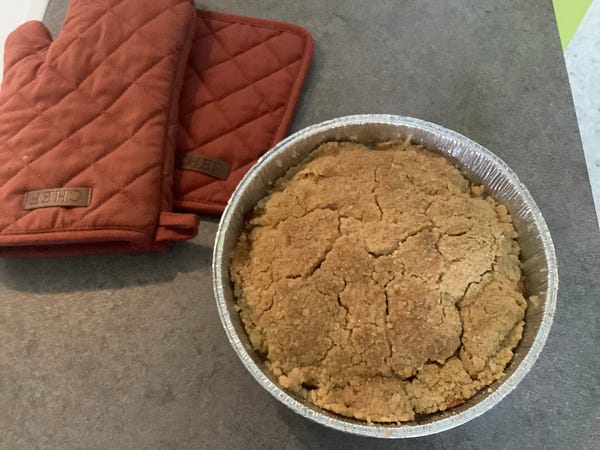 On Monday it was a public holiday here "Clean Monday". It's the start of the Orthodox Church Lent period and represents the day that you start eating "clean" of all the foods you're giving up for Lent. Something like that anyway, there's a lot of different holidays here!
One tradition is the making and flying of kites which represents "getting closer to the divine". Even though it was quieter than previous years, for obvious reasons, it was still quite spectacular seeing the kites flying above ancient monuments and we enjoyed watching the families out having fun.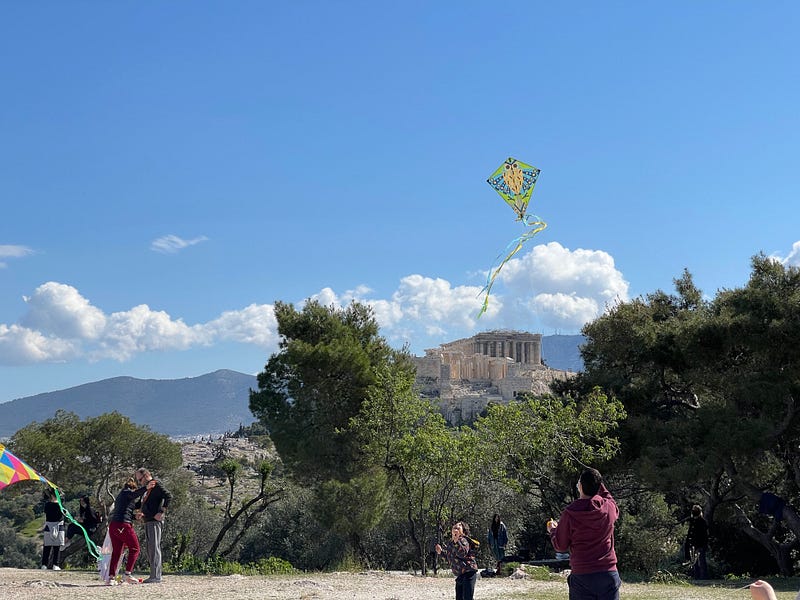 Spring is definitely arriving and all the wildflowers and poppies are blooming. Unfortunately you can only really see them in all the fenced off areas as everyone picks them, so there's quite spectacular wildflower blooms behind closed fences, but everywhere else, nothing to be seen! The orange trees are also in blossom at the moment and as you walk the streets you'll often get a strong whiff of the orange scent which is a nice change from the trash cans…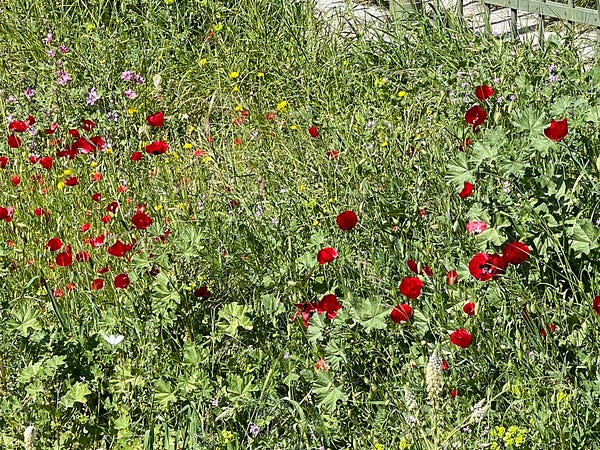 It was of course Karina's Birthday on Thursday, which we kept very quiet — we enjoyed some of her favourite take out foods and a nice box of chocolates.
One thing we often notice on the streets of Athens is a lot of film and television show production, every few weeks we come across some blocked off area where they are shooting something. Sometimes it's obviously a major film production, other times it's just some sort of local TV drama. Yesterday it seems like they were making a commercial for Nancy's Sweet Home — or perhaps an interview with the owner (the woman in red hair at the table). It's always fun to have some new activity to watch.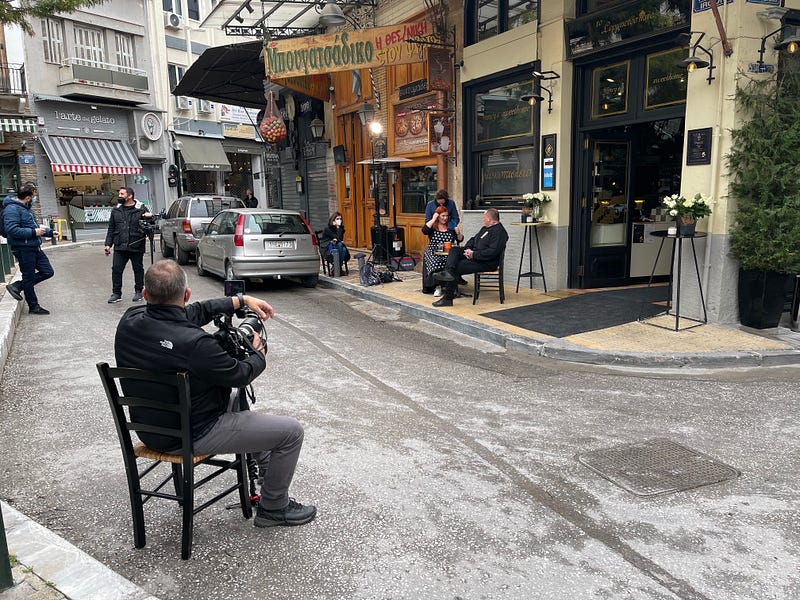 Beyond that, we really didn't get up to much. Wandered the streets, enjoyed the weather and I collected my police check for working with children, which for the record, showed no record. Lockdown continues to drag on.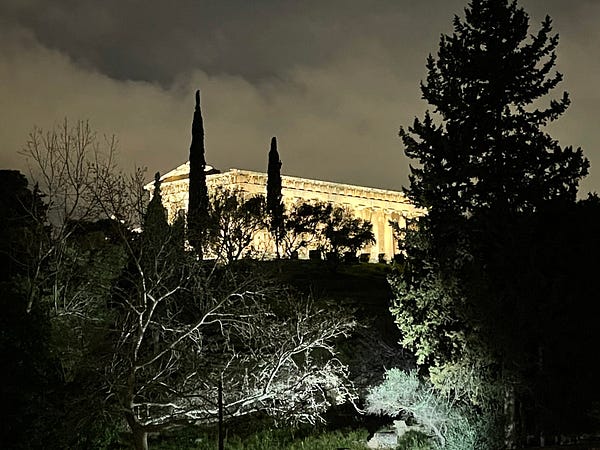 The streets are also slowly becoming covered in Greek flags in preparation for the Greek National Day of Independence which is coming up on Thursday. This one is special as it's the bi-centennial as well and there's been a lot of activity around, including several practice flybys this past week.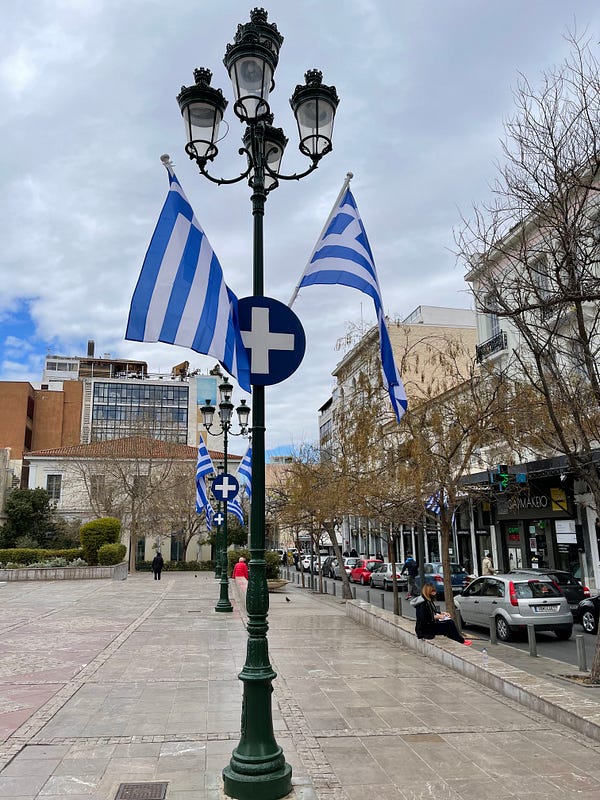 Boat wise we have a contract drafted now which took longer than we hoped (our issue this time for a change), now we're just waiting on the sellers to counter-sign and we can move forwards from there. Assuming they sign, then the sea-trial will be early-mid April (COVID and lockdown allowing). Still a long way to go until we actually own something, but it's definitely feeling very promising and heading in the right direction. The reality at the moment however is that even if this transaction goes smoothly, we're starting to resign ourselves to the likelihood that it will be May or even June before we can start cruising at the earliest as even once we own the boat, there's a lot of additional things that need to happen, many of which rely on lockdown easing further.
It seems as far as lockdown is concerned, as I thought last week, the government have started to ease measures a little. Cases have continued to rise, hitting a record for Greece of 3,500 infections a day on Wednesday, but the consensus is that the lockdown measures are ineffective and the damage to the economy and people's well being now outweigh the risks of COVID. It's not a radical change, but we're very excited because outdoor archaeological sites are reopening from Monday so we can actually go and visit some of these ruins we just stare out from outside the fence! We'll also be able to get a haircut again. I suspect in a couple of weeks we'll see retail re-open as well.
Until next time,
Tim & Karina.