Week 35 - We've found our boat
Adventures in Greece as we pursue the dream of buying a boat and cruising the Mediterranean.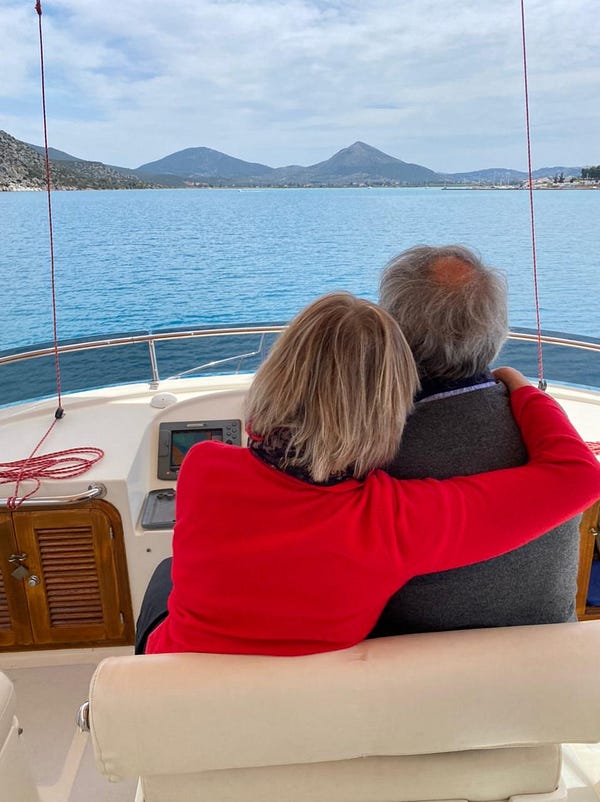 Adventures in Greece as we pursue the dream of buying a boat and cruising the Mediterranean.
If you've been following along for a while, you may find this slightly unbelievable, but it's just possible that we're about to buy a boat! The mission this week was to travel to Kilada with our broker, surveyor and an engine mechanic to conduct a sea trial of the boat we've been negotiating on, an Adagio 44 Trawler. Overall, it was a great success.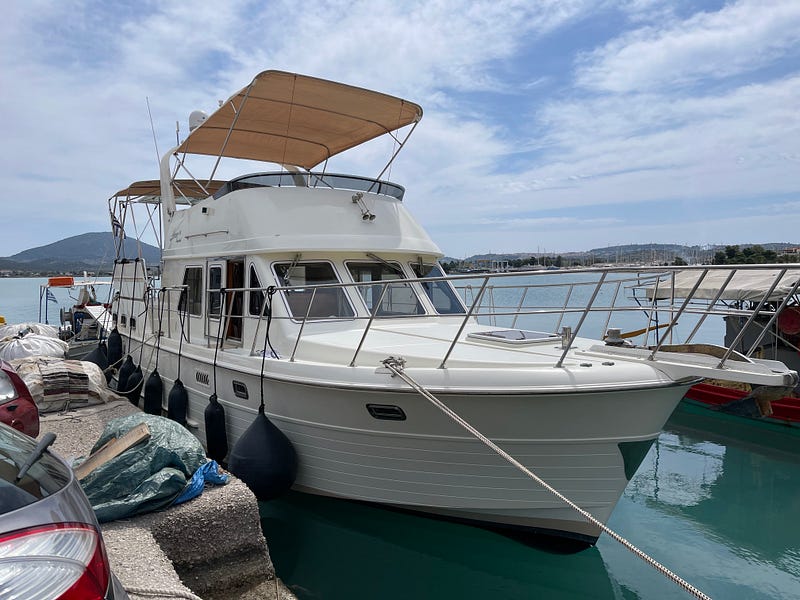 Of course with COVID nothing is straight forward. The preparation involved needing to get signed letters from various people that we were travelling out of our municipality for a legitimate business reason and of course these needed to be in Greek, officially stamped, and printed up so we could present them if asked. Somewhat unsurprisingly we didn't see a single cop between here and Kilada and were never stopped or asked to present anything, but it's good to be prepared. We also did a rapid COVID test before we left and were all clear which was not surprising, but good to know of course.
It was exciting to be able to drive outside of the city again and we enjoyed getting into the countryside even just for a fleeting visit. It was a bit of a struggle however to wake up at 5.30AM to leave by 6:00AM after the relaxed mornings we are used to now.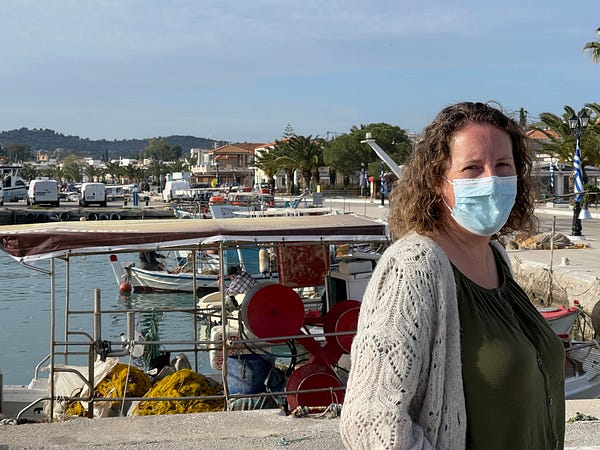 Kilada is a very small village with no real tourist trade — it's essentially a few fishing boats and a large ship yard which probably services 80% of the local economy, so it's not the most picturesque place in Greece at all, but it is pleasant enough by the water and a good change from central Athens!
We've been to sea trial once before in Samos and I'm pleased to report that this time it was a very different experience. The boat was presented on the water and absolutely ready to go — in Samos, our engineers were helping the locals to try and diagnose why it wouldn't start at all.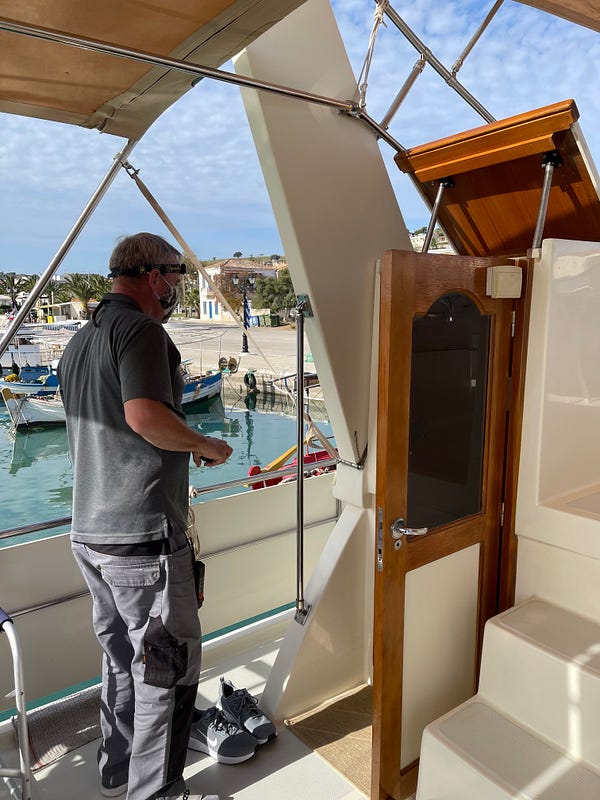 So what's involved? Well there's two main players — the surveyor (who's an experienced marine engineer and little bit like a building inspector) and the engine mechanic. The surveyor's job is to test and view every single system on the boat, they take 100's of photos and write up a detailed report on every defect that they find. This process takes several hours. By the end of the day, our surveyor was pleased to report he'd found no major issues at all and certainly nothing that would impact the negotiations on the boat.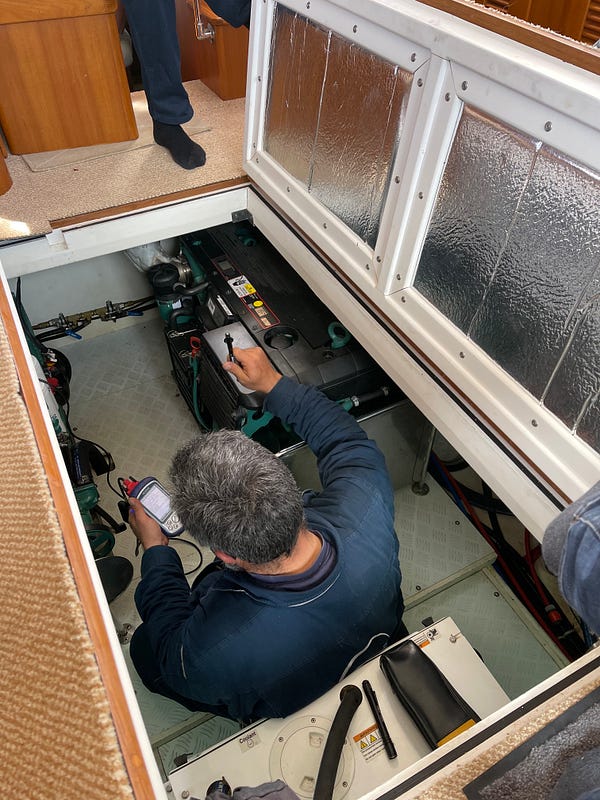 The engine mechanic's role is to assess in greater detail the condition of the engines — they look back at the computer logs of every alarm that's been raised, check everything over and then monitor the computer and engine performance during the actual sea trial to diagnose any potential issues. Our mechanic was also impressed with the engines and gave them the thumbs up.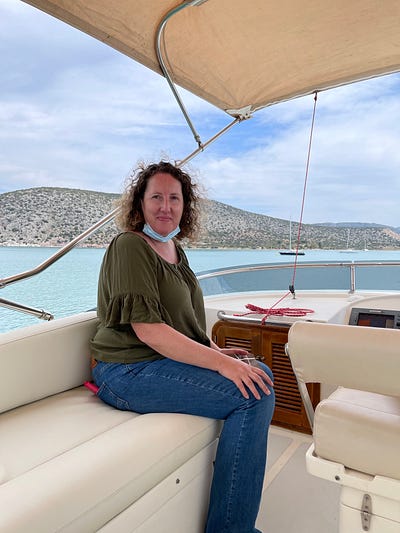 The actual sea trial itself is taking the boat for a sail, running at different RPMs on the engines and monitoring the performance, as well as listening for vibrations etc. and getting a feel for the general handling. She passed with no issues.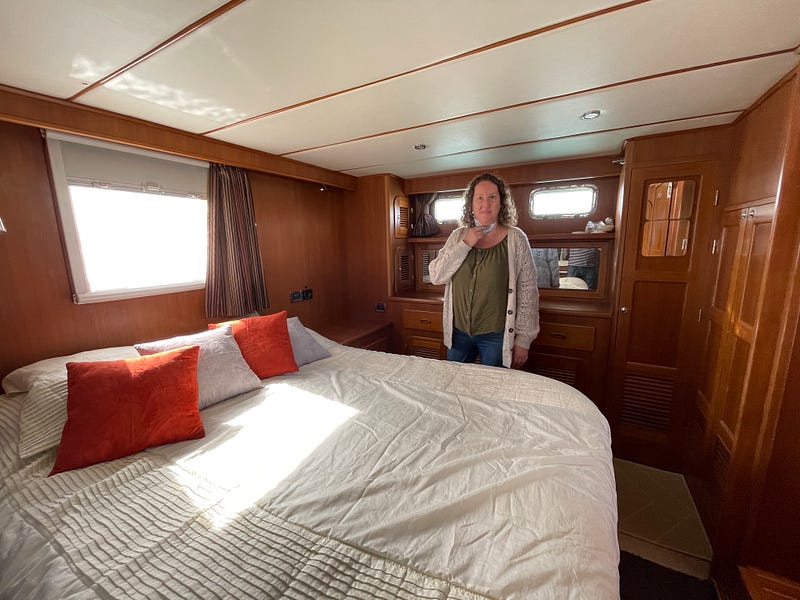 This particular boat has been set up as an "owners cabin" model, which means it has more room in the main cabin and it's been optimised for living aboard rather than day trips. The trawler part of the equation means that it's no speed boat, instead it's a "work horse" a hull design that's based on fishing trawlers and is optimised for space and carrying a load efficiently and for long distances. At her preferred cruising speed, we have a range of about 1,000NM (1,800km, 1,100 miles) which means a long time between filling diesel tanks around the islands. She also sips fuel — doing about 1.5–2 litres a nautical mile which works out around 12–14 litres per hour, which is excellent. For comparison, some of the speed boat models we were looking at would use about 30 litres a nautical mile, or something like 250 litres per hour, bad for the environment and bad for the wallet. She also has a folding arch on the flybridge which means that she can go through some of the canals in Europe making inland waterway exploration a possibility too.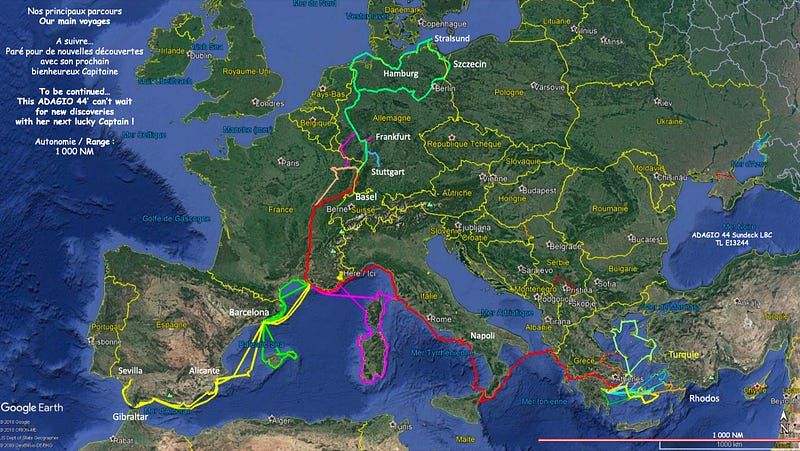 We were very excited to finally get to board this boat that to date we've only seen in pictures and both of us left feeling relieved that finally, this is the right boat for us, a sentiment that both the surveyor and our broker agreed with.
So where to from here? Well of course there is still a process, but at this point we're now committed to buying her, the final paperwork has been prepared and it just requires an exchange of signatures and money for the transaction to be completed. Oh yeah, but it's Greece so there's one final hiccup yet of course… the signatures have to be witnessed here by a notary to make it legal, but they won't do that unless the contract is in Greek, so we now need to get everything which to date has been conducted in English between a French (the sellers) and Australian couple (us) translated into Greek as well. Realistically sometime in the next week we will officially be boat owners.
Then what? Then the real work actually starts — she's currently back out of the water, so we need to complete the bottom paint before re-launching, we have to register and flag the boat, get insurance etc. and then navigate the COVID restrictions to work out how we can get her relocated from Kilada up to Athens where we will probably do a few upgrades to things like the navigation electronics before setting off on our cruise. We have to inventory everything aboard, get it set up for us and more. It's all going to be fun but there's a lot to do. It's beginning to feel a lot more real however and realistically, we could be living aboard in a marina as soon as early May, mid-May at the latest.
As to the name? We're keeping that under our hats for now. She will be renamed, but in keeping with good maritime tradition we'll wait until we get aboard and conduct a proper renaming ceremony before announcing it to the world — and of course, we need to actually complete the deal first!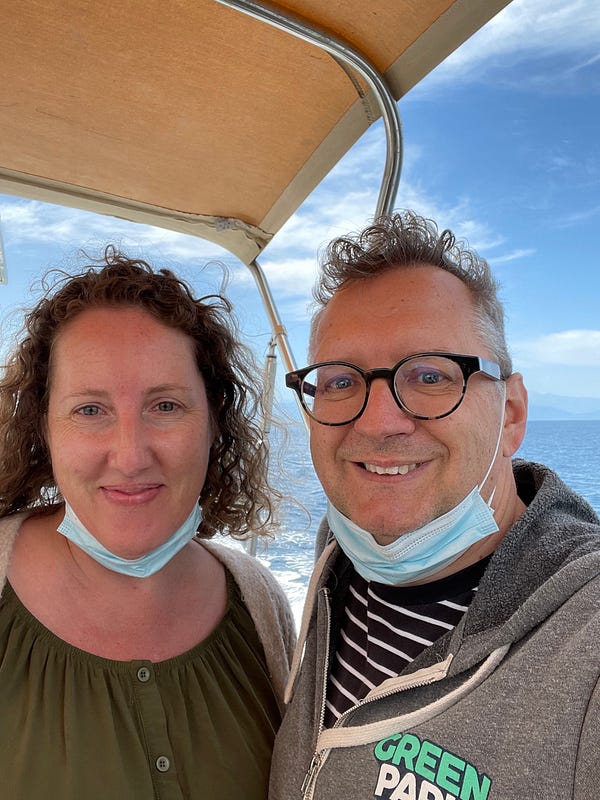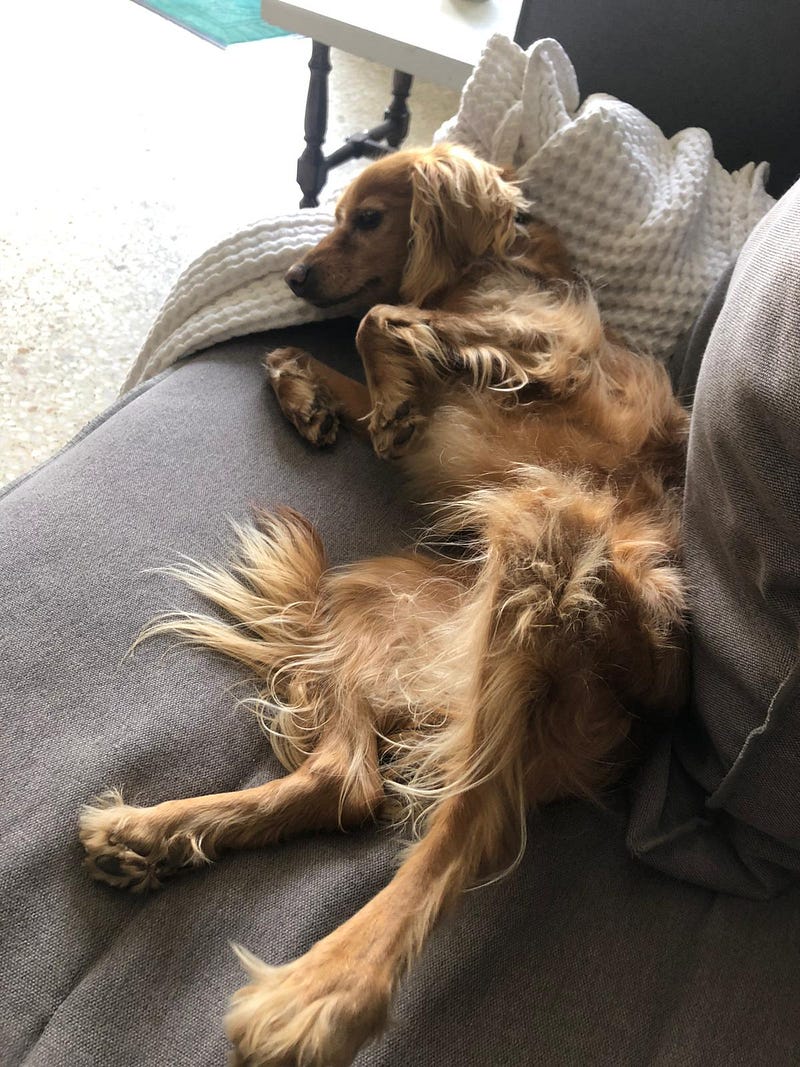 The rest of our week after we returned was filled with a bit of socialising, shopping and a lot of chasing paperwork and talking with the marine lawyer and the broker. On the shopping front, we have been telling ourselves to "hold off" on a few purchases until we know what the boat we buy comes with — we feel like we know now! It was fun to finally start to collect a few things to be ready.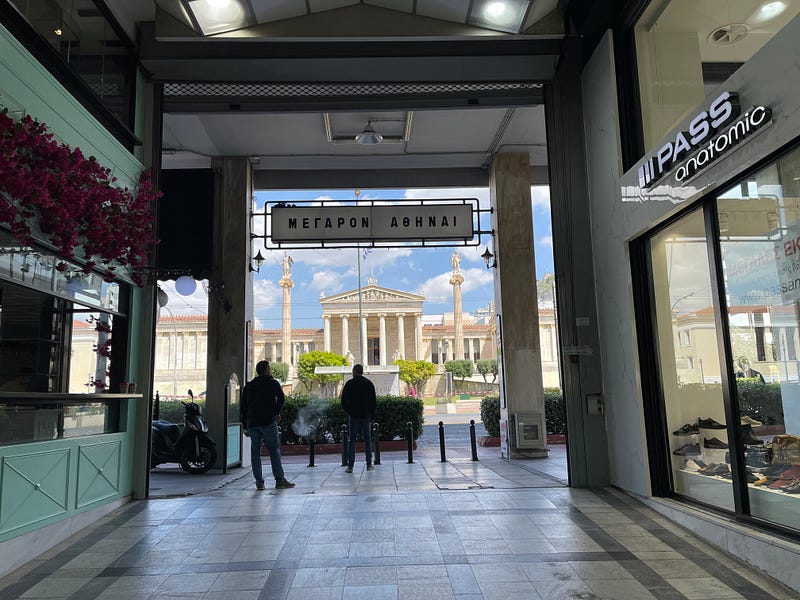 As far as stores re-opening, I think we're only JUST starting to get a sense of the impact that COVID has had on things. I was walking through the heart of Plaka last Thursday morning after returning the hire car and although it was still early (10 AM), there were stretches like below where there was NOTHING opened at all. There's a lot of "zombie" stores too apparently — stores and business that are surviving purely because of the government subsidies, but once these stop are likely to collapse as well. It hasn't stopped people gathering outside of bars however. The curfew which starts at 9PM is basically not enforced now. People are gathering in the streets around our apartment, drinking at the bars until 9PM and then slowly heading home. The cops come by to try move people on, but they aren't interested in doing anything more — I suspect they are one arrest away from a riot. It's no exaggeration to say there are 1000's of people now coming out at night and I understand this is increasingly common everywhere across the city as well.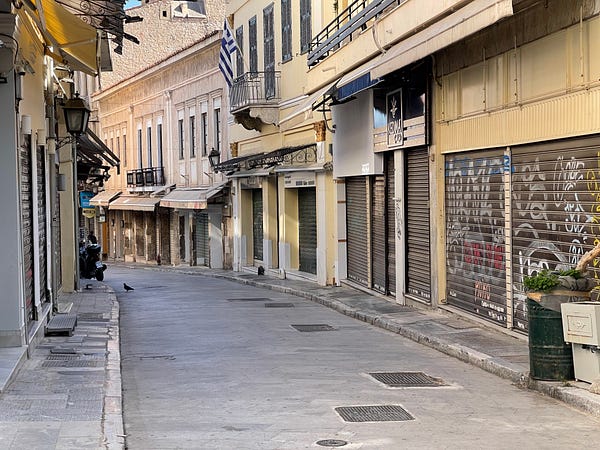 On Saturday I met up with the other teachers at the Habibi Center for a bit of a catch up, talking about how things are going and chatting about Greek bureaucracy in general. Steph who runs it all does a great job of building connections between the volunteers and giving us opportunities to meet and get to know each other.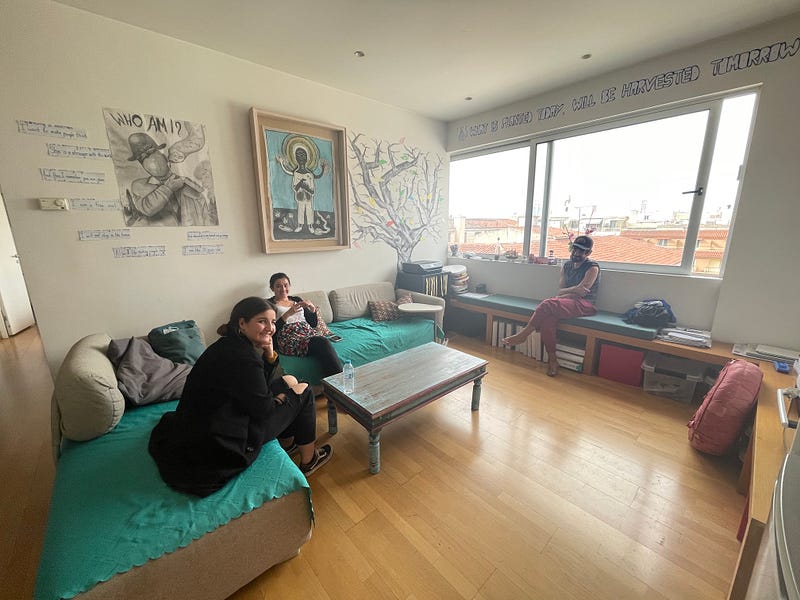 Hannah our friend from Germany was back from her brief escape to an island and invited us to join her for a meal together before she heads back home today. She prepared an amazing cheese platter and we bought a series of local craft beers to try. We sat chatting on the rooftop, enjoying the last of the sun and watching the Acropolis. It was a really pleasant evening and we're sad to see her go. Hopefully she'll come back again to visit us aboard with her boyfriend once we are settled and more restrictions lift.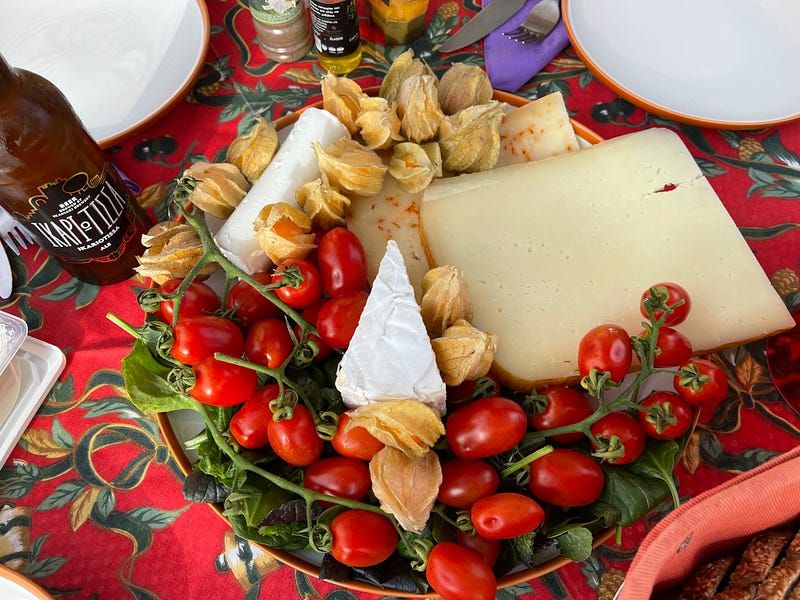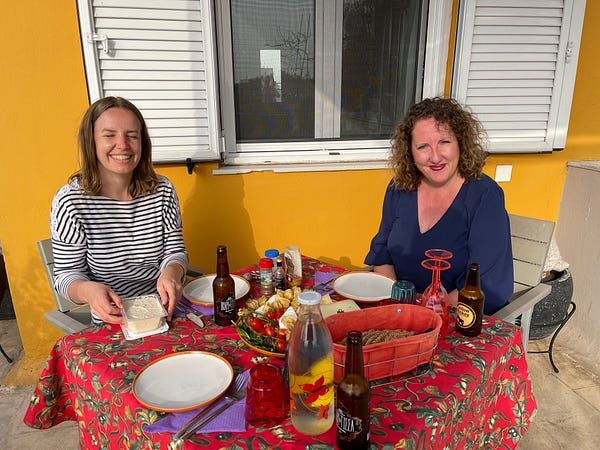 Well that's more or less everything! A week full of progress towards our major goal. All going well, we fully expect that by next weekend we'll be the proud owners of a boat in a shipyard that we can't get to, can't move and can't live-a-board just yet, but it will be another big step in the right direction.
Until next week,
Tim & Karina