Week 38 - Lockdown lifting
Delays with the boat contracts. Dinner with Habibi, lockdown is starting to lift.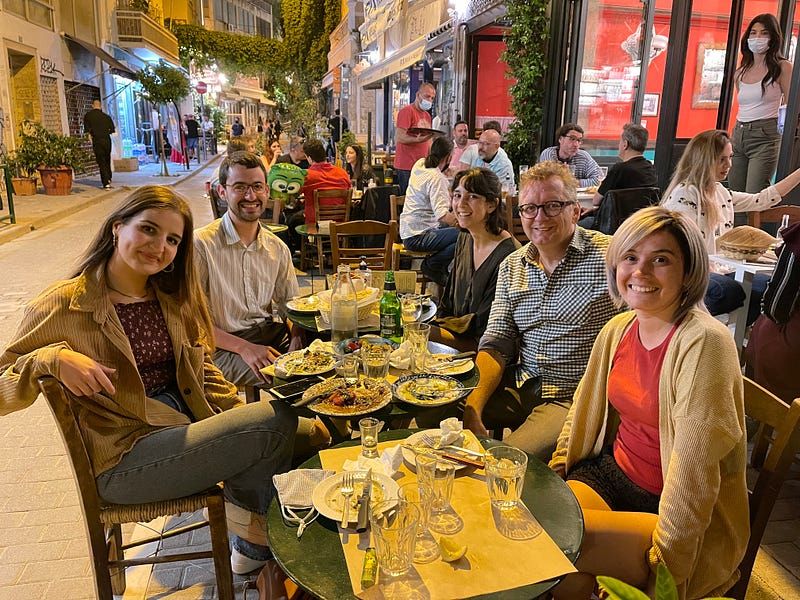 Adventures in Greece as we pursue the dream of buying a boat and cruising the Mediterranean.
It's amazing how quickly things can turn around. On Friday we woke up to news from our broker that the documentation being sent to France, which is critical to update the error in the serial numbers, was lost in transit. It was still showing as sitting in Corinth (about 60km from where it was sent) and hadn't even left Greece after around 10 days.
We made a snap decision at this point to basically move on with our lives — yes we'd still buy a boat (and hopefully this boat), but we are no longer going to sit and wait "just a few more weeks" for it to happen. We began planning a move to a beach near Athens this summer.
Fast forward an hour and a half and an email arrives from the seller's broker, the documentation had arrived in France and in fact the documentation was updated on the registry and everything is good to move forward. We're not quite sure what happened, but I suspect that the sellers were (very reasonably) relying on DHL to show delivery, but the broker decided to check with the registry anyway only to find out that not only had the documents been delivered, they'd been updated too.
So what does this mean? Well the boat buying is full steam ahead, we will be at the bank first thing Monday morning to arrange sending the remaining funds and once these are confirmed as received by the seller's broker, we travel to Kilada to sign some final documents and pick up the keys! The ball is firmly in our court now and it's not unreasonable to expect we own the boat by Friday — of course, I've been known to think this before so we'll wait and see. It's getting close however and there are no further obvious obstacles (just potential delays for various bureaucratic reasons outside all our control).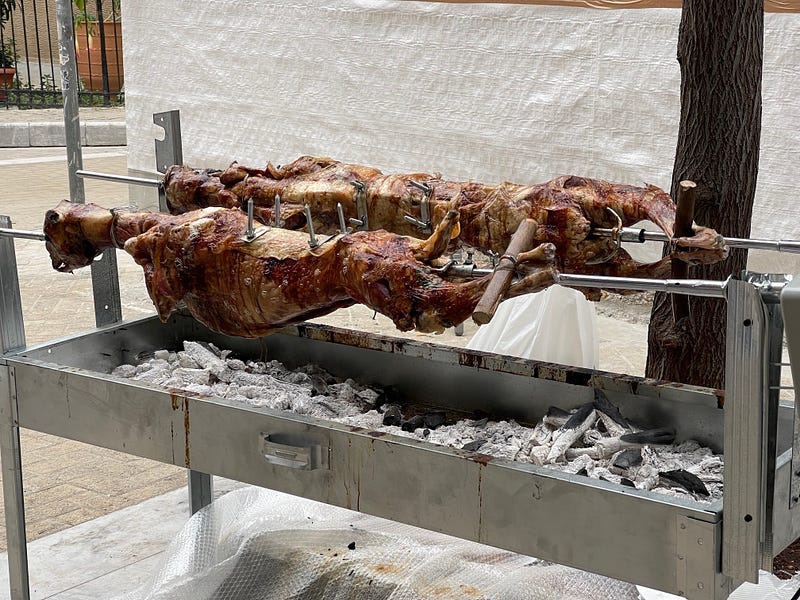 This week has been a real breath of fresh air from a lockdown perspective. Everything has continued to roll back and slowly re-open. On Sunday afternoon we walked around the city, watching the roasting of lambs on spits and seeing all the furniture being set up ready for Monday morning.
Monday and Tuesday were still Easter holidays here, but the tavernas gradually reopened and by Friday, it seems those that are able to are now back in full swing. The curfew has moved back to 11pm (still ignored of course) and we're all enjoying being able to eat out, sit at a table and drink a coffee and generally feel more human again. For my first French lesson post lockdown, Camille and I decided to a cafe, just to get out of the house and of course, because we can.
On Wednesday evening I joined the Habibi teachers for dinner at a taverna to welcome two new volunteers, Anita and Matthew from England and we all enjoyed sitting out, chatting, having a drink and taking advantage of the freedom.
A Canadian couple reached out on a local expats forum to see if anyone wanted to meet up, so Karina and I joined them for a drink on Friday evening which was good fun. It was a bit of thrill actually as they have a lot of experience with startups and actually know the companies Karina used to work for, so there was a little bit of shop talk too.
On Friday morning we headed to Kaffisia, a wealthy suburb on the outskirts of Athens where there is a free flower show. Although it was less of a flower show and more of a lot of local merchants selling things, it was still very refreshing and enjoyable. The suburb is very interesting and worth an afternoon spent browsing the shops and the local villas which are all ornately done. The suburb was originally the summer getaway for rich Athenians and is now the home of a lot of wealthy politicians and expats.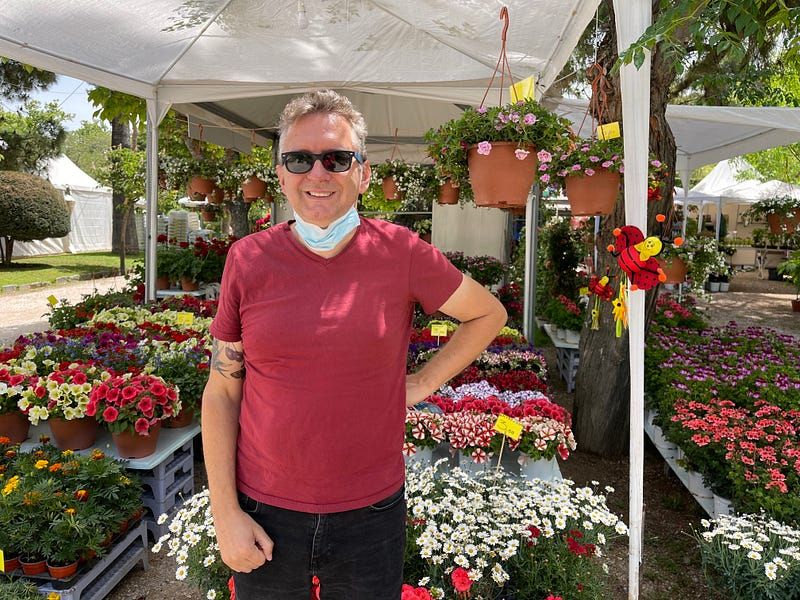 The realisation that things are opening and the plan for inter-regional travel to start next weekend (the 15th of May) inspired us to book a short getaway, so we're looking forward to heading off next weekend to the Peloponnese (where our boat will be actually, although we probably won't be near there unless we have to for some reason) to visit Kalamata and Olympia.
With the flowers building, there are a lot of bees around. This is proving to be a challenge on our terrace, we have a plant that's in flower and Rosie has decided that chasing bees is… well, the bees knees. We've been trying to keep her away from them, but on Friday she managed to catch one and spent the day with a swollen nose! It didn't seem to bother her at all, although she saw a bee later that day and jumped back — by Saturday she'd forgotten about it and she's back to chasing them again.
On Saturday evening, Ifi, one of the teachers at Habibi who is also Greek invited us all to her house. We had a lovely time enjoying some homemade cooking and exploring a new suburb. One thing that's very different from how we typically live in the US, UK and Australia is that Greek people can be much more family centred. Ifi lives in an apartment building which is owned by her grandparents, and each family has a different floor of the four story building. She says it's not uncommon in her area and pointed out several neighbouring buildings with the same arrangement.
Well, with the boat now back underway, the next week is sure to hold a lot of administrative tasks. We have to pay for the insurance we've organised, we need to organise the money transfer, there are cars to book and no doubt a myriad other last minute things to make the transaction a success. We're going to also need to chase the speedboat school to see when they reopen, start finding a marina in Athens and begin the process of reflagging the boat… and more!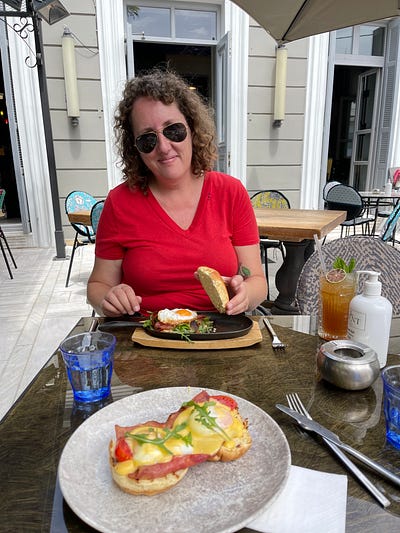 Wish us luck! We're probably going to need it knowing how these things progress, but I do feel we're very very close now to boat ownership. At least getting it back into the water and here to Athens will be a whole different adventure!
Until next time,
Tim & Karina