Week 39 - We bought a boat
Adventures in Greece as we cruise the Mediterranean on our boat, an Adagio Sundeck 44 Trawler
🥳🍾🎉 We bought a boat!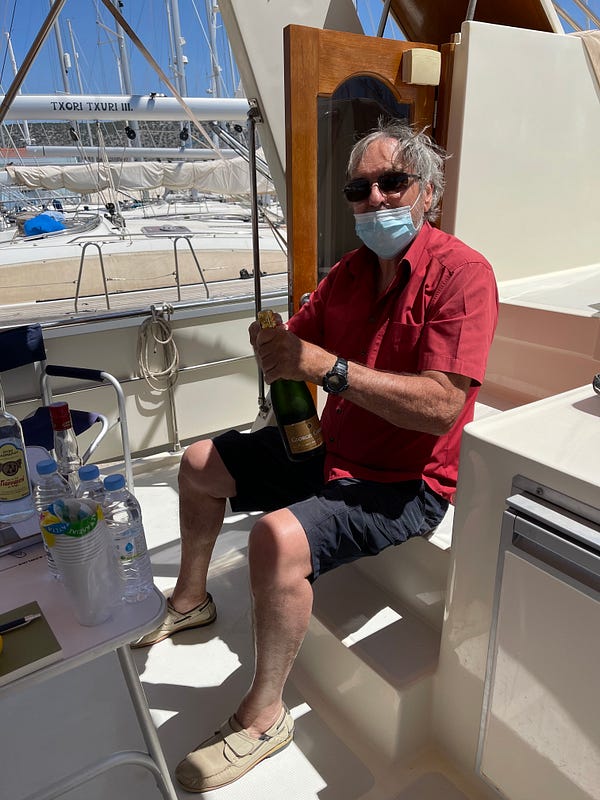 I was going to stretch this out, but our daughter Ella accused me of teasing everyone with my updates for the last month or so. Believe me, that's NOT been the intention, we are incredibly relieved to finally get this transaction over the line.
Which means that the big news this week is that as of 12:00 local time on Thursday 13th May, we officially took possession of our (new to us) boat — a 2009 Adagio Sundeck 44 LBC. It's been a journey, the process of buying the boat generated around 50 documents that we now have filed away, everything from survey and engine reports, MOA's, bill of sale, protocol of delivery, various certifications, attestations and pictures of critical systems.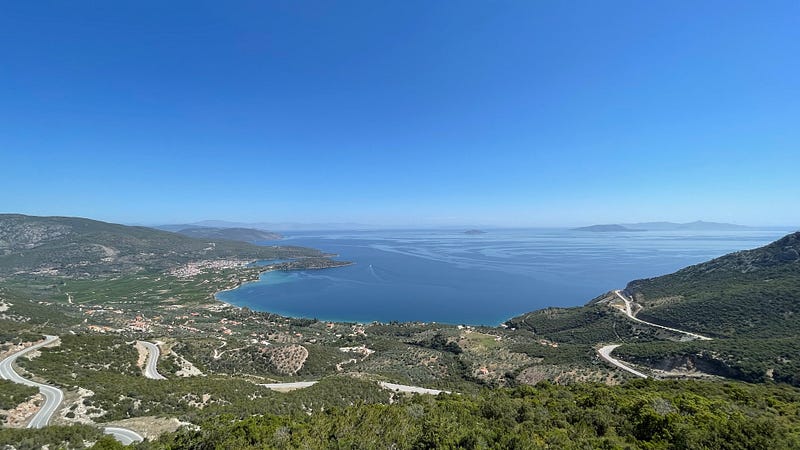 There's a saying that the two happiest days in a boat owner's life are the day they buy the boat and the day they sell it. I'm not sure about that, we are of course happy, but I'm also definitely looking forward to some very happy moments drinking a cocktail and watching the sunset — but I can understand why the sellers were also very pleased to get to the end of the process. Twelve years of happy sailing and the last two months for them have been doing nothing but digging up old documents!
To answer a few of the immediate questions:
What's she called? We're in the process of renaming her at the moment. There's a lot of superstition around boat names and renaming so until we've completed the process, we're keeping it under our hat. We will be sure to let you all know soon! Probably about 2 weeks time.
What type of boat? She's an Adagio Sundeck LBC 44 Trawler — a go far, go slow, go (relatively) cheap style of boat with lots of room to live aboard full time. The sundeck refers to the large deck on the roof which has a lot of space for living, cruising and enjoying the outdoors.
What does LBC stand for? We're not 100% certain on this one, but its most likely "Low Bridge Clearance" — she's designed with a folding radar arch so that she can navigate some of the canals in Europe.
Who is the captain? Me (Tim). Karina (on official documents) owns the boat 100% in her name. This is for taxation — a European needs to own the boat 51% to maintain a registry here and to keep it simple, we decided she'd purchase it in her name. However when you're underway, there has to be one person who is responsible for the operational decisions on the boat. Given I have (relatively) more experience, it makes sense for this to be me. In practice, the way this breaks down is that Karina as the owner decides WHERE we go, I decide WHEN and HOW we get there. Or as I like to think about it, I decide how to crash it, she deals with the paperwork and pays for the repairs 🤣.
Where is she? Currently ashore at the shipyard in Kilada (a 2.5 hour drive from Athens)— we need to reflag her to a Polish flag before she can go back in the water.
Why reflag? Flagging a boat (especially in Europe) is a fairly pragmatic affair, especially for boats like ours which intend to travel a variety of countries. We're changing the current French flag to a Polish flag as a flag of convenience that's cheap (one lifetime payment), is well recognised and doesn't have too many onerous conditions attached. The obvious other choices — Australia (no good for taxation reasons in Europe and we'd have to pay import tax into Australia), Dutch (not well respected — they issued too many cheap flags and some countries no longer recognise them unless you prove residence in the Netherlands), French (it's already flagged French, but there's restrictions on needing an agent in country and a hefty annual fee) and Greek (too bureaucratic).
When do we move aboard? It's partially dependent on #3 — we could live aboard in the shipyard right now, BUT a) it's in Kilada — too quiet, b) living on the hard in a ship is doable, but not ideal. When she's reflagged, she will go straight back into the water as soon as the shipyard has a slot to launch her, then we are going to bring her to Athens while we get our speedboat license sorted out. She also needs a couple of extra coats of bottom paint which will take a week or two as the boatyard is extremely busy.
When do you set off for the islands? Not sure yet — step one is getting the registration completed, the boat moved to Athens and us moved aboard. A critical second step is we need to get the correct license (yes we own a boat we are technically not allowed to drive at the minute). All going well, towards the end of June, and perhaps we'll take a weekend or two away with a skipper before that in the meantime.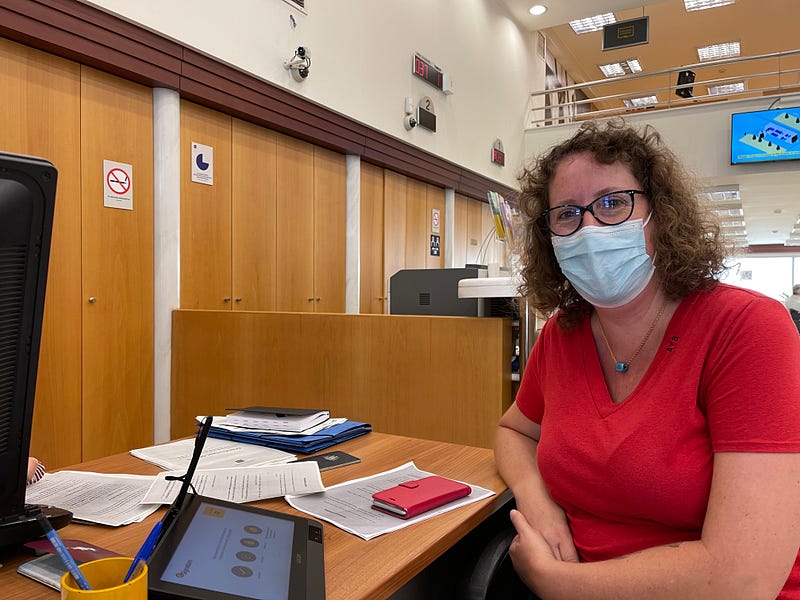 I had mentioned last weekend that we expected a lot of administrative things this week, but it really wasn't too bad. Timing of the handover was dictated by a few things. The first was the speed of the money transfer — we organised this on Monday and actually it went through very quickly, being received by Tuesday morning. The second was making sure we could get the insurance in place in time. The third was that it was decided we needed to physically meet in Kilada for the handover and so we didn't want it to be too early so we could get up, rent and car and get there OK.
When we arrived, the paperwork process was very straight forward, Karina signed a few documents, the sellers handed over a pile of paperwork and that's it. We own a boat. A quick bottle of champagne, a visit to the shipyard owners to introduce ourselves and then it was down to business of learning how everything works.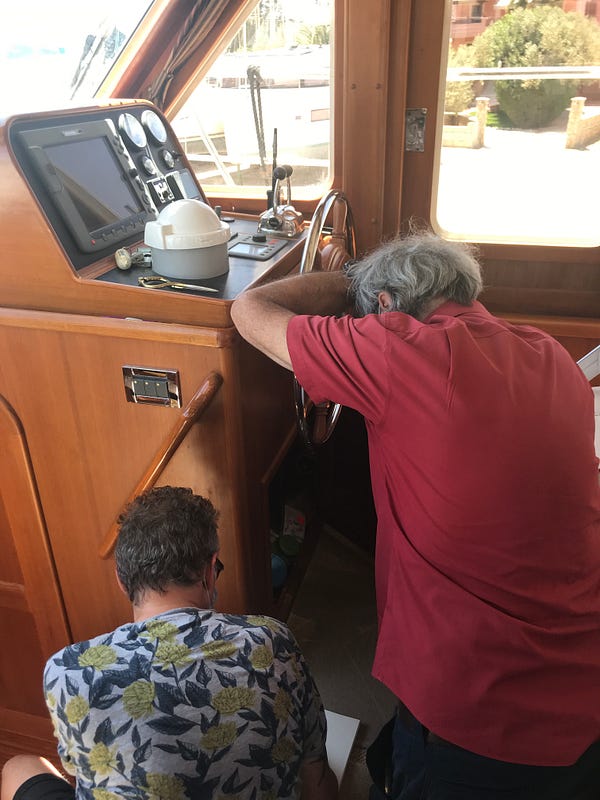 Every boat is different, even if you know some systems, each one has its own idiosyncrasies that you need the previous owner to show you. I spent a good 60 minutes going over a lot of the things that we need to know. There is more to learn, but I think we have the basics in place now. At the very least, I know how to start the generator to charge the batteries so I can run the coffee machine — important knowledge!
Once that was all done, the previous owners and the broker disappeared and we were left to our own devices aboard our very own boat. It's a strange feeling — imagine buying a house and all the cupboards are full of things. We've acquired not only the boat but all the trappings of living aboard too. The cutlery, pots, pans, occasional food items, spare parts, linen, carpets, cushions, throw rugs, towels etc. etc. etc. All the things that you build up in a second "house" over 12 years and no longer need now you've sold it. We keep saying that one of the first things we need to do is a major inventory of everything aboard, even the previous owners aren't sure what's in some of the cupboards anymore! The moment it really hit home was post champagne, everyone left and it was up to us to do the dishes. It's going to take some time to settle in, clean out and feel like it's "us".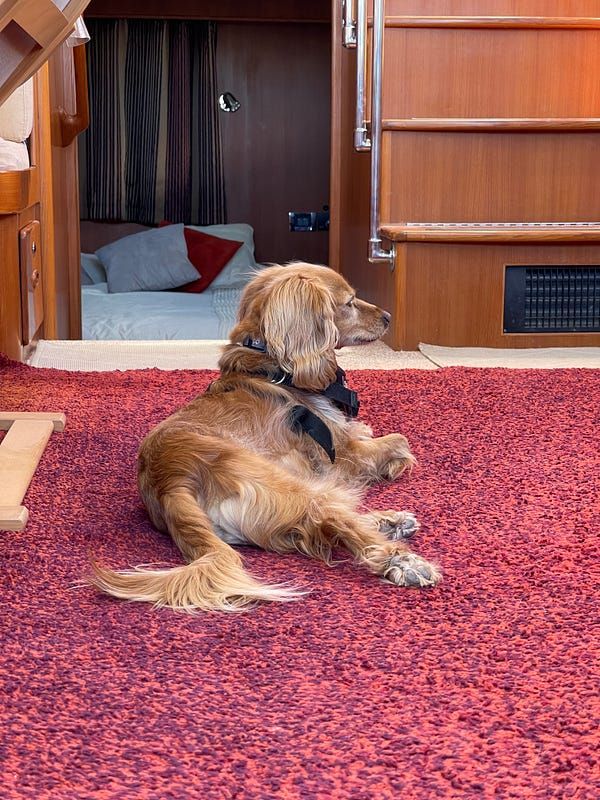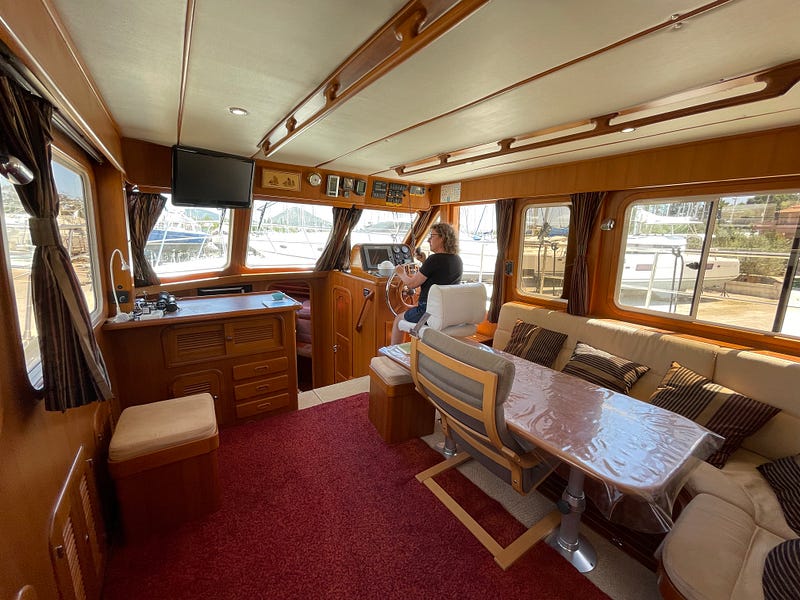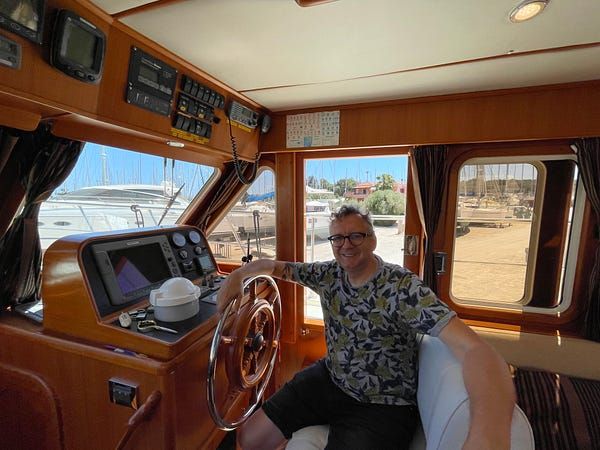 It was a very strange feeling leaving the boat. Suddenly, we're responsible for it — did we turn off the right things? Did we leave the right things on? What happens if we left a switch on and the batteries go flat? But it's hooked up to shore power, so even if that happened it would be OK right? A million questions, but you know, the boat is on stands, in a boat yard, there's not too much that can go wrong. We locked the doors for the first time and headed off for lunch and back to Athens.
Aside from the boat related tasks, the other major activity this week was hiring bikes and going for a ride down to Stavros Niarchos park and Flisvos Marina.
We enjoyed a nice lunch looking at the super yachts and all the people wandering around. Someone walked over and said "Tim?" and I looked up to see a friend I met sailing in San Francisco, Thymios. He left San Francisco a few years back to work from London, then came home to Greece during the pandemic to work from here instead of enduring a dreary London Lockdown (he managed to get a marginally less dreary Greek lockdown instead). We were amazed he remembered me, but it turns out he's been following the blog so recognised me from the pictures! So "Hi Thymios!", it was great to catch up for a coffee on Thursday and we'll definitely do that dinner next week.
The riding proved to be quite tiring when you're not used to it! We cheated and caught the metro half way on the way back (also all up hill) and then relaxed with a drink after.
As far as coronavirus is concerned, cases continue down to around 2,100 cases a day now. Most importantly the hospitals are emptying out — back under 50% occupation in COVID wards which seems to be because of the vaccination program taking effect. Karina is in line for her first dose next week and me in early June. As of today, we no longer need to send a message to go outside, the shops are all open (although masks and distancing required inside of course) and travel is now freely allowed between regions. You need to produce a clear self-test if you're heading to an Island, but other than that, things are more or less back to some sort of normal now. The curfew has moved to 00:30AM which is going to make this neighbourhood even noisier now! Still no music allowed for May which is a relief to be honest.
Well that's it for now, we're publishing this post a little earlier because on Sunday (tomorrow) we're heading away for 4 days for a brief get away (a holiday from the holiday) to visit some archeological sites around the Peloponnese that we haven't seen yet.
Until next time,
Tim & Karina (proud boat owners!)