Week 4 - Local life and first boat visit
Adventures in Greece as we pursue the dream of buying a boat and cruising the Mediterranean.
Adventures in Greece as we pursue the dream of buying a boat and cruising the Mediterranean.
Week four has rolled around very quickly! Perhaps the most radical thing is that we've actually cooked dinner for ourselves for the first time in almost 6 weeks. It's been a refreshing change, although I'm not sure it's actually that much cheaper than eating out when all is said and done. However the meals have been delicious.
Local Life
So often things are so global, that in many ways it's the smaller details that really make you appreciate you're somewhere new. For example, a lot of the cops here travel by motorbike (which makes a lot of sense given the congestion on the street), but we find it amusing that they ride two together all the time which you would never see in Australia or the US where they'd each have their own bike, and something twice the size too!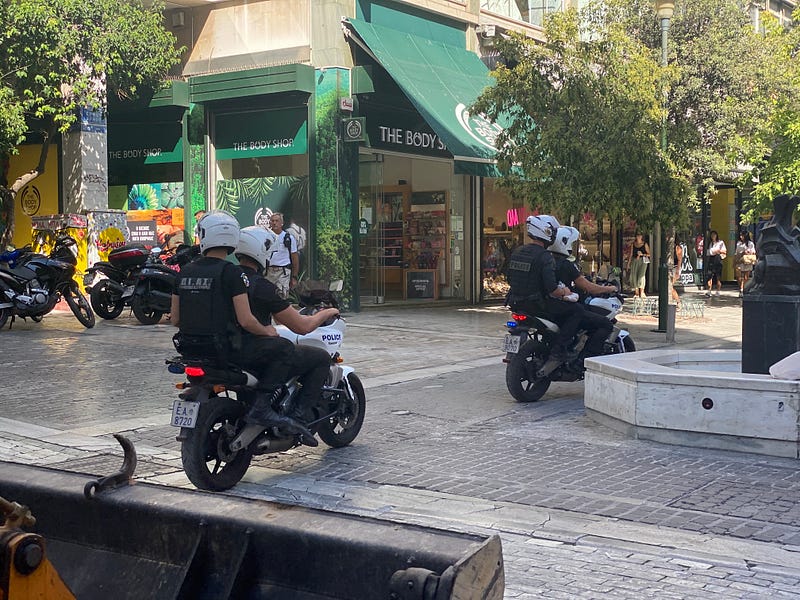 We've been really enjoying the markets, the freshness of the food we have access to is generally much better than the US, although the variety can be much more limited. We experienced something similar when moving from Australia to the US — trying to cook the things you "know" is a challenge, you really can't find the right ingredients, you've got to adapt and cook like the locals.
We also figured out our street name! We noticed Ag. was frequently in front of street names, and after a little research, I found this is the equivalent of St. for Saint in English. So we live on Saint Anargiron street. Which makes a lot of sense now as we hear the bells from St. Anargiron church every Sunday morning. Slightly complicated by the fact that in this instance, it's a pair of Saints who performed work "without silver". A bit of local trivia!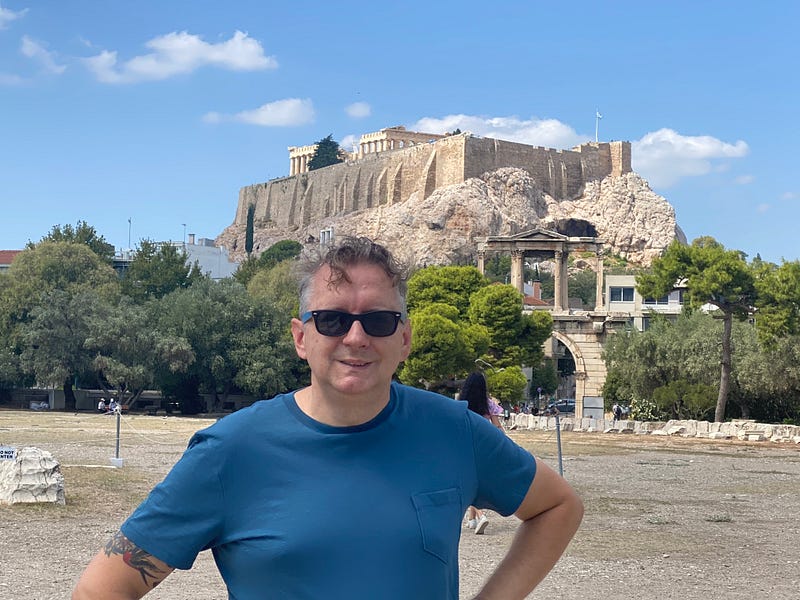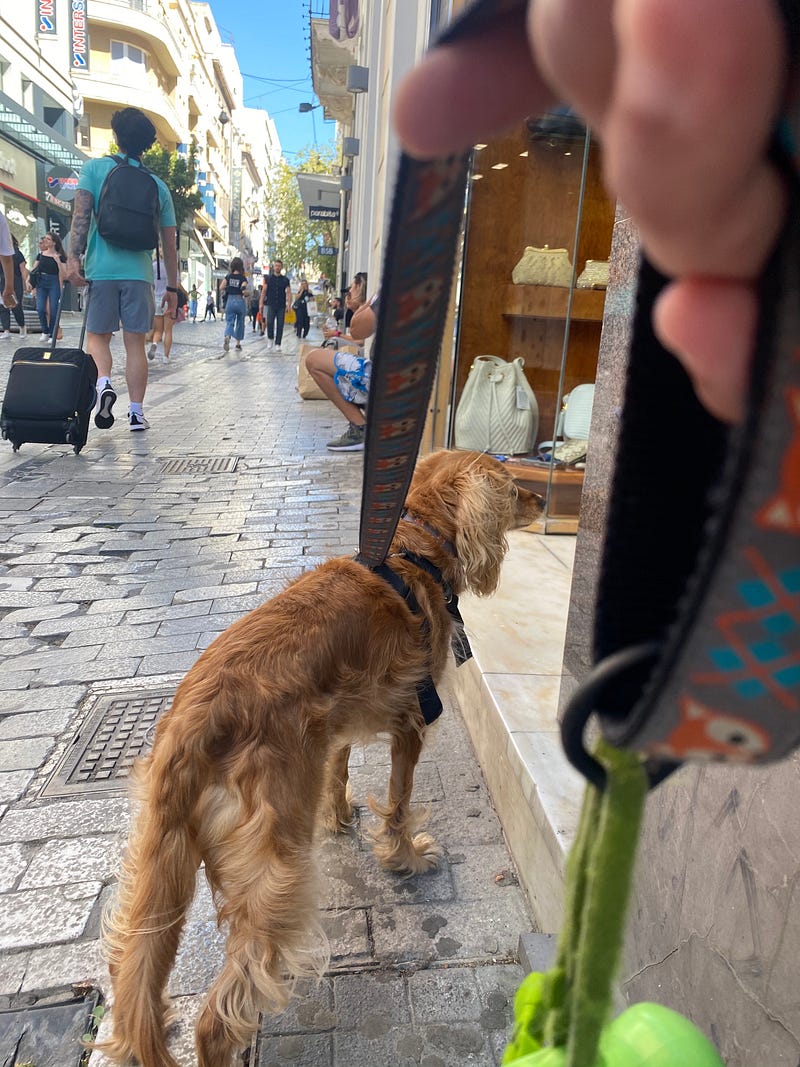 Boat Hunting
Ultimately the reason we're here is to find that boat and live-a-board! While it may seem that not a lot has happened on that front, we've been starting the process. Tuesday was a real milestone because we met our first boat broker and toured our first couple of boats.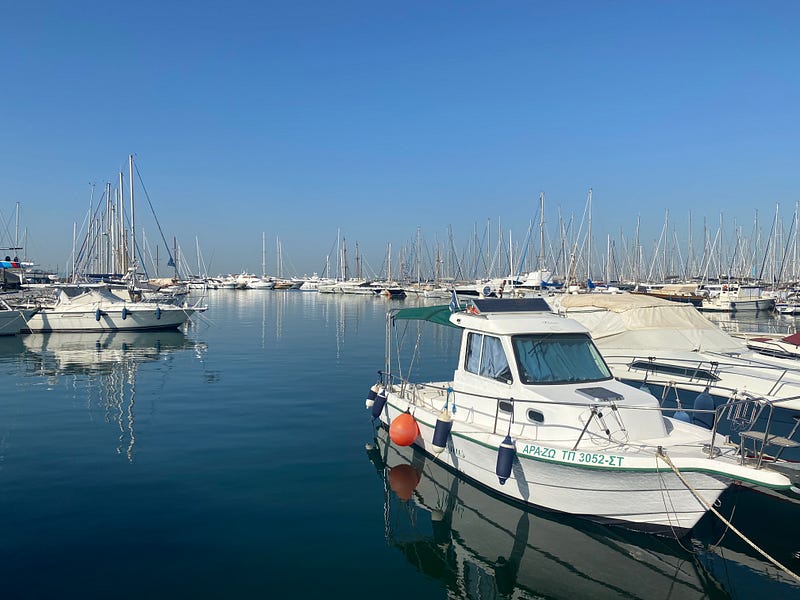 It was an eye opening experience! We understood that buying a boat was going to be a complex experience and it's living up to that. It's probably more complex than buying a house — at least if they say the house is in Athens, it's probably actually in Athens and not (as we frequently hear) "In Italy" or "currently at such and such an Island".
Which is fine, we understand we'll need to travel to find the boat we want, but we also really want to narrow it down a bit before dropping travel costs to see something we might hate. Imagine buying a car — if you're told "it's $300 travel cost and 2 days time to see it" you'd probably at least want to be sure it's a type of car you really want!
The other thing we've noticed immediately is that the quality of the boats in person is VERY different from the photos. Some boats have been on the market for a while, so perhaps the photos were taken when it was just listed, but it's been busy cruising since then and in person, looks a LOT more tired after the season than it did 8 months ago. In the worst case, the photos can be clearly brochure photos of the boat when it was delivered and not really representative of the condition now.
Add to that the variation in equipment, quality of equipment, age, maintenance, running costs, fuel cost estimates, money spent on upkeep etc. and there's a lot to take into consideration. Still, it was exciting to see at least one boat that we thought might work for what we need and to start the learning and the process.
Stray Cats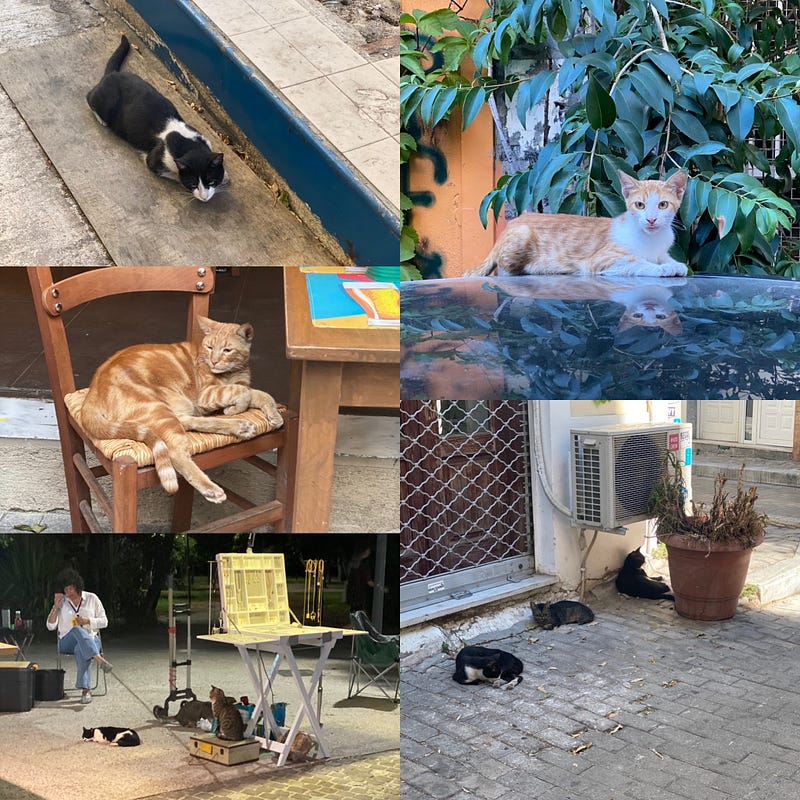 I started snapping photos of the cats we see everywhere just to try give a sense of what it's like. I don't think it's an exaggeration to say there's a cat every 20 meters here, lazing around. Many of them are starving, although the fortunate ones are adopted by a restaurant for "good luck". People do leave food and water out on the streets everywhere, you'll see water bottles, bowls and food all over the place, but there's way more cats than food available too.
Next week
We have no big plans at the moment, we're continuing to tour and explore the city bit by bit and enjoy a slower pace of life. We're really waiting on the 25th of September which is the next big milestone where Karina will get her residence permit.
Until next week!
Tim & Karina.