Week 40 - Peloponnese road trip
Travel around the Peloponesse - Mycanae, Kalamata, Sparta, Mystras, Messene, Ancient Olympia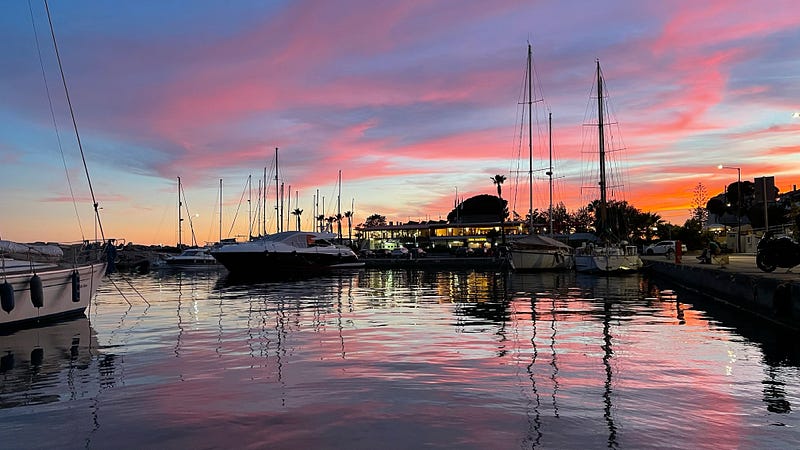 Adventures in Greece as we cruise the Mediterranean on our boat, an Adagio Sundeck 44 Trawler
Lockdown (more or less) ended in Athens this week so it was time for a change of pace. We were keen to get out of the city and explore a bit more of Greece.
Before we dive into what's essentially a straight up travel blog (spoiler alert, if you don't like pictures of ancient greek ruins, perhaps skip this one!), a quick boat update. Everything is going fine, it's still in the yard in Kilada with progress being made on a couple of tasks (pressure testing the fire extinguishers and replacing the gas line which is end of life). The de-registration in France is underway and should be completed this coming week. We're trying to find a marina in Athens to bring her to. Mostly, we continue to hurry up and wait!
Mycenae
On Sunday morning last week (16th May) we collected our rental car and headed out of the city, free from lockdowns and the need to provide any sort of paper to travel. We were headed down to the Peloponnese to Kalamata and stopped to visit Mycenae on the way down.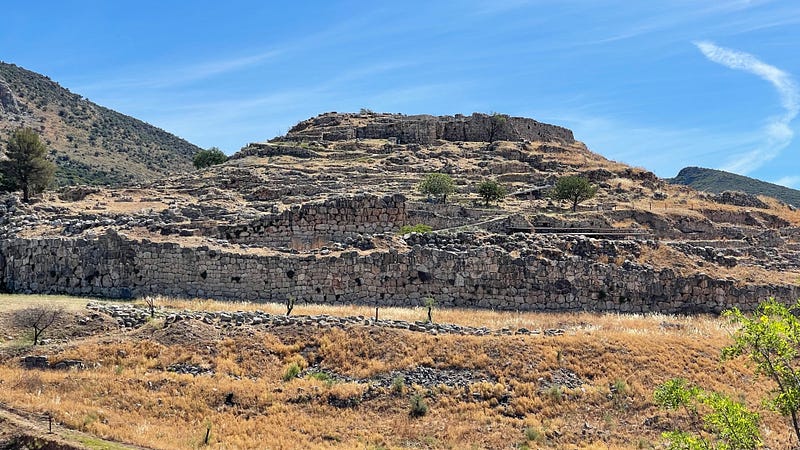 This is a fascinating ruin and well worth a visit if you are in the area. It's very old and predates the ruins in Athens by at least 1,500 years. It's here that according to Greek mythology the king Agamemnon ruled and launched the trojan wars. To put some perspective around this — to the Greeks living in the "ancient ruins" we see in Athens today (which in the form we see them are contemporary to roughly 3C BC — 2C AD and the romans), the Mycenaeans were like King Arthur and the knights of the round table, something that happened some 1,500 years before their time with no real permanent record. There are records of tourists visiting the ruins of Mycenae — the ancient Greek travel writer Pausanias wrote about shepherds showing him the ruin of the Lions Gate in the 2C AD.
After an enjoyable break for a couple of hours, we hopped back in the car to head south to Kalamata.
Kalamata
If you ask any non-Greek what they know of Kalamata, they will no doubt say "olives", yet we were surprised that the town of Kalamata doesn't seem to capitalise on this in any way. Sure the town is surrounded by olive groves, but largely it's a port city, fairly industrial with nothing that picturesque at all. The majority of neo-classical buildings are damaged or destroyed by earthquakes and there's not much that's what you'd call tourist worthy — certainly not worth the drive from Athens to see.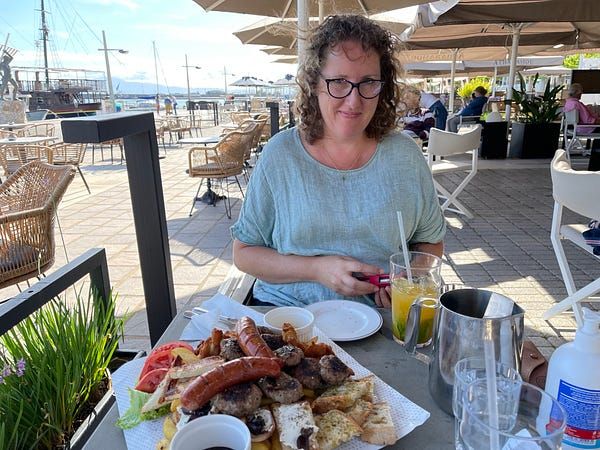 It did however have some reasonable places to eat along the water and some stunning sunsets that made it a nice place to rest up for the evening. We were a little disappointed with our Airbnb which had amazing views online, but in reality had photoshopped some very aggressive power lines out of pictures of the view and included photos of a fancy shower which turned out to be present in the bathroom, but not actually hooked up to the water! Back to using a handheld — which is fine and fairly typical, but we had intentionally picked this place over another choice because of the fancy shower.
Sparta and Mystras
Monday morning we headed to Mystras and Sparta. There are a few ways to drive there from Kalamata — one is around 100km and 1hr of travel time. The other is 60km and 1hr 40+ of travel time — direct, but very very windy. We chose the scenic route and it was well worth it, winding back up into the steep hills and gullies between the two destinations.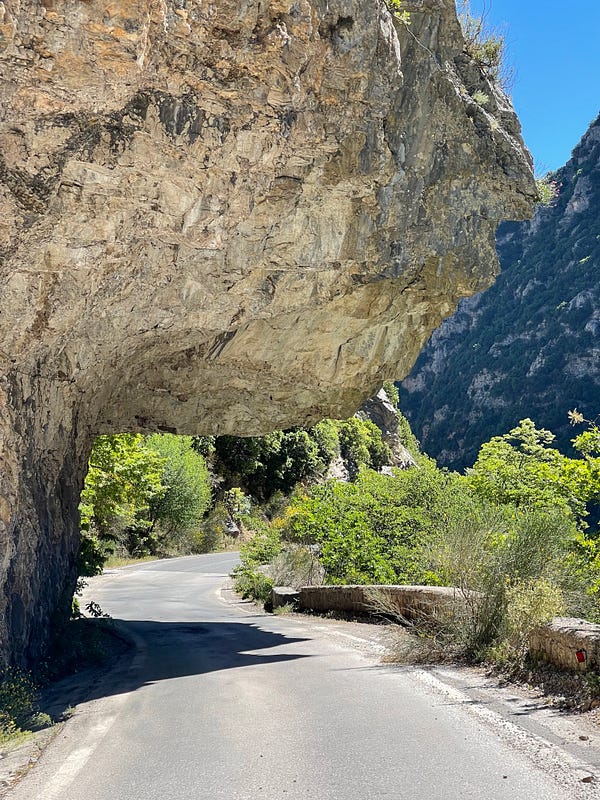 Mystras is a Frankish castle built at the end of the 4th crusades around 1250AD above the ruins of Ancient Sparta. It's reasonably intact in many ways, it was inhabited to some degree up until 1830 after the Greek Revolution, although by that time it was no longer used as a fort — indeed the very last inhabitants of the extended city didn't leave until 1953!
The story of Ancient Sparta, Mystras and modern day Sparta is very inter-twined. There's always a question of "what happened to…" when you talk about old ruins and a very typical story is "well we needed some handy building materials". Indeed a lot of Mystras is built from stone removed from Ancient Sparta which was a convenient source of cut marble nearby.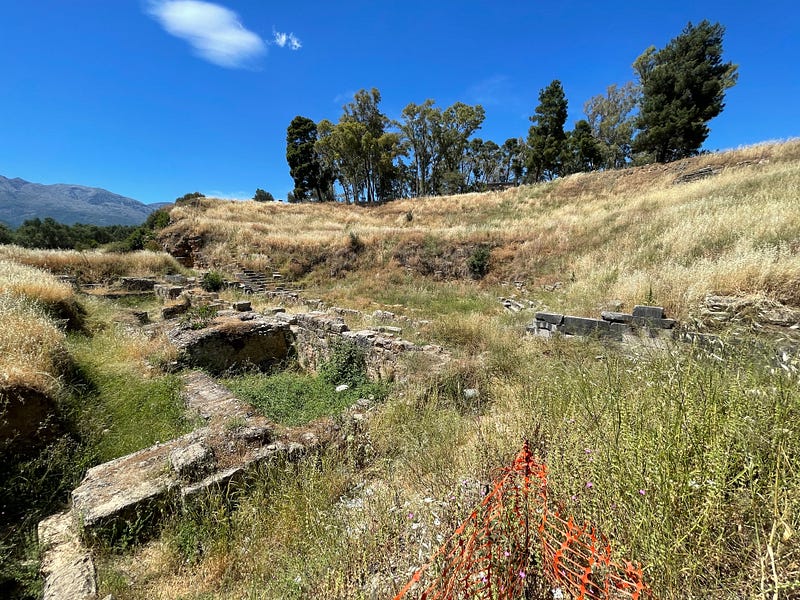 With the Greek War of Independence in 1822, the new government decided in a fit of nationalistic patriotism and attempts to resurrect their culture, that they should re-establish Sparta as the dominant city in the region and dedicated a space just to the south of Ancient Sparta as the new modern Sparta. What was left of Ancient Sparta and some of Mystras was then further looted to build the modern city of Sparta. I guess it's all a bit of a cycle.
From a tourist's point of view though it's all a bit of a mess! We've all heard of Sparta through movies and culture, yet there's really nothing to see — it's not "worth" the visit unless you're a particularly hard core historian. There's a small museum that devotes half of it to Leonidas (featured in the rather terrible movie "300"). Mystras, which is quite spectacular barely rates a mention outside of "things to do on the Peloponnese" despite the fact it's an amazing example of a castle from that period of time and well worth broader promotion. Modern Sparta, like most Greek regional cities from that period post-independence is poorly maintained and not really that scenic at all. It may be because it's JUST started back into the tourist season post-covid, but the services catering towards tourism are largely non-existent. You'd barely know that Ancient Sparta existed there at all other than the name.
Still, it was a great experience overall, the drive from Kalamata was spectacular and Mystras is definitely worth the visit — and given that you're 10 minutes away from Ancient Sparta when you're there you may as well see it too. Just don't expect much! After a big day and a lot of walking, we took the quick route back to the Airbnb in Kalamata again.
Messene
On Tuesday morning we left Kalamata to head for Ancient Messene. It's a mystery to me how what we consider one of the best ruins we've ever seen doesn't rate a mention at ALL in any of the "Top things to see on the Peloponnese". Indeed our discovery of it was very accidental — we were researching cruising related information about Kalamata and using a site for cruisers called Noonsite which has all the ins and outs and updates on anchorages, marinas etc. in the area. The description of Kalamata was that it wasn't worth the visit, except as a jumping off point to reach Ancient Messene. We were glad we found it and could add it in to our itinerary.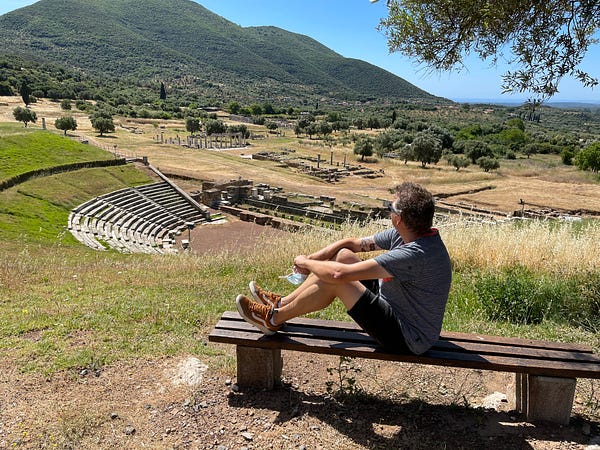 Messene was built in 369BC over the ruins of another city which had previously been abandoned and destroyed by the Spartans. It was never completely abandoned and there is a still a small village of Messene above the current archeological site. Pausanias (that ancient Greek tourist) also visited and wrote about the city between 155–160AD.
What's wonderful about these larger, intact ruins is that you get a real feel for how the city functioned. You can see the markets, walk the road to the theatre, stroll through the old meat hall and then walk on down to the stadium. You get a sense of how life might have been.
A dominate feature of the site is the large stadium which also functioned as a Gymnasium (school for youth). During the Roman period, the north end had marble seats added and was used for gladiatorial fights and animal fights.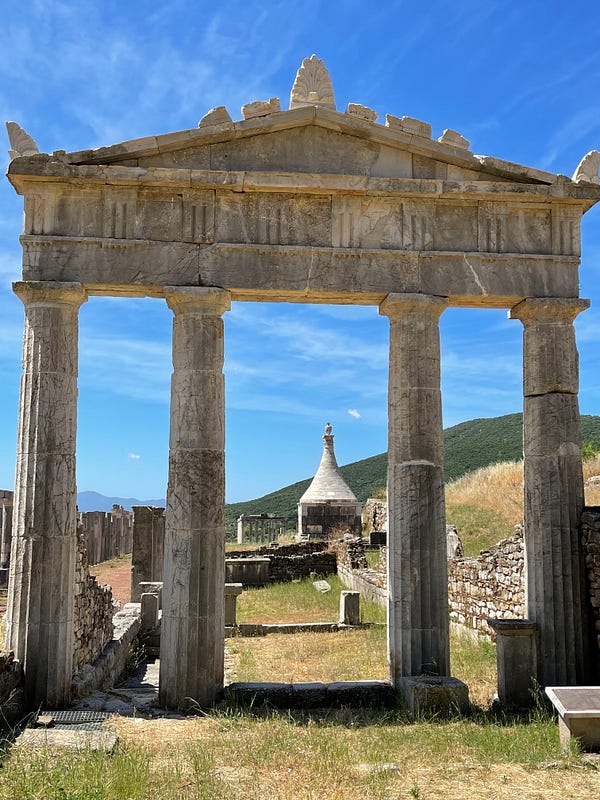 From Messene we drove further north to connect with the road running up the coast to Ancient Olympia. This proved to be a MUCH bigger adventure than we expected. Google decided to route us down some roads which, on the map did seem a lot more direct, but got progressively smaller and smaller until the bitumen ended and we were driving down a dirt track, complete with gates blocking the way, over growth scraping underneath the car and vegetation brushing against both sides of the car. It was very close to the point we were going to abandon all hope, turn around and head back for a different route as we were pushing the limit of where we could take the rental car (although some people might argue that precisely because it IS a rental car the number of places you take it is broader than you think). Fortunately the road eventually reconnected with some paved road again and we made it to the coast for a coffee break, lunch and then cruised up to Olympia.
Ancient Olympia
We had relatively low expectations of this one to be honest — we didn't know what to expect, but everywhere you go "The Olympics" is a recurring theme in modern Greece. We've become used to things being hyped up and then disappointing us (a consequence of being very broadly travelled with many points of comparison I'm afraid). Let's just say that the "Athens Riviera" does NOT have some of the best beaches around… Anyway, back to Olympia — we were very pleasantly surprised that it really did live up to the hype.
The Ancient Olympic Games were held here continuously every four years from the 8C BC to the 4C AD when they were stopped by the christians as a pagan festival. It's key to understanding the Ancient Olympics and the site to recognise that it really was largely a religious festival with the athletes competing to honour the gods, and in the case of Olympia, Zeus specifically.
The site has the ruins of over 30 buildings dedicated to gods and the functioning of the games. There are training halls for the athletes, buildings for the officials to stay, a palace built for the Roman Emperor Nero when he came (and apparently bribed officials to win an unprecedented number of wreaths). There are temples, devotional statues built as offerings to the gods and statues of athletes. One interesting feature are the statues built due to specific athletes caught cheating. They overlooked the contestants as they walked into the stadium to compete, as a warning.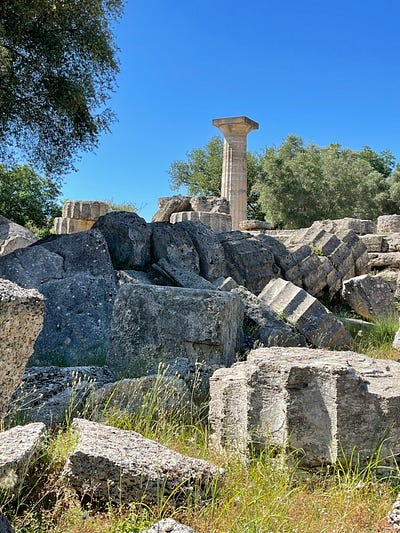 Unusually for a lot of ruins, there are a lot of large trees on site, so wandering around is actually quite a shady experience and very pleasant. It's well worth a look — the Olympics really are a source of a lot of knowledge of the Ancient Greeks. Winning was so prestigious that the athletes were exempted from taxes, ate free and generally were feted by their cities they represented for the rest of their lives. Of the competitors, historians know the names of over 1,800 (almost 50% of all winners) of them over the 1,000 years because of the records kept of the winners, including the names found carved into the plinth of statues erected in the athletes honour all around ancient Greece.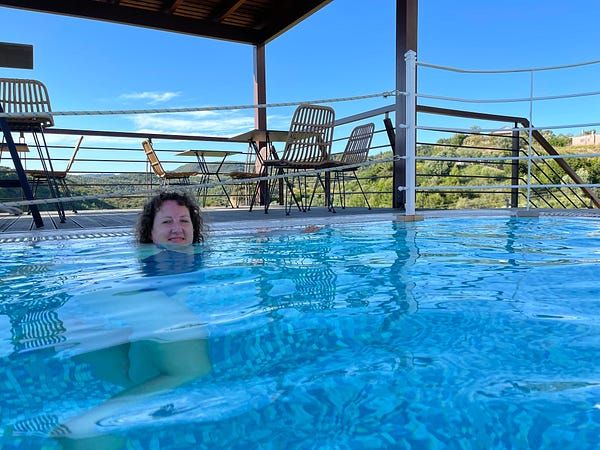 After enjoying the museum and the ruins we made our way to the pension that we were staying in and relaxed with a great meal, a swim and enjoyed putting our feet up!
Back in Athens
That concludes the trip more or less. The last day we drove back through Patras (not worth it, big industrial city) and cruised along the Corinth Gulf back to Athens.
The remainder of the week has been spent with various admin tasks — trying to get a Greek drivers license, visiting lawyers, buying items we'll need on the boat, chasing marinas and trying to sort out the training for our "speed boat" license.
Yesterday we visited the Athens Olympic Museum which was an awkward experience. We were the only people inside and the guides / guards were so bored they basically walked around after us telling us about every exhibit. It made it hard to skip the boring things as they looked so sad when we weren't interested in something (especially as we'd just seen Ancient Olympia so it was all a) very familiar to us and b) we'd seen the real thing of many of their poor reproductions!).
This week we'll be booking a place near the beach and packing up to move there (which will be OK, but we have accumulated a bit of stuff in 9 months, no furniture fortunately). We feel like a break from the city now that the bars and restaurants have opened up again and its noisy until 1am every night. Time to relax by the water while we wait for boat stuff to happen.
Until next week!
Tim & Karina