Week 42 - Leaving Psyrri
Adventures in Greece as we cruise the Mediterranean on our boat, an Adagio Sundeck 44 Trawler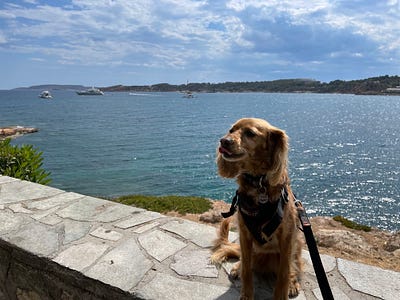 Adventures in Greece as we cruise the Mediterranean on our boat, an Adagio Sundeck 44 Trawler
There's a saying that BOAT stands for Bust Out Another Thousand. In our case, I think it's Be Only Another Ten days. We continue to wait for the de-registration to complete in France. The broker in France says that the officials have definitely received the paperwork, but simply say "it's in the pile, we'll get to it when we get to it." Although given they are French they probably say something like "C'est dans la pile. Nous y arriverons quand nous y arriverons." It's frustrating, but we just have to shrug it off and continue to wait.
Sunday afternoon we went down to Piraeus to see the Olympia which is a replica of an ancient Greek trireme operated by the Greek Navy. It was interesting to see, although unfortunately because of Covid, we couldn't go aboard. It's crazy to think that a ship this size holds around 200 men — 150 of them stacked three deep on the oars. As technology advanced they eventually had both quadremes and quinqueremes as well although the triremes were always more prevalent (right combination of size and cost).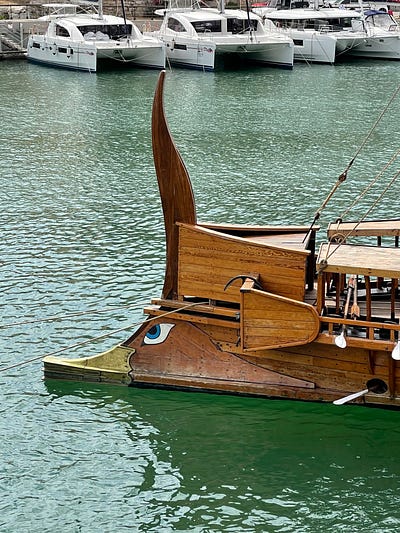 Sunday evening was our last in Psyrri as we were packing to move on Monday, so we decided to treat ourselves to a restaurant we'd really enjoyed when we first moved there — Thes. While there's a lot of traditional greek cooking, there's not a lot of "modern greek" around and we enjoyed the dishes we had there, which combine a lot of traditional ingredients with a modern twist.
Monday morning we spent packing — it was finally time to move out of our apartment in the heart of Athens. With the boat "imminent" (just another 10 days now…) we wanted to distract ourselves from the noise and the heat of the city and enjoy a more relaxed time down by the beach. When we arrived here August last year we had 3 suitcases and 3 carry ons, we left with 3 suitcases, 4 boxes and assorted other things! We've accumulated some stuff since we've been here, although to be fair, we were able to move our entire household in two taxis which is still probably far lighter than most people moving home!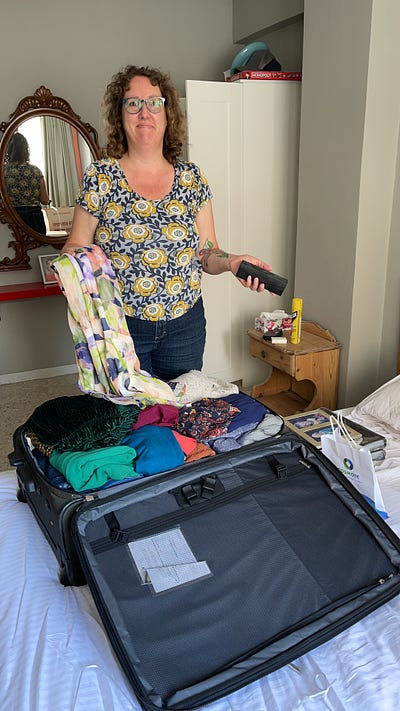 Vouliagmeni has proven to be a delight! Such a change of pace from the hustle and bustle of the city. It's the start of what they call the "Athens Riviera", some of the most expensive real estate around, fancy cars and SO MANY KIDS (something we rarely see in the city). The beaches are not bad — the organised beaches have claimed all the best spots, but the water is clear and warm. We've all been enjoying the change. The sunsets are quite spectacular as well. The only downside is intense jealousy when I look out at the yachts anchored in the bay and think "man, that could be us!". Soon.
It hasn't been the most relaxed of weeks though! Instead of our normal 10AM plus starts to the day, we've been having to get up around 7.30 (or earlier) to walk the dog and get off to various appointments. The first and most interesting of these has been the speed boat course. We headed up to Glyfada to the marina and spent a couple of hours practicing manoeuvring and docking a small speedboat on Tuesday and Wednesday. It was a lot of fun and we've both enjoyed the course.
I am bemused by the whole thing though. The course teaches us on a 7M speedboat with an outboard engine and the licence we get allows us to skipper a boat from 7M up to 25M in length. It's a bit like getting a drivers licence for a car but then being allowed to hop into a semi-trailer — they are completely different things! Our Adagio 44 is around 13M long.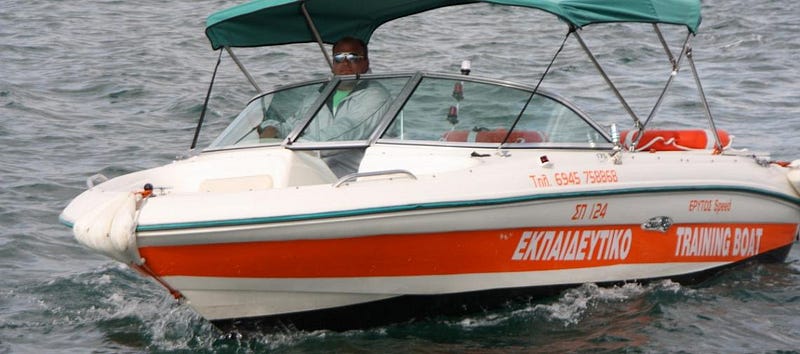 The theory on the course is also fairly basic in approach — essentially we've been given 7 sample tests and told to practice them until we get it right. There's supposed to be a theory manual "somewhere" but we've been told it's not needed — if you can get the questions right, that's all you need. Fortunately I have a bit of theory and experience from the other courses I've done and the regulations are consistent across both power boats and sailing boats, so I'm comfortable we have the knowledge— we just need the practice and official Greek license.
Thursday we had to head in very early to the city again as I had to get my first COVID vaccination (Astra Zeneca). It was all very straight forward and the staff were lovely. I had some minor reactions to the vaccine in the first 24 hours (mostly a fever and some shivers/chills), but by the next day I was fine. It feels great that we're on the path to normalcy and that both Karina and I now have had our first round of shots.
After the vaccine appointment, we then caught up with our friend Michael who we last saw before Christmas — he's back in Greece again after returning home to Israel and then getting "trapped" in Cuba for three months after Israel went into a snap lockdown. Travel is fraught with challenges at the moment.
Thursday afternoon we headed to the foot spa for a pedicure and fish session — this was a present from Camille, Simon and Cosmo for Christmas that unfortunately we hadn't been able to use because of the lockdown. Finally the foot spa opened and we were able to go!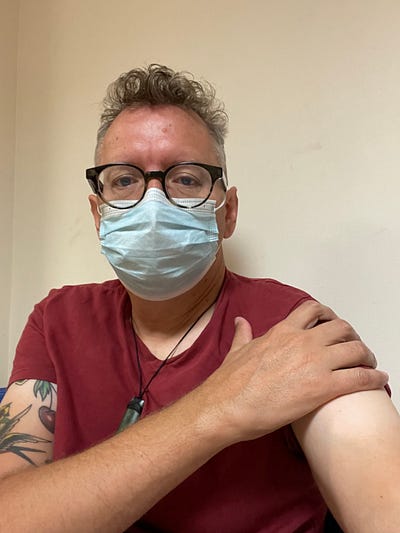 Friday was back to visit an ophthalmologist and pathologist again (we did this several weeks back for a piece of paper for the speed boat licence). When we filed for our drivers licence we used the authorisation they gave us and so needed to get new pieces of paper. We saw a different pathologist this time and instead of a physical, the receptionist just looked at us, filled in the paper herself and said "that's €10 please".
We're not quite sure what next week brings. The speedboat course is waiting to confirm an actual location for an exam for us — they are all backed up due to COVID which is causing lots of delays. The positive thing is that once we do sit the exam, it should only take around 15 days for the actual diploma.
The weekends here are BUSY, the roads are full with heavy traffic of people coming out the beach for the day, all the streets are jammed with people trying to find parks and the organised beaches are all full — it's kind of crazy. The average price seems to be €10, but we saw some fancier beaches here that want to charge €180 for a daybed for four people.
We have decided to move apartments again (which will happen this time next week) as this one is a little expensive and also not really that nice. We found a cheaper one with a better beach down at Varkiza so we may as well go and enjoy relaxing there.
Until next time,
Tim & Karina