Week 43 - Coffee machines and Vouliagmeni
Adventures in Greece as we cruise the Mediterranean on our boat, an Adagio Sundeck 44 Trawler
Adventures in Greece as we cruise the Mediterranean on our boat, an Adagio Sundeck 44 Trawler
We're still waiting on the French officials to delist the boat in France so we can complete registration and get her back in the water. Who knows, at this rate there's every chance we'll be continuing to wait next week at this time as well. Still, we kept ourselves occupied throughout the week easily enough.
On Monday we went to Lake Vouliagmeni for the first time and really enjoyed it. It's an old underground cavern where the roof collapsed in and created this natural crater that's linked by underground caves to the sea and also fed by warm freshwater springs. It's highly relaxing and enjoyable to swim in. In the evening we went to "The Surf Club" for a delicious meal, topped off with some rather spectacular desserts that they make on site — a mousse log coated in chocolate. Karina and I shared a coffee one and I'd highly recommend them to anyone!
On Tuesday we spent time at the local organised beach and then in the evening met with Thymios and his fiancee Ioanna at one of their favourite restaurants in Glyfada — an Italian place which also had exceptionally good food. I'd say in general we're spoilt in Athens for the quality of food we can get access to and for the most part, all reasonably priced as well. We also spent some time on paperwork for speedboat course and shopping for things for the boat.
With the boat continuing to drag, we decided that we need to lighten the load a bit — we're probably going to be bouncing around places to stay for the next few weeks and the thought of lugging lots of boxes is exhausting. As the weather was not looking great for Friday, we decided to hire a car and take all the things we want to store down to the boat in Kilada. It's also been several weeks since we've seen her, so it felt like time to check in and see how it's going.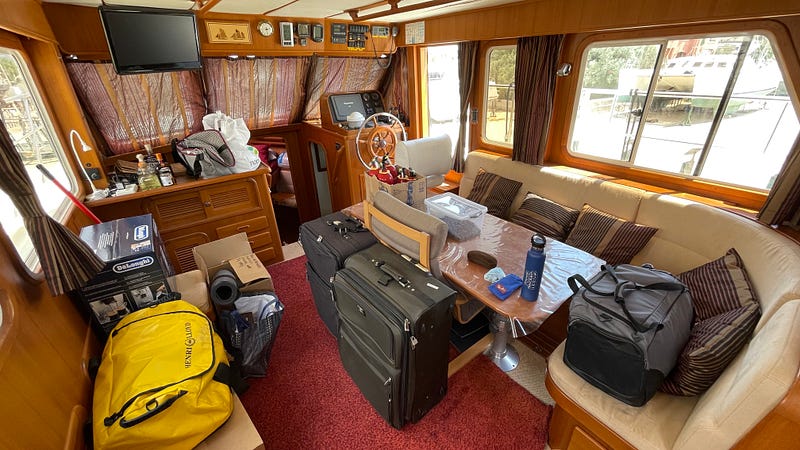 We had to lug all the suitcases and boxes up the ladder on the back of the boat, which proved a little more challenging than we were expecting and we ended up having to unpack some of the heavier things into smaller bags to lift them up.
The first step was to start tackling the job of working out what's actually on the boat, what we need and what we can clear out. We decided to tackle the bedroom, bathrooms and kitchen first as this is a) manageable and b) a little easier to decide what we do and don't need. From just those three spaces, we managed to find three car loads of things to either donate or dispose of, from old sheets we're not going to use, to cleaning products that aren't ocean safe, or just things like an iron which we haven't used even in our house for 5 years!
Rosie seems to be getting the hang of the boat — she's become a lot more inquisitive and has been happily exploring it from front to back, including spending a lot of time on the back swim deck guarding the ladder. She was happy to make a pile of cushions home and by the end of the day had quite exhausted herself.
We were also knackered too — it was warm inside the boat in the shipyard as it's been closed up for a few weeks now and of course we were lugging things around and moving boxes nonstop. So it was good to get to the end of the day and head into Kilada for dinner.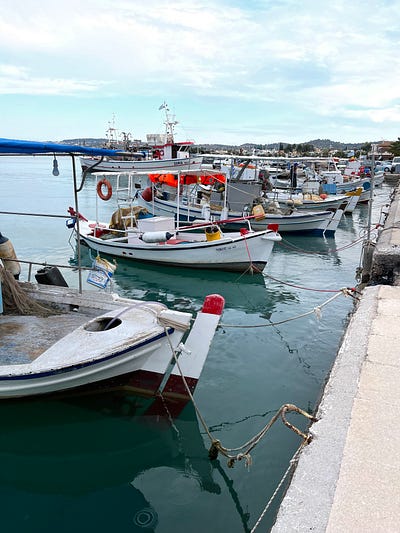 One of the local fisherman had a huge red snapper (maybe??) that he'd caught sitting on the deck of his boat, it was close to a metre long. We also saw a seal splashing around in the bay which was a nice surprise.
Rather than stay in a hotel overnight, we decided to stay on the boat and it was very exciting to have our first night aboard, even if it was in a shipyard! Things went quite smoothly and most importantly we finished unpacking all the boxes, including the new coffee machine which worked well. We have also been able to verify a few of the repairs that have been done so we can let the insurance company know.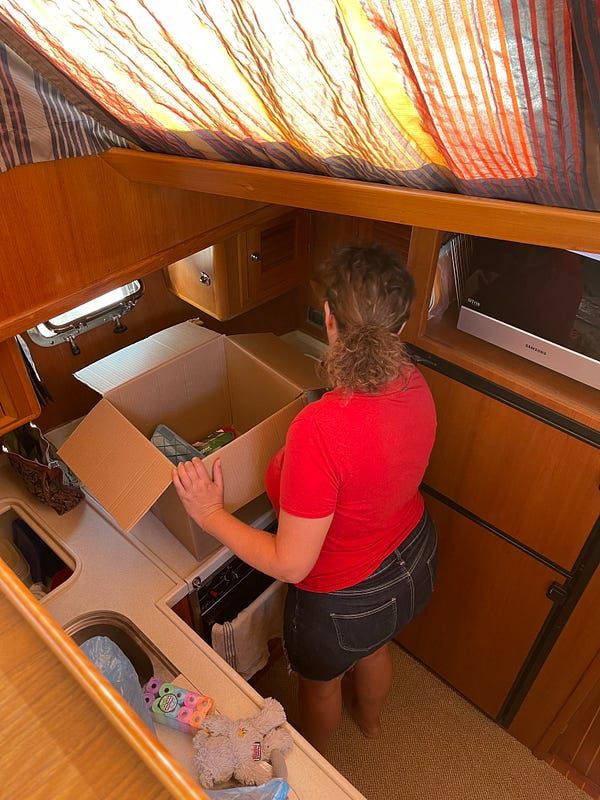 Today we took advantage of the car and drove from Kilada to Porto Cheli for breakfast. Porto Cheli is a much more tourist oriented town about fifteen minutes drive from Kilada with lots of places to eat and a lot of boats sheltered in the large protected harbour.
Then is was back to the boat to finish removing a few more things we don't need, cleaning the decks for the first time and then packing everything away again ready to leave. I will say that this second time (leaving the boat) it felt a lot simpler and less stressful than a few weeks ago. The list of "things to fix / do" is growing however — the stainless steel is rusty and needs polishing, the rubber seal around the window on the side door has popped loose and needs repair and we managed to empty the water tanks (although they probably didn't have much water in them) so they need refilling. Even if we can't live aboard full time yet, the list of chores does suggest it's at least beginning to feel like we do in fact actually own a boat.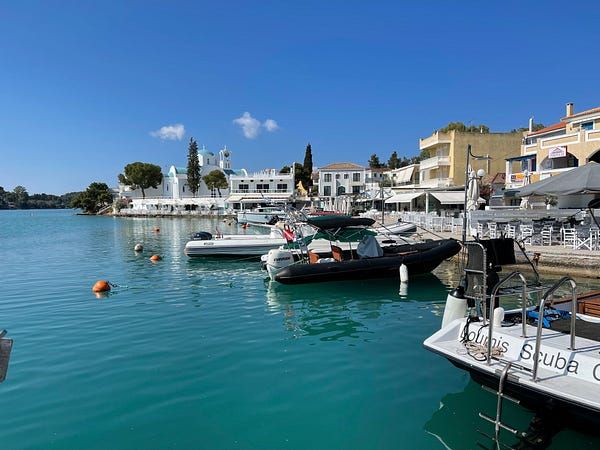 One thing in the Kilada area that we've seen advertised but not yet visited is the Francthi Cave, so we took the opportunity to do that this morning. It's another interesting piece of history that predates Ancient Greece — the archeological evidence suggests that it was inhabited as much as 38,000 years ago and it's of the most thoroughly studied stone age sites in south eastern Europe.
It's a very well preserved site with a lot of great signs explaining what you're seeing. The walk there is very pleasant along the coast and it's nice to get away from everyone a bit. One interesting feature is that the sea levels have risen a lot since the neolithic periods and there is the remains of a neolithic village under the water in the bay just beneath the cave.
As we left the thunderstorms that had been threatening all morning finally arrived and the narrow roads we drove in on were all covered in water making it a bit of an adventure to get out again. At one stage there was a brief burst of hail and we had to pause for a minute as we could no longer see out the window!
We stopped at Epidavrus on the way home for a break and wound our way through narrow streets to the beach where we lunched at a taverna over looking the water there. There were a lot of people snorkelling and we found out that there are ruins of a Roman settlement just 30 metres or so off the coast so we've decided it would be a worthwhile place to visit with the boat later on.
Now that we've lightened the load considerably, the move to our new Airbnb in Varkiza tomorrow should go much more quickly than the move from Athens. At this stage there's not much to do other than enjoy the beach and wait on paperwork. We're in the next place for a week and we'll probably head for an island for the week after that if there is no further movement on the boat in the meantime.
Until next time,
Tim & Karina