Week 45 - Ioaninna
Ioaninna and progress on registering Matilda with the deletion of record issued.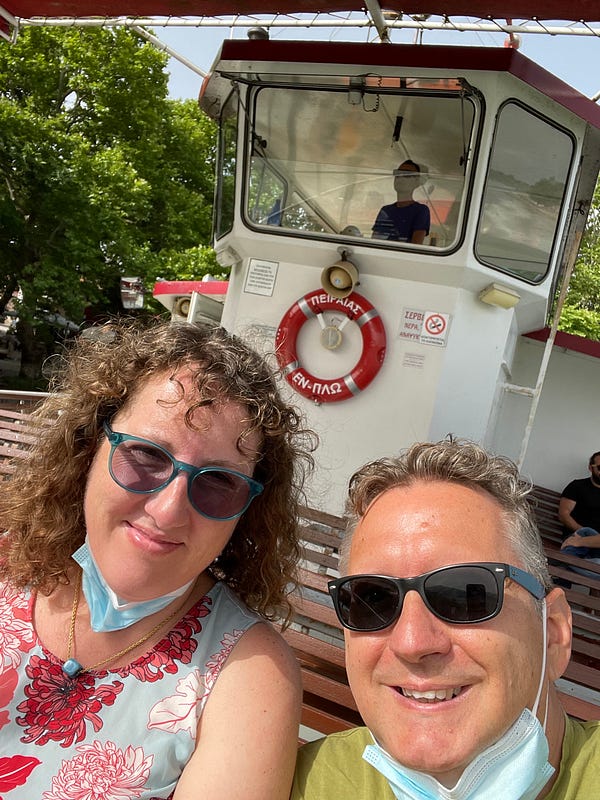 Adventures in Greece as we cruise the Mediterranean on our boat, an Adagio Sundeck 44 Trawler
OMG progress! On Thursday we received news that the deletion of record has finally been issued in France which now allows us to take the next step of registering the boat under her new name (yet to be revealed) in Poland. So it's no longer waiting on the French, now we can wait on the Polish. Our lawyer is expecting an answer by this Wednesday, so with luck registration is complete this week and we can make serious plans for the boat to go back into the water so we can start living aboard! Woo hoo! It's a real relief to finally feel like forward progress is happening again.
We decided to head up North to Ioannina for the week as it's a part of Greece we've yet to explore. This proved to be an adventure before we even started. We planned to stop overnight on the way, just to see another town in Greece and on the Sunday morning of our departure, I noticed that the Airbnb host had cancelled the booking. Monday was a public holiday here, so everything was booked out! It was a huge scramble to find another place, I booked it and then 10 minutes after received a phone call saying it wasn't available at all and that that was cancelled too. Of course both hosts tried to make me force the cancellation which would make me wear the fees, so I had to contact Airbnb directly and have their support team resolve the issue (which they did thankfully). Instead of a nice cruise along the Corinth Gulf, we instead spent Sunday morning still in Varkiza at a cafe trying to secure accommodation.
The weather this last week has been HOT. Like 40C (100F+) every day hot. It's made travelling just that little bit more challenging, fortunately we had good air conditioning in the car and the Airbnb which help. The Airbnb we ended up finding was a little different from what we'd normally choose — very basic, BUT it had several redeeming features 1) it was available, 2) it had AC!. It was a small family holiday / farm home on the outskirts of Ioannina. We were surrounded by chickens, sheep and even a rabbit that escaped and ran around the yard. There was a huge vegetable patch which we offered to water for them and all in all, it was a pleasant change from the city.
Ioannina was amazing. We didn't really know what to expect, but what we found is a true gem — an "undiscovered" location, that's visited frequently by Greeks, but is not really on the foreign tourist trail. It has a fascinating history, full of colourful characters and was in its day, a major destination for Western Europeans.
Physically it's situated alongside by a lake, surrounded by mountains. It doesn't feel like the Greece we've come to know (ancient ruins and the sea), but rather more "western" European and if you squint and imagine the water a bit cleaner and the sky a bit bluer, shades of the alps. Unfortunately the lake is an ecological disaster, with 100's of poultry farms, the town sewerage and generations of neglect turning it into a green cess pool. It's pleasant enough to cruise on, but there's a reason no one swimming in it anymore. Thankfully that's the only real downside, everything else makes up for it and more.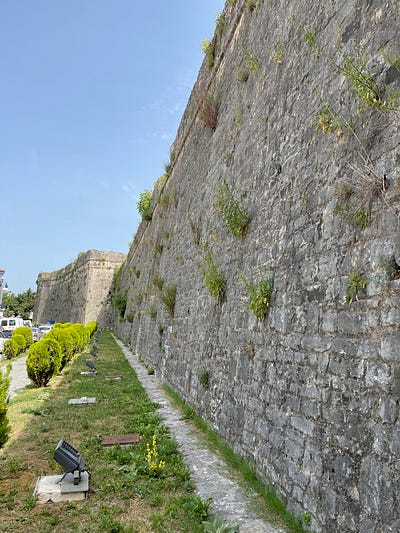 The centre of town is dominated by an old city wall that's intact and a castle that's mostly ruins. The old town is full of houses and people still live there day to day, although there are an increasing number of small hotels popping up.
The reason the old city is so well preserved largely comes down to one man, Ali Pasha. And here begins the history lesson for this blog post. Ali Pasha is the sort of person that movies should be made about, he has an epic story, a colourful life, a suitably fitting death and all in all the Greeks don't quite seem to know what to make of him. On the one hand, he seems to be a key contributing factor to the Greek revolution, preserved the Greek language and championed education. On the other hand there's that time that he drowned 17 virgins in the lake "because" or killed a Greek commander who rebelled against him by smashing every bone in his body with a sledgehammer. A complicated man. He was also both religious, but also religiously neutral, allowing the Byzantines and Jews to flourish in Ioannina.
He was born in Albania, his father died when he was young, but with the help of his badass mother he soon lead a bandit troop that successfully dominated the area. The Ottoman sultan recruited him to suppress another group of bandits and impressed with his performance, made him the "pasha" (ruler)of Ioannina in 1788. He invested heavily in restoring and rebuilding the old city, improving education (a legacy that lives on today in the many universities in the region), allowing religions to flourish (Ioannina had one of the largest populations of Jews in Greece up until the second world war).
Over time Ali Pasha expanded his control of the region, increasingly coming into conflict with the sultan until in 1820 he was declared a rebel and killed in 1822. Now, if you've been playing along with past entries, you might recognise 1821 as a particularly interesting date in Greek history — the start of the Greek Revolution and independence.
If you read the Wikipedia entry on the Greek Revolution, it simply says "The events in the north urged the Greeks in the Peloponnese (Morea) into action"… well that event was in fact Ali Pasha being declared a rebel. Ali Pasha controlled a large army through several fiefdoms and due to his religious neutrality had no problem appointing Greek generals, indeed about half his army — especially in the Peloponnese was controlled by Greek generals. It turns out that many of the key figures in the Greek independence movement learnt their trade under Ali Pasha — he built and funded their armies and so forth. When Ali was declared a rebel, most of the Muslim generals deserted him to side with the Sultan and the Greek generals saw the opportunity while the north was busy to take their troops and training and retake Greece starting in the Peloponnese.
Ali Pasha now deserted by a large portion of his armies, quickly ended up surrendering and negotiated a life of retreat on the island in the middle of the lake where he had his summer home. Unfortunately for him, he was tricked and when he arrived was shot and beheaded by the Ottoman troops.
What we hadn't realised was that the region of Ioannina remained part of the Ottoman empire after the Greek Revolution, up until 1912 where during the first Balkan War, Greece finally ended up claiming the territory up to the modern day border with Albania. Until 1912, the Plaka Bridge was the border crossing between Greece and the Ottoman Empire — it's about 50 kilometres south of Ioannina in the mountains and is the largest single arched bridge in Europe. Unfortunately it collapsed a few years ago (washed away by floods) but has just been rebuilt. And of course, just proving that history is all connected, the events of that first Balkan war (and short lived second Balkan war) kicked off events leading to not only the first World War, but also the 90's war in Serbia and Croatia.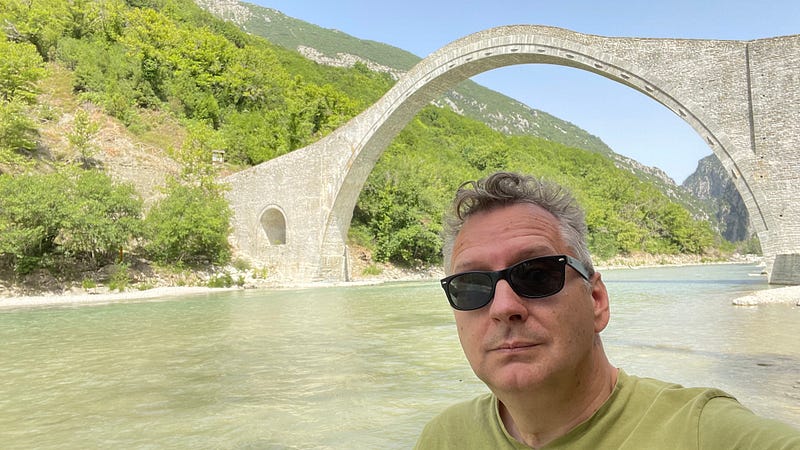 On one afternoon we visited the Perama caves, a delightful 18C inside year around! These are really worth seeing and we found them to be one of the best preserved caves we've seen. I suspect this is in part because they were only discovered during the Second World War when local villagers were looking for a place to escape the bombing. They were then explored during the early 1950's and developed for tourism by 1956. I think people had enough experience to ensure that everything was protected, unlike other caves we've visited in Australia where they were opened to tourism in the 1880's or so and everyone touched everything, turning all the rock formations black, breaking pieces off and so forth.
We also caught the ferry across the lake from Ioannina to the island where we saw Ali Pasha's summer house and one of the 'highlights' is the gap in the floor he was shot through, complete with embedded lead shot.
Ioannina has developed a great tourist centre, including converting some of the old covered markets into speciality bars. There's lots to see, lots to eat and overall a great location for a few days visit. One thing in the area that we didn't see (way too hot to walk to), but is apparently worth it if you're into that is the Vikos Gorge which is the deepest, narrowest gorge in Europe and supposed to be very spectacular.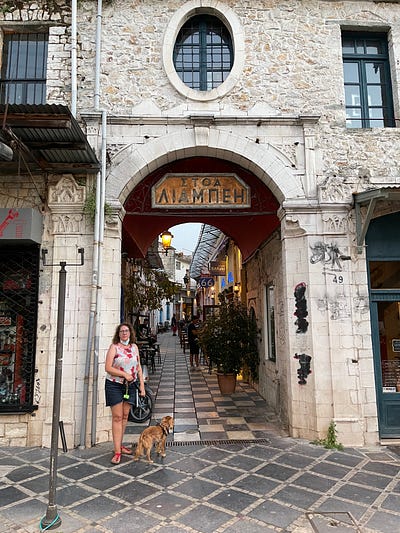 Ioannina was great, but did I mention it was hot! After three days, we decided we really needed to move and find somewhere with a pool, so we abandoned our last night's accommodation and made our way to Lefkada which is an island connected to the mainland by a causeway situated on the edge of the Ionian Sea.
Lefkada was amazing. At one stage it reached 46C according to the car thermometer (when we were parked in a big carpark), so having a pool was the right call! We really enjoyed the place we stayed and exploring some of the surrounds. This is definitely an island we would return to on the boat. Lefkada is famous for its kite surfing, due to the strong breezes that blow onshore in the afternoon, there was easily 60 kite surfers out when we visited Milos Beach.
Lefkada town is interesting — it's a combination of a delightful, pedestrian only old town centre full of shops and cafes surrounded by a car only highly industrial outskirts — kind of like a jam donut, all the sweet bits are in the centre. First impressions when you drive in are "meh" but if you get to stop and walk, it's awesome.
It's close to a large airport and is one of the major cruise bases for the Ionian sea, so it's full of tourists, yachts and marine shops. This proved to be useful as we stopped off to stock up on supplies for our eventual visit to our own boat in Kilada.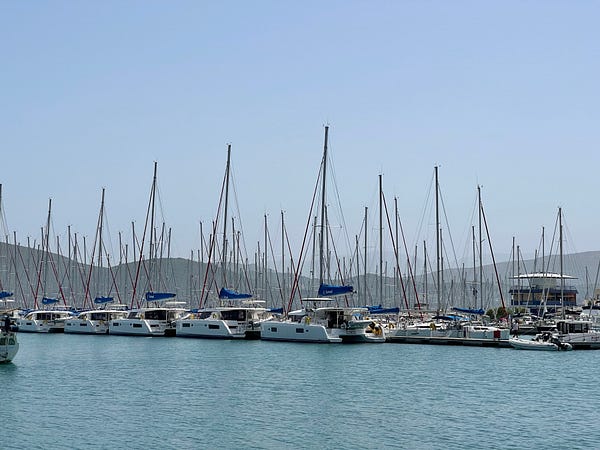 After a relaxing time by the pool, walking by the beach and eating amazing food in the town centre, we packed up again on Saturday and headed back towards Athens, down the Peloponnese and to Kilada for the boat.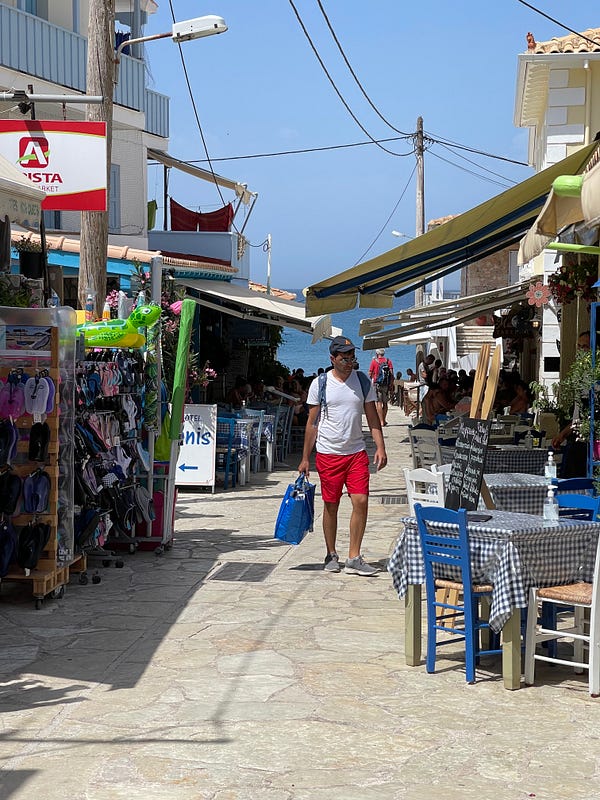 It's still very hot down here and the boat is a sauna, helped a little by opening it up, but we've been productive regardless. With the likelihood that we're only a few weeks away from moving aboard now, we're busy getting ready and off loading the things we've collected in Athens as well as setting up the Wifi network, replacing the carpets, cleaning the floors, polishing stainless steel, filling water tanks and so forth.
When we arrived, they had moved the boat from its previous location which meant that the power had been disconnected, so we had our first experience of plugging the boat into shore power and trying to work out exactly how to know if it's on or not. We did finally figure it out, but it took a bit of trial and error!
After we'd unpacked everything on to the boat, we headed to a local beach. It wasn't as refreshing as we expected however! With the warm weather and relatively shallow bay, it was like a bath — it must have been almost 30C in the water.
The pace of life continues to adjust as well. One thing I really love is that as the sun sets, everyone comes outside. There's such an emphasis on community and shared spaces and people coming together in the cool of the evening to chat, play games and generally just get out of the house. Every village has a playground that is teeming with children at night. It's also when people head to dinner, the tavernas are largely empty up until around 9pm at night.
Overall it's been a packed week! We've had a great time seeing new things getting out of Athens and working on the boat. This week we're back to Athens again (Nea Smyrni) this time to continue our boat training and hopefully some final planning before we re-launch the boat, hopefully only a couple of weeks from now. Day by day, the boat feels like home and we can't wait to actually live aboard on the water.
Until next time,
Tim & Karina