Week 47 - The first splash down!
Adventures in Greece as we cruise the Mediterranean on our boat, an Adagio Sundeck 44 Trawler
Adventures in Greece as we cruise the Mediterranean on our boat, an Adagio Sundeck 44 Trawler
Well it's hardly a surprise now after I posted some photos to facebook, but believe it or not, we now officially live on a boat. After what's been almost a year, we have finally achieved perhaps the most significant step of our original goal — to move to Greece, buy a boat and cruise the islands.
Flash back to the beginning of the week and we were in Nea Smyrni, with our new Polish registration but unsure if we could launch or not because a) we needed a berth and b) there was a long list of secondary things to coordinate. Monday and Tuesday we were largely "treading water" including continuing with our speedboat course. We found a berth in Porto Heli as a backup and then on Wednesday we finally received notice that a berth had been found for us at Lavrion Olympic Marina, an hour outside of Athens.
Wednesday was a mad rush spent on the phone, organising last minute items with the shipyard, confirming the launch date and trying to find a captain to bring us to Porto Heli. This is where we are at the moment, planning to stay for a few days readying the boat before travelling to Athens. We also needed a one way ride to the boat with the dog — it was too short notice for the car rental places, but fortunately the "Expats in Athens" Facebook group came through and we found someone willing to drive us down.
We arrived at the shipyard in Kilada lunchtime on Thursday. Just enough time left in the afternoon to settle up some bills and make sure we were ready for launch. Amongst other things, this involved sticking down various plants, picture frames etc. with blue tack and double sided velcro so they won't move.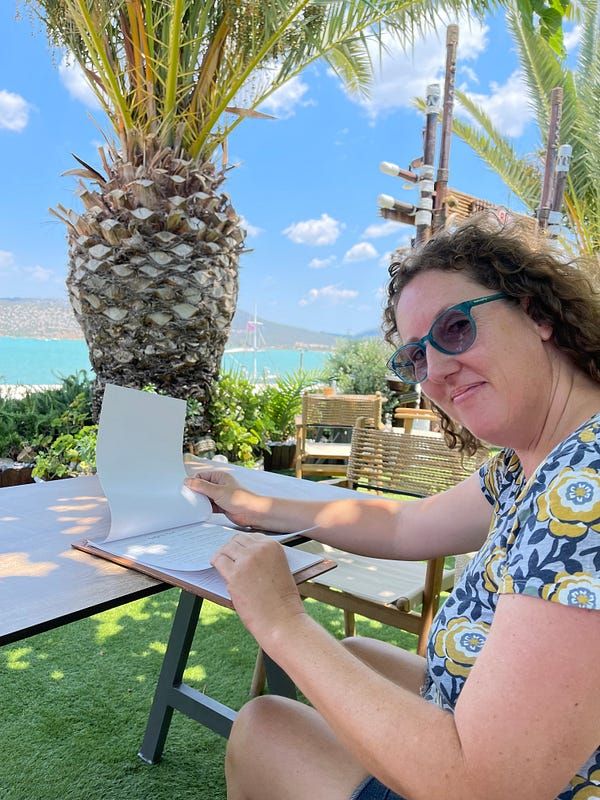 We slept overnight in the yard, a very hot and sweaty evening as the boat was about 38C after we'd aired it out. There were a few surprises — the fridge wasn't running and the batteries had gone flat, it seems that the solar isn't enough to maintain the fridge on it's own. Basically this meant the fridge had been cooling and then defrosting every day and the carpet in the kitchen was damp. It dried out quick enough though.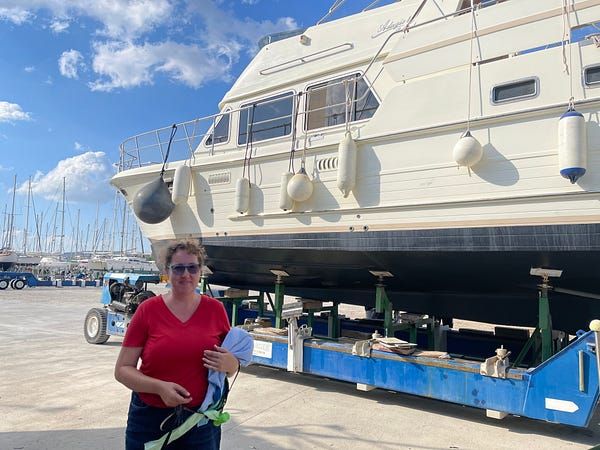 Friday morning we were awake early with the sun, in anticipation of the yard coming to launch us. The captain, Nikos, arrived and we did a quick check to make sure things looked fine, then shortly after 9AM the boatyard staff came and started the launch process. It's very efficient and very fast! As soon as they arrived, they started moving the boat from the cradle into the carrier — we barely had time to untie and detach the ladder! She rolled across the yard, stopped briefly in the sling while they touched up the bottom paint (some areas where the pads were cradling the boat couldn't be painted before) and then before you know it, she's launched! From start to finish, maybe 20 minutes maximum.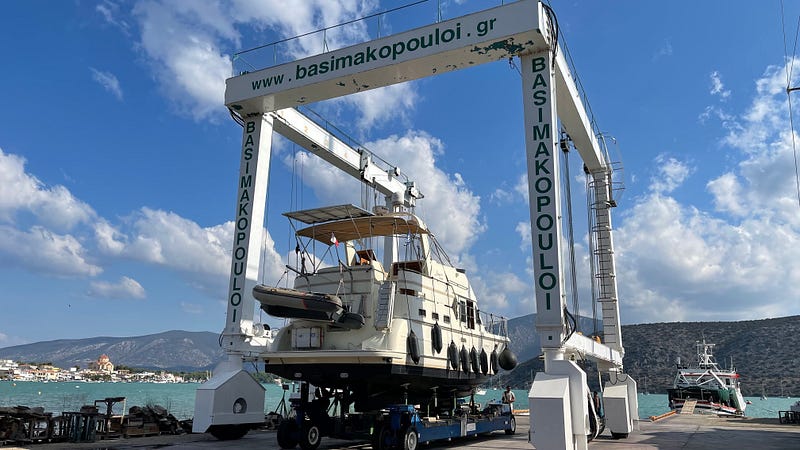 I confess to a fair degree of nerves. Would the motors start properly, would she sink, was everything going to be OK? It was fine, Nikos hopped aboard and before we could even blink an eye, the motors were running and we were off.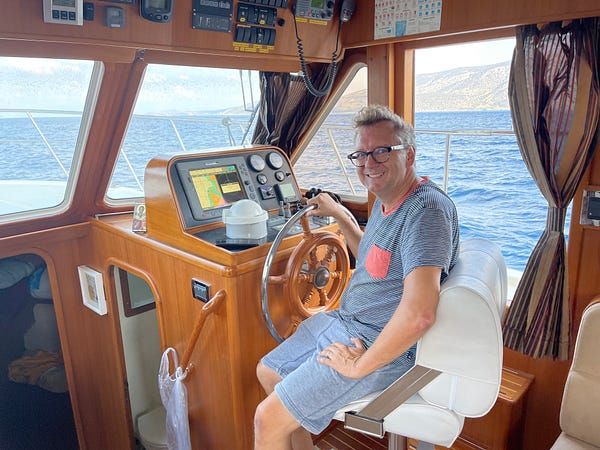 Within 5 minutes a warning message popped up on the computer about the starboard engine, but of course it was in French so we had little clue on what it was. Nikos simply shut down that engine and we cruised along for while on the Port engine only while we tried to find it in the manuals. The manuals however were only in English and didn't show the French error. Google Translate was limited help — parts of the error msg were abbreviated, so translation wasn't straight forward. Eventually we guessed it was most likely a coolant level warning. No big deal, Nikos started the engine back up, we monitored the temperature (no simple gauges like your car, we KNOW exactly how hot the engine is running at to the degree), and as both the starboard engine (error) and port engine (no error) were running at exactly the same temperature we concluded it wasn't causing an issue (yet). We didn't have far to go, so we continued with the starboard at slightly lower revs.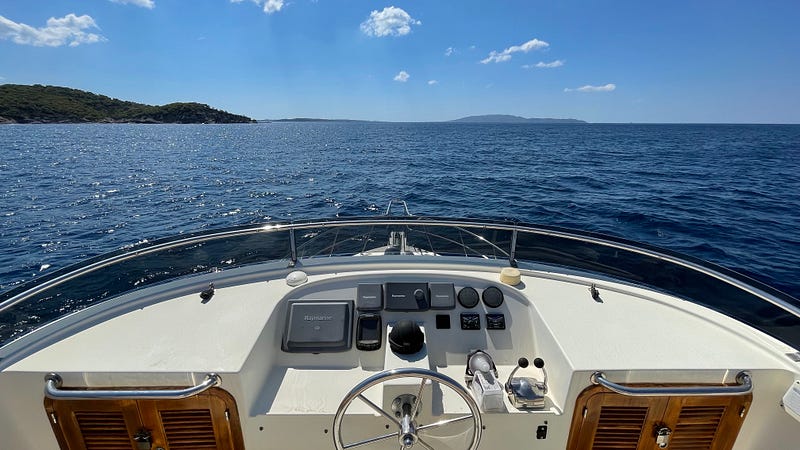 Conditions weren't perfect, particularly coming out of Kilada there were some long rolling waves that hit us on our stern quarter. It made for quite a bit of rolling up and down, but the boat, and us, handled it ok and nothing fell over which was a win. We even worked out where there are a few more latches that need some repair to properly secure the doors — add that to the ever growing list of things to do!
We're now staying in the Porto Heli Marina which has a very slick set of facilities. Nice toilets, great showers, a golf cart buggy service up and down the docks to the gate, it's very fancy. A good place to find our sea legs and get used to the boat.
I said in a Facebook comment that there are a few days in your lives where you learn more in 24 hours than most times of your life. Perhaps it's your first driving lesson, or the first time on campus at University, or a new job. You know that things are going to be confusing and you just have to get through it. You know that in a week or two, you'll look back and think — why was that even an issue! But in the moment, you have to accept that it's going to be overwhelming and you just have to be OK with that.
Friday was definitely one of those days.
I think the best example of this was when we were coming into dock. The bow thrusters weren't working and the captain wasn't sure how to turn them on in our boat. I knew about the hidden circuits switches under the rear double bed (that's another story) and those were on, so I just dove into the control panel and switched everything else on, figuring we'd just forgotten to enable a circuit. Yeah, nah… that wasn't it. The captain and the dock crew in the marina had a bit of a conversation — it was too windy to dock "stern to" without thrusters, but no worries — plenty of space today, just pull in and side tie.
As the boat was coming around, I smelt sewerage venting and realised that in switching everything on, I'd switched on the macerator which vents the black tank (a.k.a. a sewerage tank fortunately not that full of… well sewerage) into the water. This is perfectly legal and very common 3 miles off shore, but not something you typically do while trying to dock in a marina. I quickly switched it off, cringing and holding my head in shame as I saw the crew on the boat next to us no doubt wondering who this idiot was who couldn't turn on the bow thrusters and was venting sewerage while docking… And I don't think this was the dumbest thing I did on Friday…
Tied up at the dock, we had time to relax and settle in and get the feel of the boat on the water. It was definitely cooler on the water than in the yard and we spent most of Friday afternoon working through the manuals and experimenting with various systems which we couldn't run on the hard (for example the generator is water cooled, so you have to be on the ocean to use it). For the record 30 seconds after we were docked I worked out how to turn on the bow thrusters (two on buttons, I thought one was for the front, one for the rear, but you push both on buttons together to enable power to the thrusters — safety feature or idiot proofing, not sure which).
We have a wonderful network of people I've met here, including Vasilis who is the captain that I met when sailing last year. He helped with several things that seemed like big things but usually turned out to be small things. "Slow down, do things calmly, stop rushing — that's how you break things". Always good advice.
Our broker, Sotiris takes all our questions and always knows who to call and how to work the system. The marina dock master here is amazing — he found a mechanic to check the starboard engine on short notice — he came out Friday afternoon and gave it the all clear for Athens and didn't even charge. The Volvo mechanic who did the sea trial several months back responded to several texts with the answer I needed, and also invited us to ask any more questions, no problems.
You can say a lot of things about crazy systems in Greece (I did eventually get my bank debit card replaced after an 1 hour visit to a branch, including needing to show them a tax return!), but the people are wonderful. The dock master said it best "No worries, it's everybody's first time one day".
You might wonder, what do you do on a boat all day? Well, so far there's always SOMETHING that needs fixing or cleaning. Because she's been sitting in the yard, the boat is in desperate need of a bit of love and attention. We amused ourselves Friday afternoon with shopping and stocking the cupboards with food, sorting through piles and piles of keys to create a "mystery key" chain of all the keys we have no idea what they are for and are fairly sure they HAVE no purpose (just old padlocks, old replaced things etc.), and researching the engine error. And of course the boat is our home! We'll be doing plenty of pretty normal things too, like watch netflix in the evenings.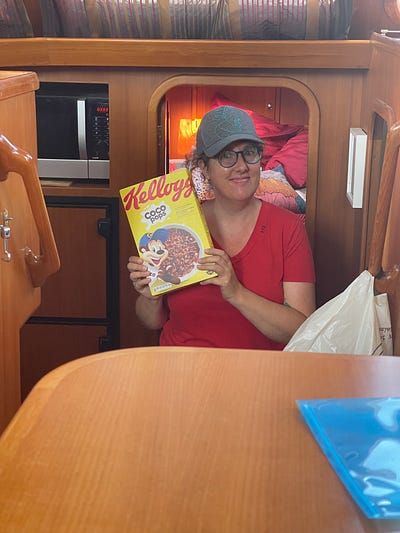 Saturday we figured out how to top off the coolant (yes the engine computer was telling us the coolant was just a smidge low), did several other chores (collect certificates for the tested fire extinguishers) and both spent a considerable amount of time washing the boat down. We removed the tender for the first time and started to clean that too — we're planning a day off tomorrow and we'll be taking the tender to a small beach for a swim.
At this point I hear you screaming… what's the name of the damn boat? I'll get there, trust me.
We're certainly not superstitious, but perhaps we're a littlestitious. The sea is full of traditions and while we don't "believe in all that" per se, we also think there's no harm in respecting a tradition or two. After all, why tempt the wrath of Poseidon, the ancient Greek god of the sea, while IN GREECE! So we felt that a good renaming ceremony was in order. Rule one of this is that you don't share the name until complete — got to keep the Gods happy.
The ceremony is straight forward and involves tipping lots of alcohol in the sea. While Champagne is common, given we are in Greece and Poseidon is Greek, we thought Ouzo would be appropriate.
The first step is to remove all traces of the old name before renaming the boat. And in our case, to properly apply the new name, we needed to be in a position we could drop the tender as well. Suffice to say that it really wasn't until today that we got everything in place to make it happen.
Having removed all references to the old name, you then write the name on a metal token (we put it on a euro coin) and ask Poseidon to remove the name from his ledger. So he knows you're serious, you throw the token into the sea and pour him out some alcohol.
Having done that, you now ask Poseidon to enter the new name into the ledger, to bless you with safe seas and protection and of course, pour more alcohol into the sea.
The final step is to seek the blessings of the four ancient Greek winds (and yes, more alcohol is involved there too). With these important steps completed, you're now able to apply the new name and announce the boat to the world. So welcome to the seas MATILDA!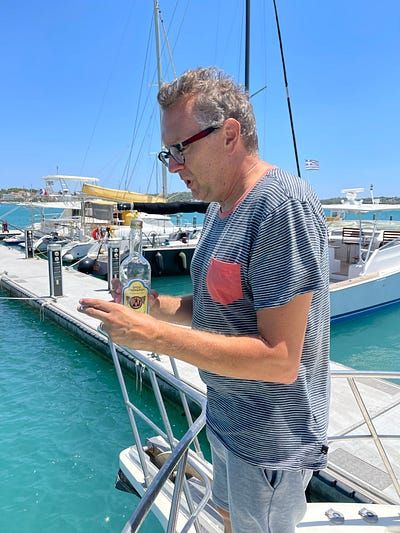 Why Matilda? A few reasons:
We liked it — we wanted a name we could use in conversation like "I'll go pop that on Matilda". Calling the boat something like "Fun Dayze" just didn't feel right.
It needed to match the boat — Matilda is not a super sleek Italian Speedster, she's a little more old fashioned. A more sedate, hard working Trawler. We felt that Matilda suited her.
We wanted something that referenced Australia, at least indirectly. In the Australian folk song "Waltzing Matilda", the Matilda referred to is a "swag" or a pack of personal belongings — Matilda contains all our possessions and it seems appropriate to waltz around the Mediterranean with our Matilda too.
It's been a very satisfying week — it's now 12 weeks since our sea trial, and Matilda has finally made it back into the sea and we've finally made it aboard! There's lots of interesting tales to share about marina life, but we'll leave that for next week which is already full of it's own challenges, not least needing to find another captain and set off for an eight hour journey to Athens.
Until next time, safe seas!
Tim & Karina