Week 53 - A trip to Edinburgh
Fires in Lavrion and a brief trip to Edinburgh, Scotland!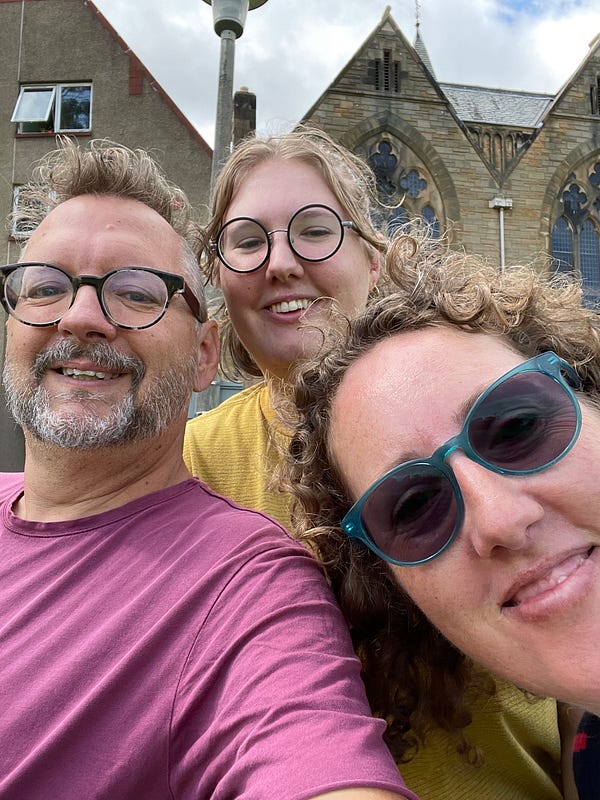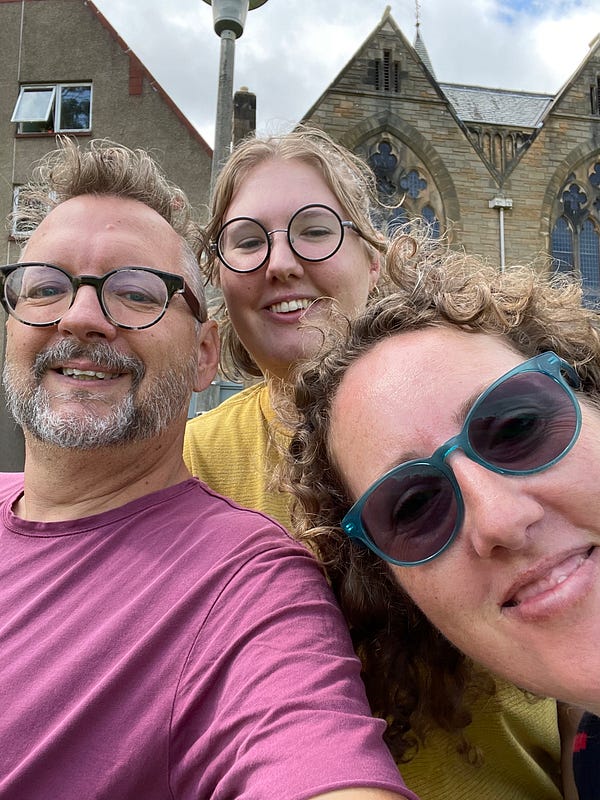 Adventures in Greece cruising the Mediterranean on our boat Matilda. This week with a brief trip to Edinburgh, Scotland!
Consider this week an intermission from boat related updates. OK, sure, there's one small one, but MOST of this post is about our visit to Edinburgh. Our daughter Ella has been "stuck" in Edinburgh due to covid travel restrictions, first preventing her from returning to the US and then various lockdowns and quarantine restrictions stopping her from coming to Greece to see us. It's been over 18 months now since we caught up (Christmas 2019). We would love to catch up with our son Jasper too, but unfortunately with the restrictions in Australia this seems unlikely for some time yet.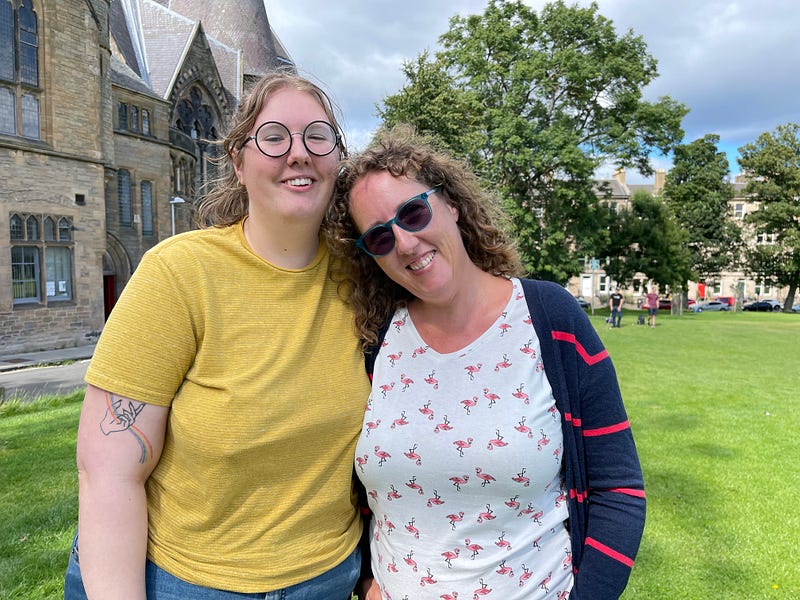 With Ella due to return to the US in a week to finish her undergrad studies, we were very excited that Scotland had Greece on the "Amber" list which meant that fully vaccinated people (like us!) can visit without quarantine. We jumped at the chance to get there to say hi. It's also the Edinburgh Festival and Fringe Festival as well, something we've always wanted to see.
I suspect that people will be debating the "right way" to handle Covid for years to come, but there's no doubt that it was a huge relief to go to the UK where you know that vaccine rates are generally high, there's a general sense of respect for the rules (people had no issues wearing masks indoors) and there's a sense of freedom with the ability to eat out in cafes, go to the cinema and attend live comedy shows for the first time in forever.
It was very much a personal, family oriented time, an "unconventional" tourist experience in some ways where we focussed on the things we could do together to maximise our time to hang out and chat. We did see a couple of comedy shows, but mostly we went to restaurants, walked the streets and did a couple of outdoor activities, avoiding the castle in favour of more personal things to do together.
The Monday we left was interesting here in Lavrion — when we went to drop the dog off to her kennel, we passed a fire that was just starting. By the time we got back to the boat, it was causing several towns to be evacuated and we kept a close eye on it all day. Fortunately it was under control by the time we left in the evening.
If you haven't travelled for a while (and who has!) it was a surreal experience boarding a plane for the first time in 9 months. There's so much paper work required now, along with your passport and boarding pass, the UK also required a Passenger Locator Form (PLF — pretty common everywhere now), proof of vaccination, proof of a covid test within the last 72 hours and proof of payment for a covid test you would take on day two after landing. It's stressful making sure you have everything together and haven't forgotten anything and of course the rules change all the time — the reporting form for the Day 2 tests still assume you live in the UK for example.
Our first impressions were just how overwhelmingly green everything feels. After California and then Greece, it was amazing to be somewhere where it actually rains. We made this comment to one of Ella's flatmate who responded with a very dry "Have you been to Scotland before? It rains a lot". He's right, it does! Although we successfully avoided rain until our last day which was great.
We walked extensively, saw a couple of comedy shows and ate at a series of cafes Ella has been wanting to try. We both tried Irn Bru for the first time — apparently it outsells Coca Cola in Scotland and is similar to sarsaparilla or creaming soda if you're familiar with those.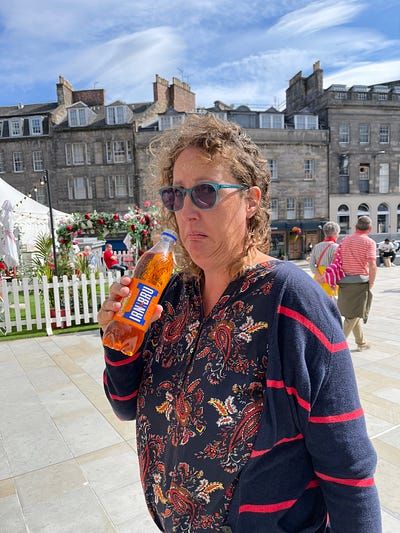 Having spent a year in Greece, we now have a very different view on what constitutes "old". I recall coming to Edinburgh from Australia and being blown away at buildings dating back to the 16C — the feeling now is slightly different, still very impressed with the architecture and grandeur but also an underlying sense of "give it another 1500 years and it will really be something".
Ella took us to Deans Village, we ate at her favorite cafes and we toured the Surgical Museum (fascinating, but definitely one for strong stomachs). Karina and I went to see a movie, the first one in over 18 months which is amazing when you consider we used to see them almost weekly in the US!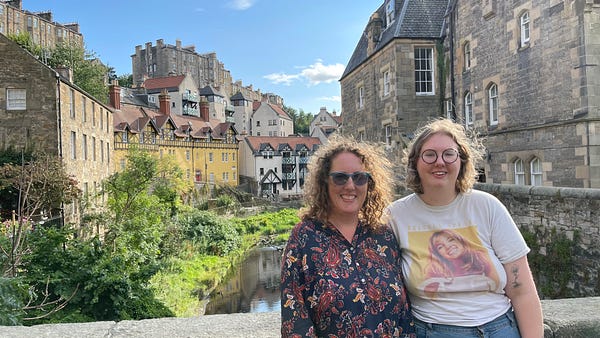 A fun outing and one I think is worthwhile if you're in Edinburgh for more than a couple of days is the "Jupiter Artlands". It's a private property that's been landscaped and turned over to sculpture artists. We enjoyed the bus trip there as well as wandering amongst the trees and fields exploring the art works together. A great social experience too.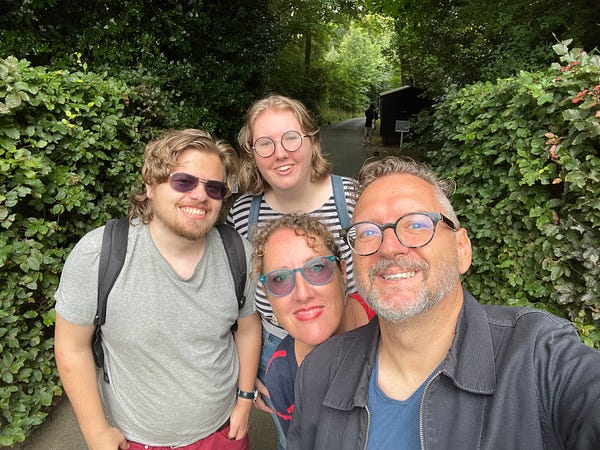 One activity was a food tour of Leith Walk, which was entertaining enough but amusingly was internationally themed and the last stop was a Greek Restaurant! We'd been saying all week to Ella we didn't want to eat any more Greek food for a bit, so it was funny we ended up there. They did have a very nice orange cake however and the coffee was great. When I headed off the bathroom, I did have a laugh to myself and thought "if they were really authentically Greek we'd have to throw the toilet paper in the bin". Well… they were very authentically Greek! They even understood my little bit of Greek and we impressed the tour guide by ordering our coffees in Greek.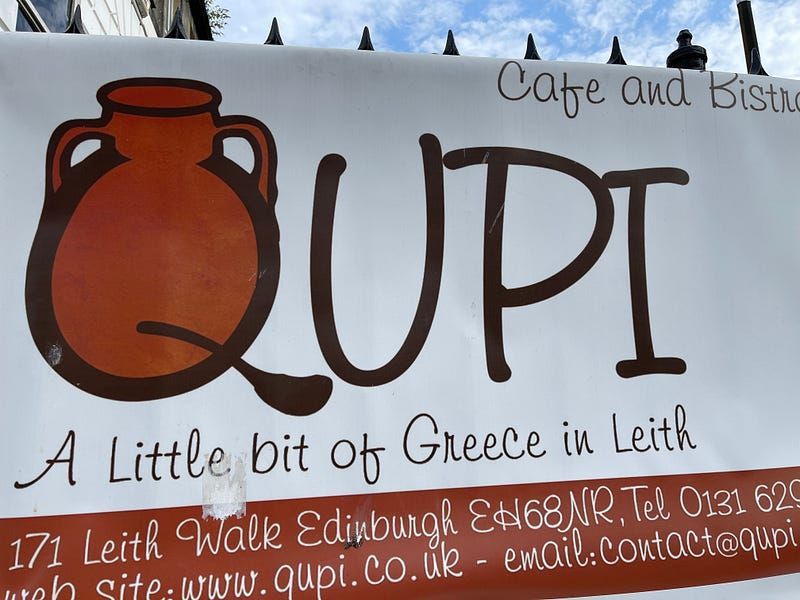 Ella found a tour of a distillery, Holyrood Distillery which was interesting, but also a little disappointing at the same time. They are a whisky distillery but because they've only been operating for 2 years, have no actual whisky to try! It is well set up for tourists however and very instructional on the process. They did have a gin that they made in the meantime to taste.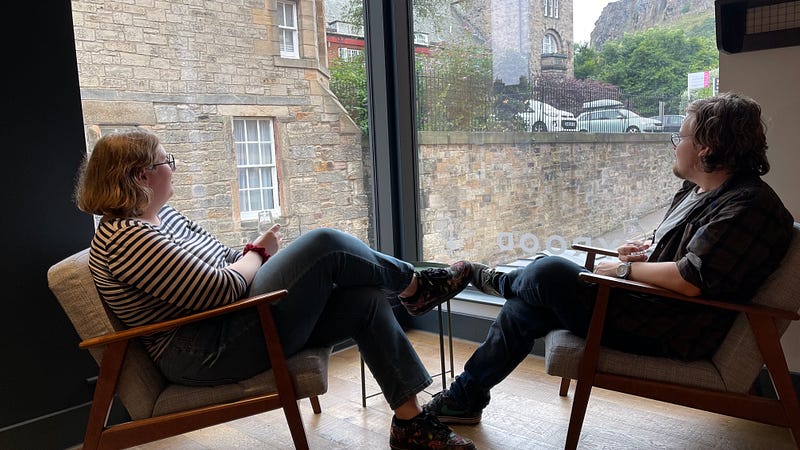 Finally on Saturday we headed back home to Greece, but not before organising a birthday cake to share with Ella and her flatmates before we headed off.
It was a great little break from our time here in Greece and hopefully as things ease up some more (maybe?) we'll get to do a few more short trips into other European destinations as well.
I promised one boat related update — we were very happy that while we were away the holding tank (for the sewerage) was repaired. There were two issues, the sensor didn't work (so we didn't know how full it was) and the joints were deteriorating (not an issue just yet, but I didn't want leaks while we are underway). Both were repaired with the sensor being renovated and joints replaced which was great!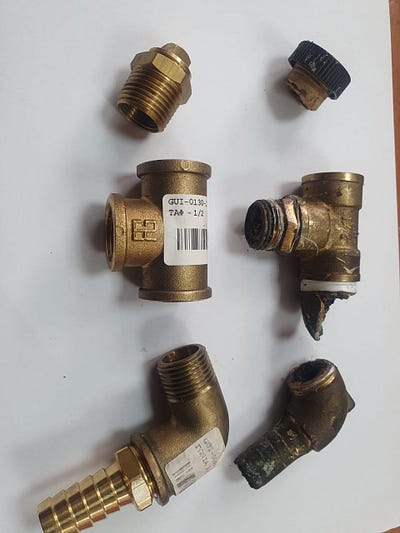 The next few days are all about provisioning. We're settling up our account here at the Marina, collecting the last few things on order from the Marina Store and topping up with water and diesel, all ready to go! We head off for "real" on Wednesday, leaving the comfort of a secured anchorage behind and start on the journey of exploring the Greek Islands up until December when we will be having the boat hauled out for winter and some needed upgrades.
Until next time!
Tim & Karina