Week 54 - Our first cruise
Adventures in Greece cruising the Mediterranean on our boat Matilda. Leaving Lavrion heading to Varkiza and then Poros.
Adventures in Greece cruising the Mediterranean on our boat Matilda. Leaving Lavrion heading to Varkiza and then Poros.
A ship in harbor is safe, but that's not what ships are built for — J.A. Shedd
It was an amazing feeling setting out from the marina, one that's hard to describe. Definitely a lot of excitement — finally, that the moment we've been working towards for the last 12 months has arrived. But there was also a lot a lot of apprehension too. Do we have the skills to do this? Are we really abandoning our ties to land for the next several months? Do we know what we're doing!
There's no going back. Marina berths are highly sought after around Athens and having left ours, it's now gone. We stay where we can find safe anchorage from the winds and the swell, or we book a spot in a marina for a day or two — if they have room, which is not always the case. We are now left to our own devices for the next 3 months come what may.
But experience is gained by the doing. At some point after all the training, the practice runs and the reading, you set off. While not everything will always go smoothly, you will gain more experience!
The first step was quite tame. In an abundance of caution on my part, I wanted to top off with some fuel, so we cruised all of 150 meters from our dock to the fuel dock, where we found a queue. It was a good chance to practice manoeuvring Matilda in a confined space and holding her in place, but soon we realised we were third in line and after waiting 30 minutes for the first boat to finish fuelling, we gave up and left.
Unsurprisingly I'm all tech'd up! I have apps that predict the wind, that show the weather, that find anchorages and show reviews, plot courses and of course all the charts digitised and at my fingertips. They are great and really help us make choices on where and when to go, but there's been two hard lessons to learn as well:
It's great having all that information but you need to know what to do with it and how to interpret it.
Predictions are great, but the old Mark I eyeballs and a finger in the air are a better indicator of what's actually happening right now.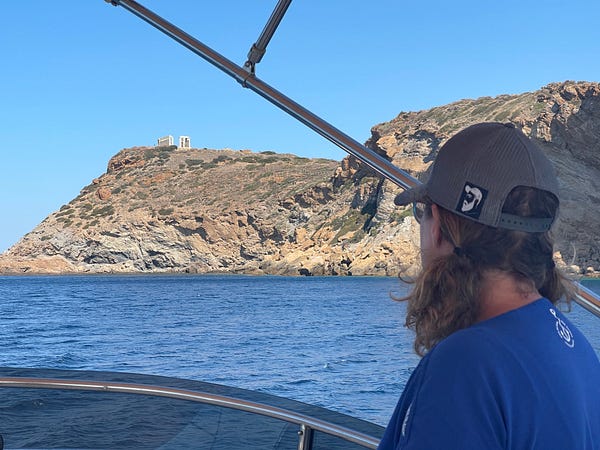 We chose Varkiza as our first anchorage for a couple of reasons. The first was because we'd stayed there for a week a couple of months back — we know lots of boats anchor there overnight and we know where to park the dinghy to get to shore. The second was the app showed that there was good holding (i.e. that the ground underwater is sand and the anchor doesn't drag) and that the winds were predicted to be very light, so we figured it would be a nice tame first night.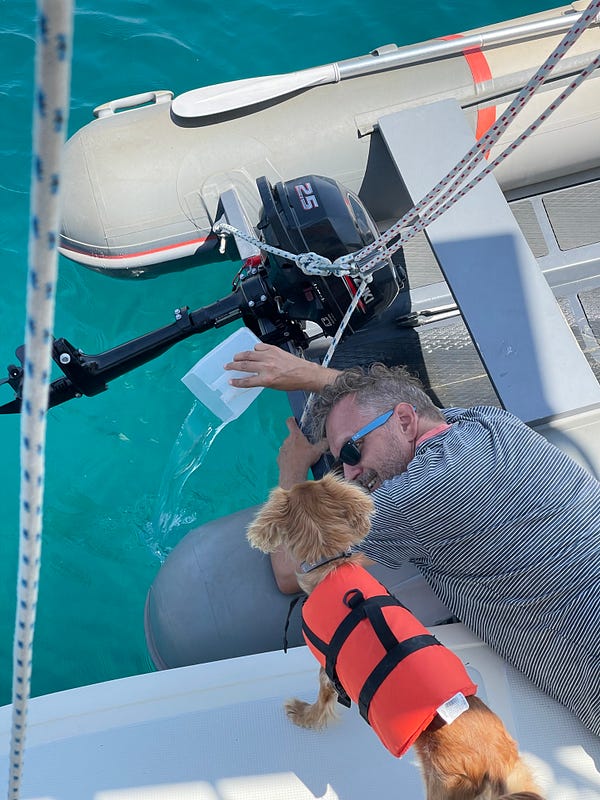 Yeah, we were wrong. We were SO wrong.
It was a washing machine. Yes the winds were light (although very changeable). Yes the holding was good — we didn't budge an inch. But the swell was bad. We've not experienced conditions like that on Matilda yet. We were moving up and down so much that things were banging, falling over, and generally creating noise — the sliding door to the main cabin was slamming back and forward and we were both turning very green.
We decided to take Tilly the Tender in to the dock for a bit of a break. I refuelled it, which left me very nauseous (smell of petrol and the motion), but we hopped in, cast off and then 30 metres away from Matilda, Tilly just stopped. We're floating now, I'm trying to restart the engine, nothing's happening and we're feeling more and more sea sick by the second. We gave up, broke out the oars and returned to the boat.
When I went to check the outboard motor a couple of days later in calmer conditions, it turns out I'd simply forgotten to switch on the fuel tap — there was enough fuel in the carburettor to start the motor, but not enough to keep it going. The combination of stress, adverse conditions and a lack of experience does weird things to the brain. Something that I "fixed" in 10 seconds when I was calm later on, was insurmountable when we were stressed and sick. That's where the experience comes in — it's one thing to sit the exam (literally there was question on the exam about the fuel tap) and pass it, it's another to try it in difficult conditions! No harm done, and we are better prepared for next time , I doubt I'll make the same mistake again.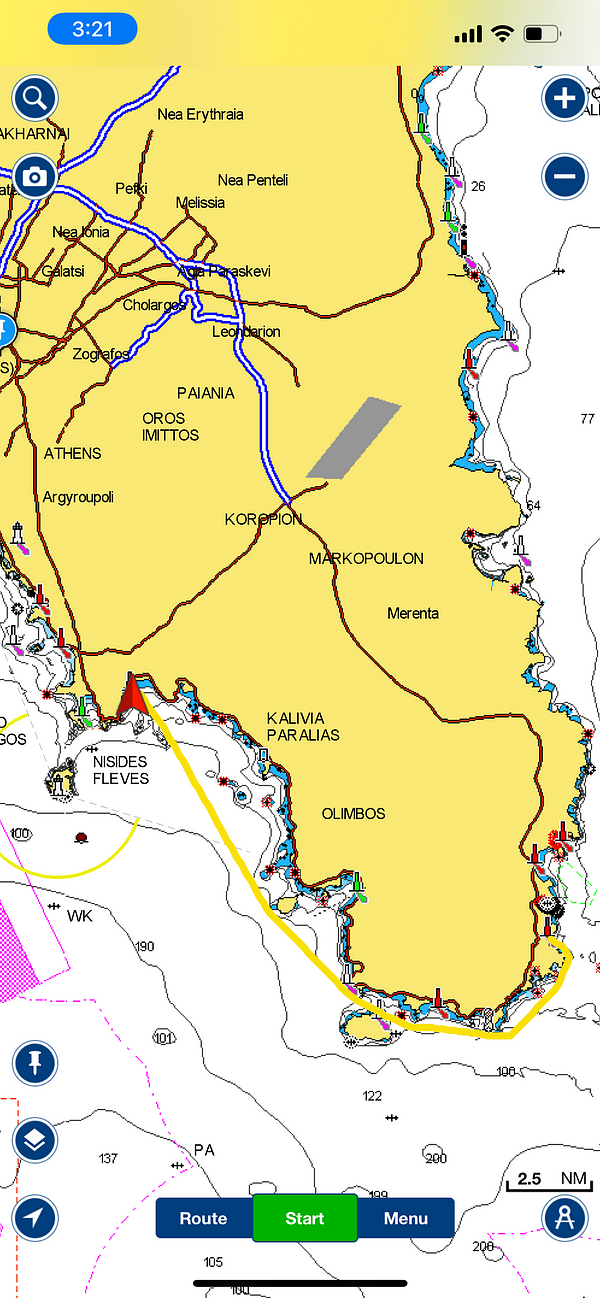 Back on Matilda we hunkered down and toughed it out. It turns out that the changeable winds were an issue too. The swell persisted in one direction, but boats on anchor always turn into the wind, which meant that at times, the waves were breaking side on to the boat which made things even worse. Rosie was not happy with all the noise at all and hid in the corner under the bed all night. Eventually it was dark enough and we were very confident that despite the up and down movement, we were holding well, so we set an anchor watch (both on an app that tracks if you move outside a circle and physically get up every couple of hours and make sure we're still good), then went to bed.
We had planned to go to Aegina on Thursday, but after Wednesday night, we erred on the side of experience, and chose Poros instead where the conditions were MUCH more favourable and promised a much easier few days. It turns out to have been a wonderful decision.
We love Poros and we love this anchorage. There is some swell from time to time from high speed ferries passing by, but that's only a few minutes every hour or two and the rest of the time it's been quite calm. Even with a bit of wind, we've felt very settled, safe and secure here. So much so we stayed for four days!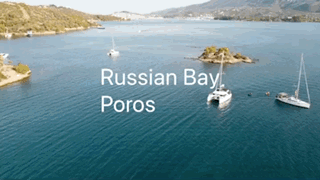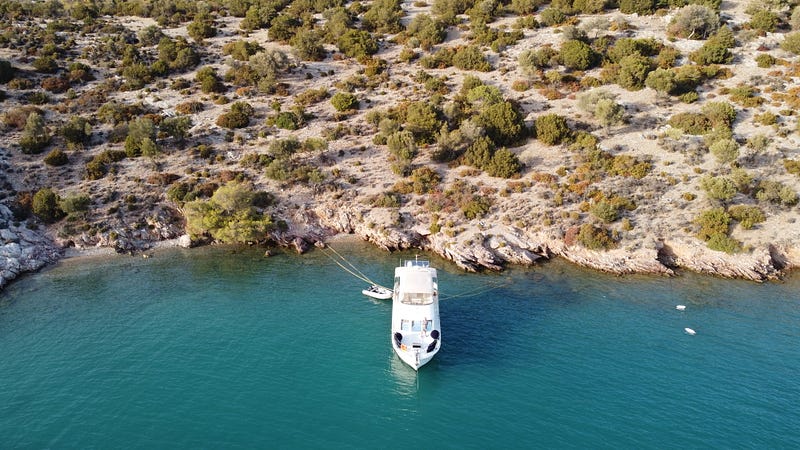 As well as being very peaceful, we've been able to go ashore and explore a little. We're around the corner from "Russian Bay", called this because it was granted by the Greek Government post the war of independence to the Russians to use for provisioning their ships travelling from the Black Sea. There's a few old buildings there built from that time, now abandoned and instead there's a cafe/taverna that pumps out music at night time!
In the evening the goats come out and we can see them wandering around the hill behind us. Rosie has also found other interesting things to watch too — there's a local man who comes and swims with his labrador some evenings and she's very interested in that.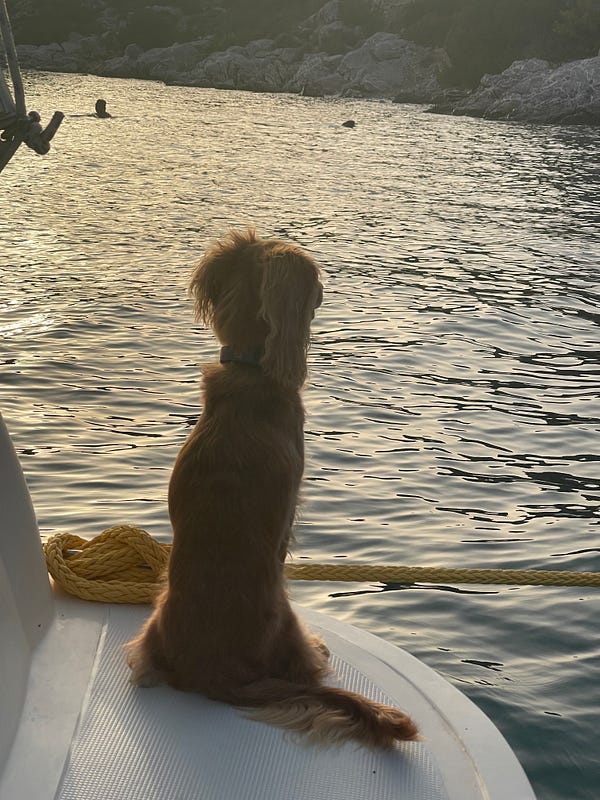 Having a reliable tender is important too — it's a 25 minute ride from the anchorage to the main town, which we've done a couple of times now to get off the boat, stretch and explore.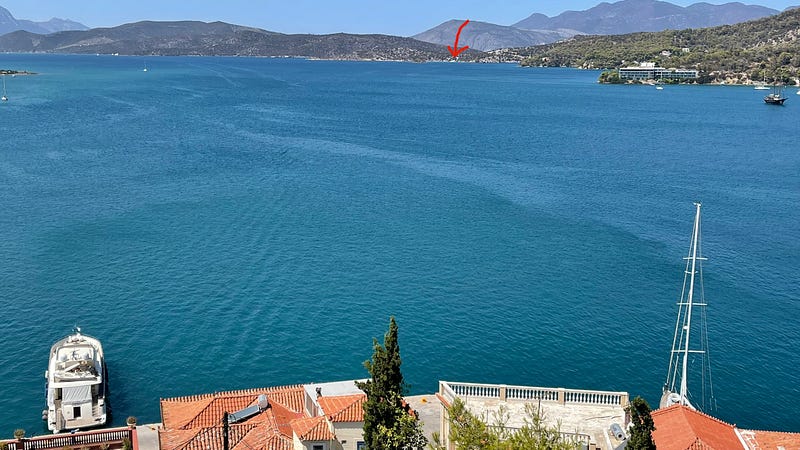 We enjoyed a meal, stocked up on some basic supplies and chatted with a few other boat owners — including one from Lavrion who was docked only a few berths away from us, they'd headed here for the weekend. We also bumped into an Australian couple who came here to buy a boat and sail it back to Australia, but with the Covid lockdowns have decided instead just to stay here in Europe and explore here for a while until things settle down in Australia and become more predictable there.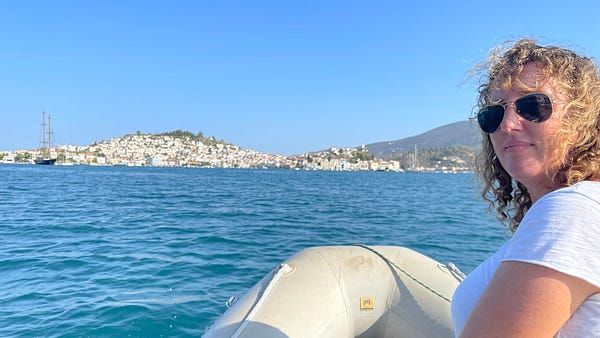 Well that's been the first week at sea, a rough beginning but overall an awesome experience and one we've really enjoyed. We're finding plenty to do (including a lot of relaxation) and finding no shortage of things to add to the boat todo list! It is very nice to just jump into the water when you're feeling hot, and we enjoyed a short swim out to the small island with the church. Rosie is whining and barking less at us when we're in the water, I think she's getting used to it and not as worried that we are drowning. She has fallen in the water three times now, and we just pull her out, her tail wagging after her rescue.
Being closer to other anchored boats has meant we are seeing a lot more nudity than at the marina. Several people sit on the back of their sailing boats naked, swim naked then shower on the back of their boats naked. You get used to it and give people their privacy.
Today we're going to cruise around Poros through the channel and move to an anchorage on the other side of the island, just to see a bit more of it, then the plan on Monday is to head to Aegina as the winds seem to be staying from the right direction for a few days.
Want to see where we are now? Check us out on NoForeignLand https://www.noforeignland.com/boat/matilda
Until next time!
Tim & Karina.