Week 56 - Kilada and a new tender
Adventures in Greece cruising the Mediterranean on our boat Matilda. We travel to Kilada to replace the tender and end up back in Porto…
Adventures in Greece cruising the Mediterranean on our boat Matilda. We travel to Kilada to replace the tender and end up back in Porto Heli again.
I said last week about boat life being fixing things in exotic places. If only we could be that lucky again. Sometimes it's just fixing things in un-exotic places.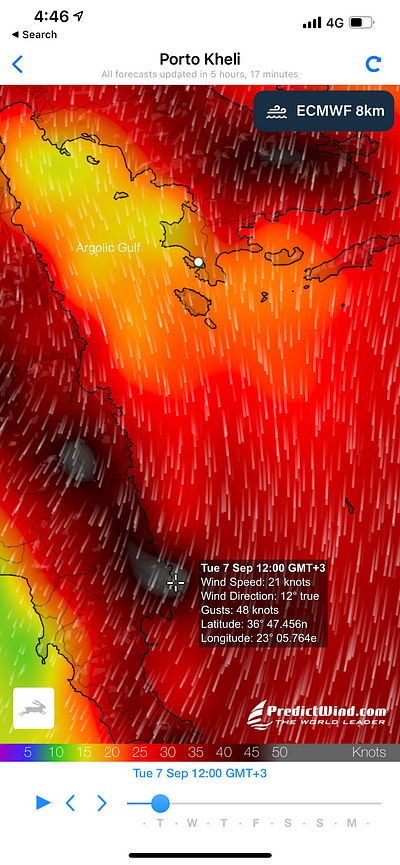 We stayed very well sheltered in Porto Heli from the big winds and experienced something we've almost forgotten about, a bit of rain and lots of grey clouds.
These small ports are dominated by two activities — fishing and tourists. Given the vast majority of charter boats leave from Athens (or a couple of nearby islands), you can predict when the port will be busy by the number of sailing days you are away. Porto Heli is about as far as you can come, and it's two days if you go hard, so it wasn't until Monday night that all the charters started arriving and things really filled up — by which point of course all the liveaboards and people with time on their hands had the best places staked out. Our decision to get here early Saturday was a good one, on Monday at times there were up to eight other boats circling back and forth trying to find a place. In the end they just anchor out.
Given we were staying still for a while, it meant we could get things delivered. We made the decision to replace the tender and have a new one delivered along with a new electric outboard motor. The problem with the existing tender was that a) the motor was underpowered for it and b) because it was so big, it meant you couldn't use the back swim deck at all without deploying it. It was also too heavy for the davits and we'd been advised it was at risk of damaging the boat in heavy seas. As far as the outboard goes, by going electric, we remove the need to have petrol on board the boat, so safer and less smell — also we have enough solar power and a generator so recharging an electric outboard motor is easy for us.
I've also wanted a stand up paddle board for sometime as a toy for the boat (and an easy alternative to the dinghy to pop to shore). The inflatable ones are very common (space saving), but after chatting with other cruisers, they recommended getting a rigid one because the inflatables can pop if left out in the sun and always need pumping up. We ordered this from the store as well.
Buying a new tender and outboard is relatively straight forward — an email, fill out an address online and bam, it's on its way. But what to do with the old tender and outboard? We rang Dimitris in Ermioni to ask if he knew where we could sell it locally and he said "my cousin might be interested". We offered them a good deal and they came by on Wednesday to collect it.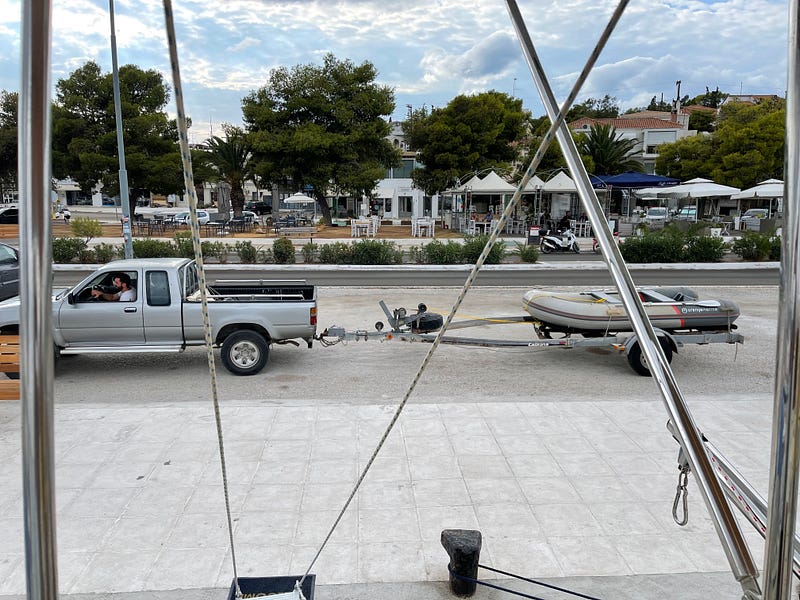 By Thursday we were ready to get moving again and so headed around to Kilada (yes, THAT Kilada where we bought Matilda) and the Basimakapolous Shipyard who had taken delivery of the new outboard and tender for us. Over the course of a couple of months we've travelled around 250nm and ended up back where we started again.
To be honest, we were NOT looking forward to Kilada, but in fact we had a lovely time there. We realised we'd spent all our time previously at the business end, sitting in a dusty boatyard at 40C which definitely impacted our memories. Staying on the town dock however, near the tavernas and watching the fishing boats come and go was a much nicer experience.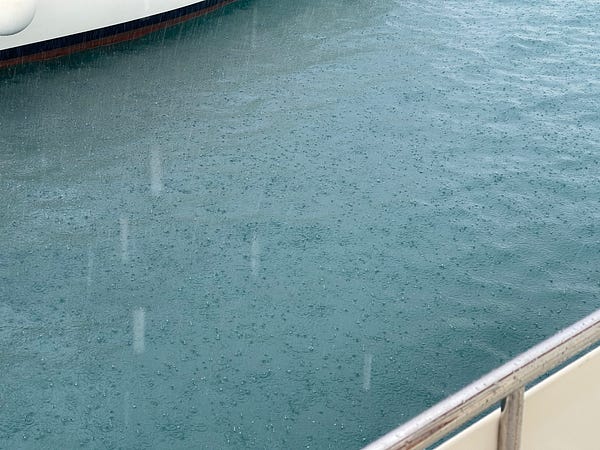 We walked over to the shipyard (about a kilometer away) and the new electric outboard had arrived in a huge box. The tender wasn't there however (due the next day), so we thought we'd bring the outboard back to Matilda with us and charge it up. The box was a bit bigger and heavier than expected however. Fortunately when we were in the marine store buying some more supplies, the lady working in there kindly volunteered her husband to drive us back to the boat with their car.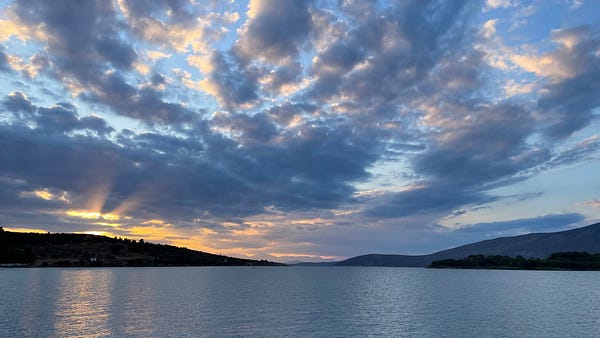 The next day we walked back to the Shipyard and confirmed that the new tender had arrived. We unpacked it all outside the store, inflated it and made sure it was working, then took the dog back to the boat and carried the outboard back to the store again (which was easy enough without the packaging). The shipyard popped the tender onto the forklift and carried it over to the water, we put the outboard on and away we went!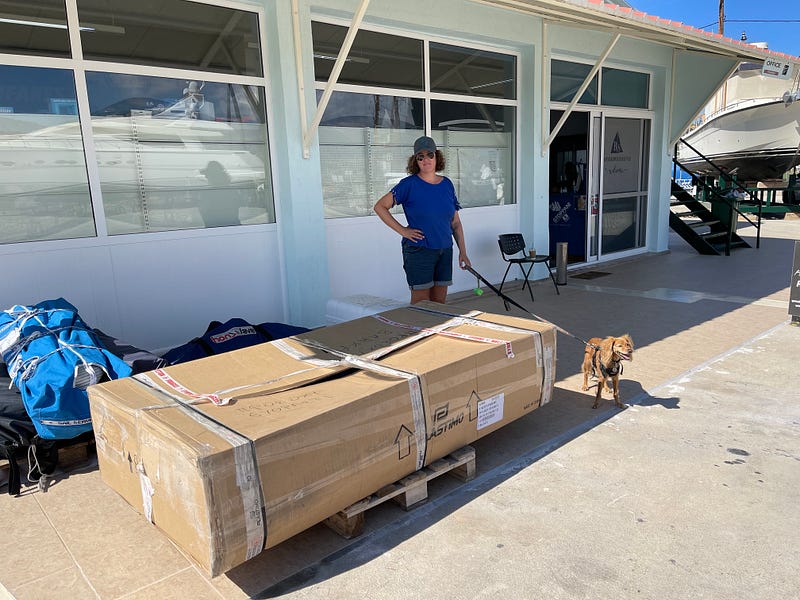 The new electric motor is amazing — it was so peaceful cruising along with only the noise of the water and no smelly outboard in your ear! We've also had issues with the outboard where it wouldn't idle and it had no reverse gear, so being able to idle the motor, travel at very low speeds and reverse it are all game changers! We'd heard there were sea turtles in the Kilada Bay and so we were very excited to see one pop up in front of us. Unfortunately not the best picture, but we had fun quietly following it for a few minutes watching it come up every now and again. We now think that the seal we thought we saw in Kilada last time was in fact a sea turtle.
Once back to the boat, it was time to name the tender properly, including a brief naming session for Poseidon and get it fitted up on the davits. It's amazing what a difference it makes. Previously we couldn't easily get up and down the stairs on the side, now we can — the tender doesn't overhang them at all. It's half the weight of the old one, so it's faster and easier to get it in and out of the water. Finally it sits much higher, so we can get underneath and still access the life raft and the swim deck, including the deck shower while it's up on the davits too. All in all, a really worthwhile quality of life change.
After what was ultimately a successful week on pause, we were all geared up and ready to go. I'd made the comment to Karina that to date we've only been places we know — where either we've been before or (in the case of Ermioni) where someone was there to great us. It was exciting to head off to somewhere new and unknown for both of us and the plan was to cross the Argolic Gulf (about 30NM) and then start making our way down to the bottom of the Peloponnese and Monemvasia.
We woke up early and by 8.45AM we were hauling anchor and ready to head off in stunning conditions, glassy flat water and warm sun only for the anchor to jam again. Bugger. As with the last time, a bolt has sheared off, several plastic parts at the front have cracked and we need several replacement parts.
Instead of Monemvasia, we're back in Porto Heli again, this time at the marina so we can side tie, while we get a major overhaul of the windlass and replace the gypsy which we suspect is worn and contributing to the issues. We're confident we know what the problem is — beyond the worn parts, we're now sure it's also to do with the way that the chain is stacking (it pyramids up and pushes back through the hole under the winch causing the chain to come loose as the anchor gets to the top) and we have to check it as we haul the anchor up. I'm certain we'll be fine once this is repaired, just another hold while we get it sorted.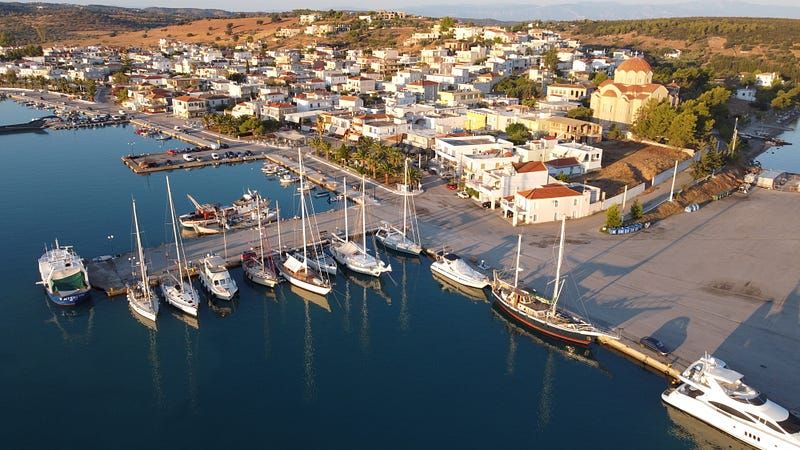 So that's our week — hopefully the anchor is back in business by Tuesday, the weather forecast is looking great and we'll get to head down to Monemvasia.
I've also started tracking the voyage on NoForeignLand — we keep it up to date as we move around (once we get the MMSI and our AIS working it will be automatic), so if you want to know where we are, just click the link! I've also started linking the blog posts to the locations we write them. It helps understand just where is Kilada in relation to Porto Heli etc. There's a small "Show Journey" button that will show all the trips we've made to date as well. Let me know what you think!
Want to see where we are now? Check us out on NoForeignLand https://www.noforeignland.com/boat/matilda
Until next time,
Tim & Karina