Week 60 - Astros and new electronics
Astros, electronics and the end of Summer. Adventures in Greece cruising the Mediterranean on our boat Matilda.
Astros, electronics and the end of Summer. Adventures in Greece cruising the Mediterranean on our boat Matilda.
The weather has definitely taken a turn this week. From balmy clear days in the high 20's where we were swimming when we could, it's now overcast and cool in the low 20's or even down to 16C overnight. Although the water remains warm, swimming feels like a distant memory — we never quite feel warm enough to be motivated to jump in!
The upgrades paused waiting for the remainder of the parts to arrive this week, so we decided Sunday afternoon that we'd had enough of Ermioni and it was time to cruise somewhere new. We headed around to Kilada to anchor out as we needed to meet the mechanics one last time to check a measurement (a 3.5 hour cruise for us and a 15 minute drive for them, so coming from Ermioni to there is easy by car).
When we anchor out we use an anchor alarm to alert you if the boat moves outside of a certain radius (which would mean you were drifting). The new equipment comes with one built in so we decided to try that out. At 2AM in the morning the alarm went off — the boat was suddenly 20 meters outside the circle. I looked and we hadn't obviously moved at all, there was also no wind or anything that would cause it to happen. Five minutes later, we jumped back in the circle and the alarm went away. I followed up with the mechanics and he said it was because of the old GPS antenna which takes too long to re-acquire satellites in overcast conditions and loses accuracy in those circumstances. Fortunately this is one of the items on the upgrade list which was arriving this week.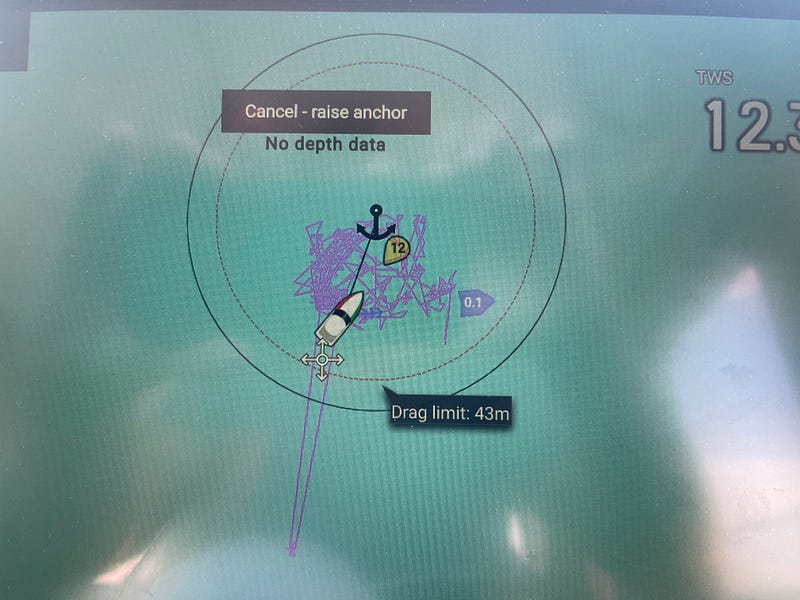 After Kilada we headed up to Vivari, a small sheltered bay that was very peaceful. It was such a pleasure to be somewhere new again and we anchored out in dead flat water which was a delight. I took some drone footage and as I was doing so, a boat came sailing in, so I snapped a few photos and dinghy'd over to them after they'd anchored to see if they wanted any. It was a fun way to meet some new people and I enjoyed 30 minutes or so on their boat chatting and sharing a beer.
Wednesday we headed up to Nafplio, we've been here before, but only by car. We wanted to anchor out again and the prediction was for a North wind, which would have left us very sheltered, but instead the wind persisted from the South and with the swell, it was very uncomfortable. After touring the city for a couple of hours, we decided to abandon the location and docked in a small bay nearby with shelter from the South. This proved to be the right decision and we had a decent night's sleep.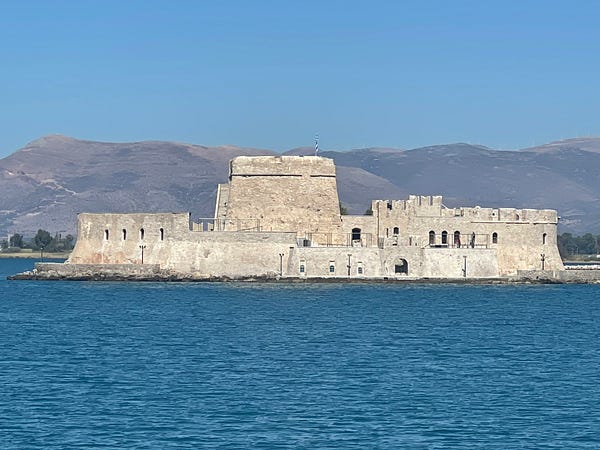 The next morning, the wind had finally switched back around and we headed back to Nafplio to the same anchorage, hoping to do a couple of tourist attractions. This time when we went to anchor, a local fisherman seemed to get really upset with us, waving us off and yelling abuse, so not sure exactly what we going on, we gave up and instead headed across the gulf to Astros Marina.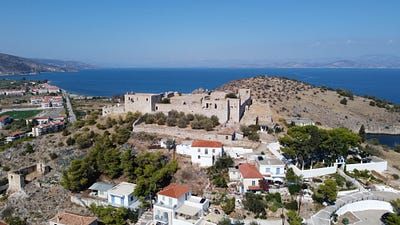 What a delight! It's a really beautiful spot, with a castle on the hill overlooking the gulf, a sheltered marina and some great tavernas on a lovely water frontage. It caters to mainly Greek tourists, which generally means better pricing and a more authentic experience. It was a fun stop over. Karina cooked banana bread and I tried to paddle board out to a sea cave but was turned back by the winds and swell.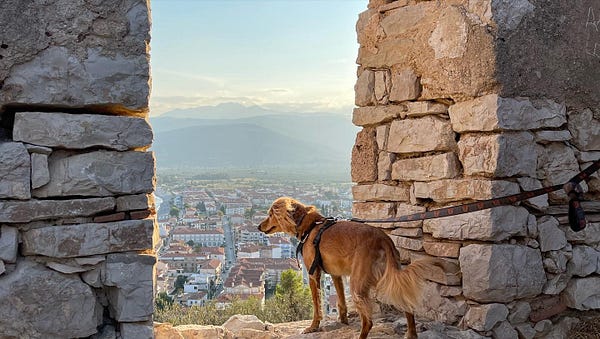 When we were walking the dog in the evening, we came across a couple of Americans arguing loudly outside a tourist shop that was closed. It seems they wanted to head to Spetses (near Porto Heli), but one of them had failed to make bookings and they'd left it too late. I offered them a ride on the boat — we were heading that way tomorrow morning anyway, and they took our number but we ended up never hearing from them. I'd read somewhere that the reality seems to be no matter how much you enjoy going on your boat, people rarely actually take advantage of it! So that's a hint — if you're up for a cruise we'd love to have you join us and share the experience, I'm now inviting random strangers off the street…
On Thursday we knew that the weather was going to get quite wet and windy in the afternoon and we'd also agreed to meet the mechanics back in Porto Heli for Friday to finish the install now all the parts have arrived. To avoid the wind and rain we headed out early, getting into Porto Heli around midday well before the weather arrived.
We've met the dock master here a few times and he knows us and the boat now, after assisting us with the ropes he looked at me and said "You know, you guys are getting a lot better at this now!". You may recall the first time we tried to dock here was literally the first journey on the boat and not only couldn't we figure out how to turn on the thrusters, we also accidentally emptied the blackwater tank (sewerage) into his harbour — there was a lot of room for us to get better!
With the rain forecast on Friday too, the mechanics decided to push their visit to Saturday. We pottered around the boat doing a few errands — in particular we wanted to paint the anchor bright yellow. It has been done in the past and the yellow paint makes it easy to spot on the bottom, great when you want to see how it's set when snorkelling around, so it seemed to be an easy thing to do. It involved a bit of planning to get the 25kg anchor off the front of the boat to the dock, and then I undid the swivel from the chain. As I was doing so the bolt that attaches the swivel to the chain and fell into the water. So, yeah, a simple half hour job turned into yet another purchase and trip to the marine store for a new swivel.
Saturday we rented a car. This is a bigger deal than it sounds. Several months ago we handed my US license in to KEP, the local bureau for this sort of thing and I still haven't had it replaced with a Greek one. When we were in Athens a week or so ago, I dropped in to KEP to ask about what was happening and they said "it's just taking time". I tried to get a temporary licence and they pretty much just said "no no, it's fine, the paper showing we have it is enough, just tell people KEP says it's OK, you can drive". So I did, and I could. Seems insane, but like many systems in Greece it works — you just need to know HOW to work it.
We're currently in near Corinth, spending the weekend with our friends John and Trish (Australians) who we met a few weeks prior in Ermioni and they invited us to join them at their house, so this weekend is a lovely time off the boat relaxing at their house while the weather continues poorly.
The upgrades were completed yesterday while we were away from the boat, we left the key with the marina so the mechanics could get on board and finalise the last few things. It's now all complete with only a sea trial left next Monday afternoon to tune the new gear.
This week we head back around to Poros and then to Aegina in the Saronic gulf — finally! It's been the destination we had in mind since we left Lavrion, but this time we're actually going to make it!
Want to see where we are now? Check us out on NoForeignLand https://www.noforeignland.com/boat/matilda
Until next time!
Tim & Karina