Week 62 - Saronic gulf with Siung
Exploring the Saronic Gulf and travelling with friends. Adventures in Greece cruising the Mediterranean on our boat Matilda.
Exploring the Saronic Gulf and travelling with friends. Adventures in Greece cruising the Mediterranean on our boat Matilda.
It may not be an original thought, but it was original to me which is that Archaeology really is a rich person's game. When you look at the history of a site here in Greece, it broadly evolved in one of two ways:
There's this spot that has defensive potential which has been recognised back 3000 years and we've basically torn down and rebuilt some form of fortress and accompanying town here repeatedly until the advent modern weapons in the 1700's made the whole fortress thing a waste of time so we knocked it over, stole the stones to build useful things and used what little was left to store sheep and goats.
There's this spot that's really attractive and aesthetic (great view, top of a mountain) that doesn't have defensive potential, so we built some sort of temple here. We don't like knocking these ones over because who wants to annoy the gods, but we'll convert it to OUR sort of temple — repeatedly — until wealthy foreigners come along and pay to explore what's left and return it to the original temple again (probably stealing the best bits to put back in their own museum).
In some rare circumstances, like the Parthenon and the Acropolis, it's a bit of both. I'm not saying this is everything you need to know about archeology, but I think I've nailed the basics.
The point is, that these sites had little value beyond their immediate utility as either a place of worship or a defensive position up until the industrial revolution. You start creating massive wealth, travel becomes much easier and a bunch of rich people with too much money and time start fantasising about the origins of civilisation and effectively become the first tourists, although they often had to dig up the ruin in order to see it first.
Sitting down to scrape the dirt off a bunch of old stones in the first place, before the advent of easily accessible tourism, is really the reserve of people with too much time and money when the locals are more concerned about the basics of shelter and a handy place to put the cannons to lob at people from that island over there.
Anyway… all of this may lead you to the conclusion that we've seen a few ruins this week and you'd be right!
Musings on the origins of archeology aside, we've had a great week. The weather has been exceptionally calm with warm days and has made exploring a few locations here highly enjoyable.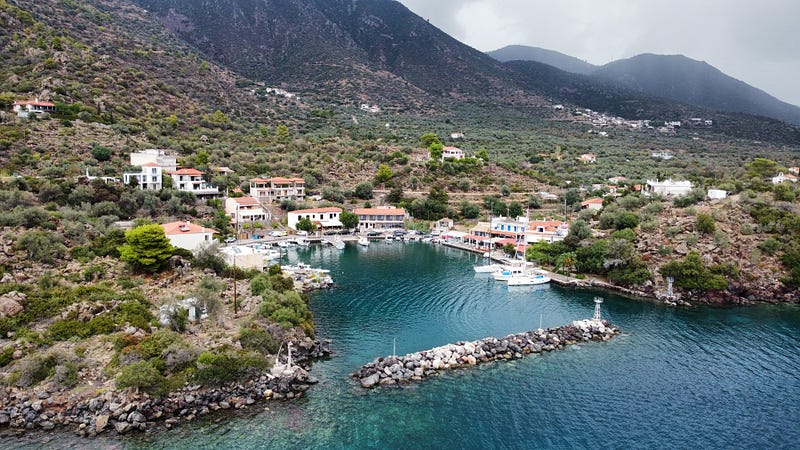 Sunday we travelled from Poros to Vathi, which is a tiny fishing village on the coast of the Methana peninsula in the Saronic Gulf and a very peaceful little town.
It is school holidays throughout Europe at the moment and so there's even more charter boats, and a lot of kids out and about. In Vathi we docked next to a lovely Swiss family who were into their second week of cruising the gulf. One thing we're really learning is how to strike up quick conversations — as cruisers there's always something to talk about, and in this instance we had the perfect opener "Would you like to use our washing machine?"
Perhaps unsurprisingly, a washing machine is a highly sought after commodity on the sea. Very few boats (and none of the charter boats) have them. Those that do, often have a tiny thing that's not easy to use. As a trawler (so weight and space less of an issue) and with a generator (so power no problem), we've got a regular household domestic front loader. Family of 4, one week into their holidays, you just know they need to do some washing! Of course the immediate answer was no, but after 30 minutes or so, "umm, actually…".
We enjoyed chatting on and off with our new neighbours, had a good meal in the local taverna and enjoyed walking the dog around the local olive groves. It was still quite wet from the storms on Friday and we did get caught in a couple of downpours.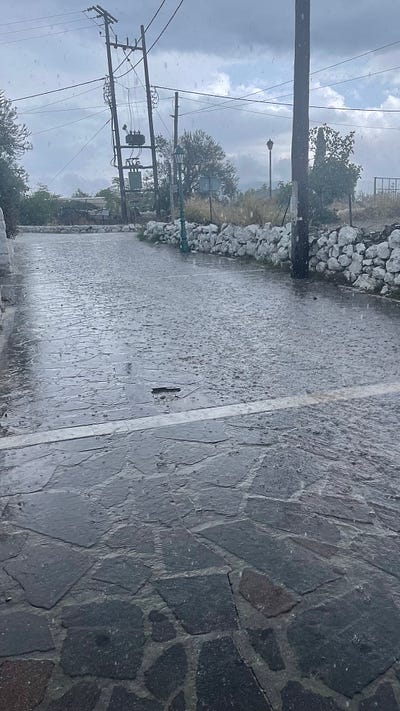 I signed up for couchers.org recently and offered up our front cabin for Couch Surfers. If you're not familiar, it's the origins of the Airbnb concept, but a more communal, free exchange. Siung reached out to us and asked if he could join us for a few days and so we headed to Aegina on Monday to meet him on the ferry.
The best thing hands down about travel is the people you meet and the experiences. I do enjoy seeing exotic locations, but it's the people that I remember years after more than anything else and Siung made this week even more enjoyable. He's a fascinating man, grew up in Borneo (Malaysia) and is the only one in his family to get a formal education. He now has a PhD in Astronomy and lives on the artic circle in Sweden, doing post-doctoral research on the Earth's magnetic fields. All that and he's a really nice guy as well that was a pleasure to host on Matilda.
With Siung aboard, we stayed in Aegina port Monday night then on Tuesday went around to the other side of Aegina to Ag. Marina where we could walk 30 minutes up to the temple of Aphaia. It's one of the three best remaining temples standing (the other two being Cape Sunion and the Parthenon on the Acropolis in Athens). It's interesting because it's still relatively intact and is the only temple left in Greece that still has a double stack of columns.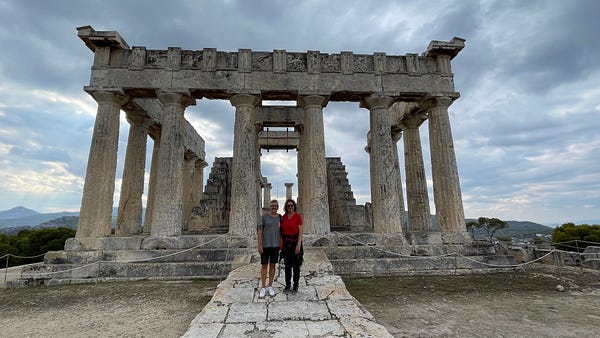 When we returned to the boat, the swell was very uncomfortable and so we decided to move further south for more protection and ended up spending the night in a small bay. This worked out well because on Tuesday we were then able to go straight to Moni island which is famous for its deer and peacocks. We were the only boat there which was great — later in the week Markus and Isa were unable to visit because it was so full of catamarans, all rafted up to each other and jamming the small bay.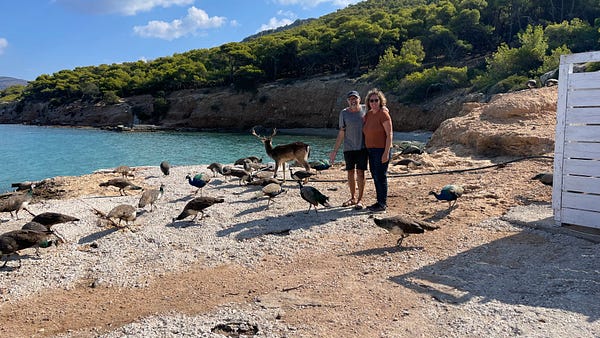 From Moni, it was then a cruise over to Epidaurus on the Peloponnese. There's been a few places that we've had the opportunity to visit in the past, but we always told ourselves, "No, let's save it and do it on the boat". This is one of those. As we pulled in to the anchorage, we saw a boat we recognised — Romy, which was our "dock mate" in Lavrion so we waved hello, and then as we dropped anchor, another sailing boat yelled at us "Hey, we have some laundry!". Of course we didn't immediately recognise them (sailing boats do tend to look a lot the same), but we quickly realised it was the Swiss family we'd met in Vathi.
Epidaurus has an ancient theatre which is considered one of the most intact and acoustically perfect in Greece. There are also the ruins of several temple buildings as the whole complex was actually dedicated to a healing cult. The theatre was impressive with excellent views of the surrounding hills and the acoustics were fantastic. It was quite fun hearing everyone take their turns in the centre — you never quite knew what you'd get — everything from clapping of hands to belting out some opera!
The other site at Epidaurus is the "sunken city". Personally "city" is false advertising — it's the sunken foundations of a few Roman era farmers buildings, however the attraction of snorkelling in warm clear waters over the ruins of buildings a couple of meters down is hard to beat. It's certainly an interesting perspective and fun way to explore what if it was on the shore would not actually be THAT interesting. I do recommend it though as it's a unique experience.
After two nights at anchor we headed back to Aegina so Siung could catch the ferry back to Athens the next morning. As we pulled into the port, who should greet us on the dock, but Markus to help tie the ropes. It's been a pleasant surprise how we are building a community of friends both on land and sea — it's fun bumping into cruiser friends as we travel around, sharing information and experiences together.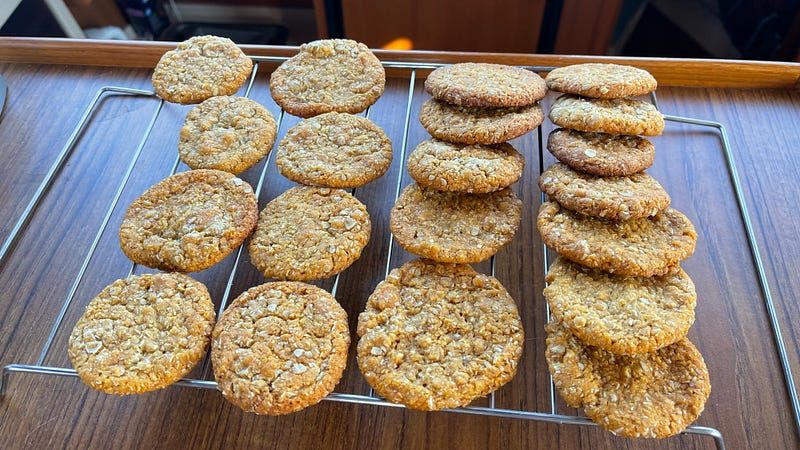 One of these friends, Michael who was back in Athens for a few days made the effort to come visit us in Aegina, taking the ferry over for a brief afternoon visit. We sat up on the flybridge, drank cocktails and watched the chaotic comings and goings of the boats in Aegina port. It was really great to see him again and we appreciated the effort he made to get over to visit us!
Friday evening we went to celebrate Siung's birthday (in Borneo — his actual Birthday is Saturday) and he found a local taverna recommended by a friend which was very good. Markus and Isa also joined us and Karina organised a birthday cake that we shared. It was a really nice ending to the week and a great experience together.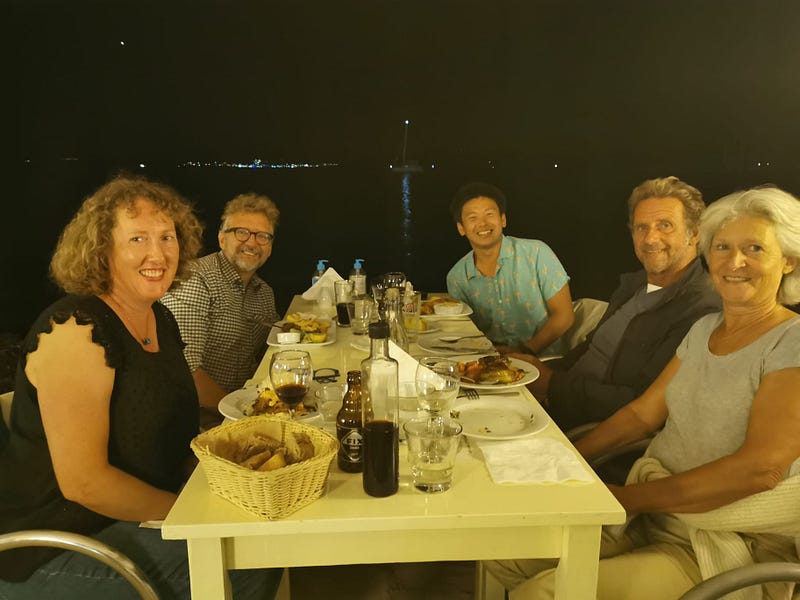 On Saturday we spent most of the day on several chores, refilling water, cleaning, trying to dry out some cushions and we also toured the temple of Apollo here in Aegina. We're going to be staying here for a couple more days — the weather is uncertain on exactly what it's going to do . There's a big storm brewing down below Italy which won't reach us, although we may get some rain, but it's sucking all the atmosphere down into it so there are very strong northerly winds the next couple of days which we plan to wait out here.
We can't believe how fast our journey so far feels, and are very aware that there's just over one month left before we haul out. We are trying to enjoy every last sunny day we can.
Want to see where we are now? Check us out on NoForeignLand https://www.noforeignland.com/boat/matilda
Until next time!
Tim & Karina